The Integrated Arts Research Initiative (IARI) at the Spencer Museum of Art at the University of Kansas (KU) rethinks the academic art museum as an active participant in research across the sciences and humanities. Integrating collections into curricula and activating the space of the museum for campus-wide engagement are prerequisites for this work; IARI expands this foundation, positioning the museum to thoughtfully participate, not only in pedagogy, but also in the formulation of research questions and the methods that produce knowledge. As an art museum initiative, we also conceive of artistic practice as its own method of knowledge production. IARI, therefore, invites artists and academics to engage in research together and consider how being in conversation with different methods can inform research across disciplines. We strive to enable, facilitate, and support knowledges through nonstatic and inclusive approaches to practice-led work, challenging, opening up, and contributing to the university's research culture. Funded by the Andrew W. Mellon Foundation, IARI offers opportunities for collaborative research through faculty, graduate, and undergraduate research fellowships; visiting scholars and creative specialists (artists and other cultural practitioners); forums; exhibitions; and publications. As we are in the early years of this experiment in arts and research integration, we are beginning to articulate our structures and vocabularies. This essay, written by Joey Orr, Curator for Research at the Spencer Museum of Art, and Imani Wadud, 2018–2019 Graduate Research Fellow for IARI, is an attempt to begin to explore the terms and goals of this new experiment in pedagogy and museum-driven research.
IARI demonstrates artistic practices as methods of knowledge production by integrating them into convenings that engage researchers from many academic fields and disciplines. The model currently being explored diverges from that of museum exhibitions conceived and organized only by curators, with education acting as an interpretive guide for general audiences. With two full-time staff now operating with equal representation across curatorial and education, we hope to be shifting away from a top-down model to one in which museum exhibitions and programs can be understood as research investigations authored more directly by a community of artists and scholars in dialogue with museum staff. We refer to this emerging structure as the inquiry, a cloud of activities with exhibition components that are parts of the inquiry no more or less than other methodological or pedagogical forms. Arts and research integration upsets notions that privilege strictly visual forms of knowledge and isolate them from other methods. In fact, inquiries are intentionally broadly conceived to engage a group of researchers across disciplines, fields, and areas of expertise. The inquiry is a structure that integrates artistic practice into other forms of investigation.
Artistic knowledges are often not legible in the same ways as more standard text-based forms of knowing. Since different kinds of knowing are produced through different methods and received on various registers, a spectrum of knowledges requires a spectrum of pedagogies for its transmission. Of course, learning and knowing are never accessible to everyone in the same ways. As Jacques Rancière states in describing the "ignorant schoolmaster": "from the schoolmaster the pupil learns something that the schoolmaster does not know himself."1 We initiated our pedagogical experiment in this spirit of Rancière's "equality of intelligence[s]."2 We seek to diminish inequalities of intelligences by, for example, toying with the hierarchy of knowledge-seeker on the one hand and knowledge-possessor on the other. Throughout our inquiries, artists and scholars who have spoken from a lectern in the auditorium in one session might be found in the next forum seated in the audience or participating as an equal member of a public roundtable discussion.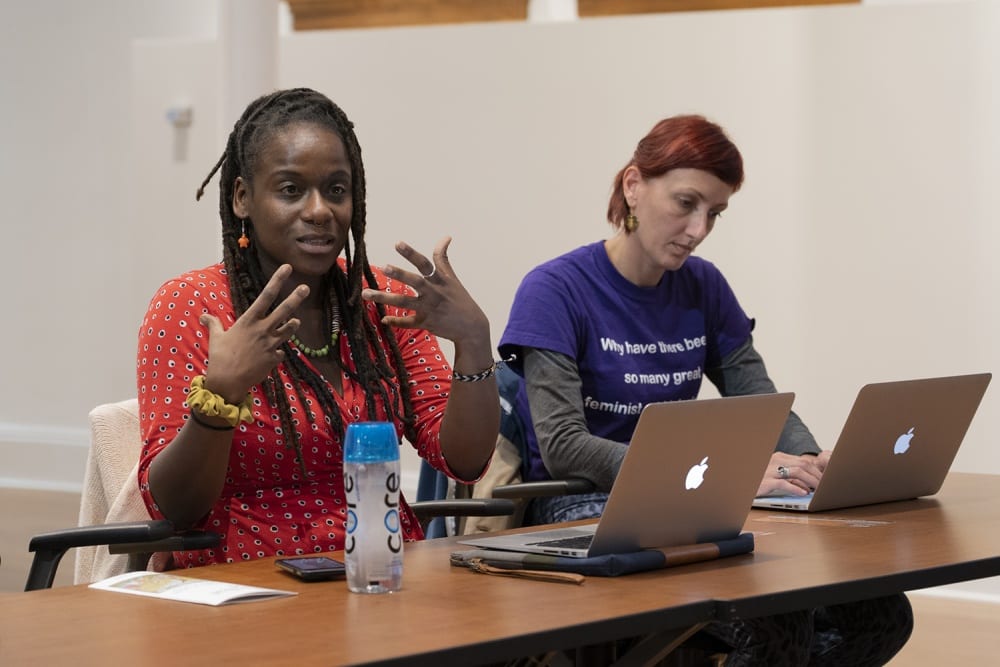 To formulate an inquiry, we begin by posing questions through the exhibition of different kinds of objects in tandem with juxtapositions of perspectives and formats through a weeklong series of talks, discussions, hikes, meals, lectures, and roundtables. Each content provider conveys their work in their preferred format, but they are also present for all other contributions to the inquiry, which culminate in a public roundtable discussion. Audiences and community members can follow the inquiry as a whole, or simply join the parts of the inquiry that interest them most. In this context, our research inquiries do not reinforce knowledge silos. The work of those with disciplinary proficiency or with acuity in specific artistic, scientific, or humanities-based methods is not made obscure or incomprehensible to others, but is instead a resource for generating new points of access for different kinds of practitioners and publics. We explore disparate disciplinary methods to make legible a broader scope of understanding and to attempt to unhinge methodological assumptions that too tightly limit or overdetermine the potential horizons of our knowing.
In fall 2017, for example, Daniel Hirmas, a former professor in KU's department of Geography and Atmospheric Science, was an IARI faculty research fellow and participant in an inquiry into soils and ecologies. His contribution to the exhibition component of the inquiry at the Spencer Museum was a series of soil monoliths, cross-sections of earth that serve as scientific pedagogical tools to teach students about the structure and formation of soils. Next to Hirmas's work, we displayed a series of Renaissance prints that depicted soil structure as Platonic solids, emphasizing their dimensionality through a commitment to single-point perspective. Unaccustomed to seeing his own work in contexts outside of the lab, Hirmas remarked that these images were created long before x-ray diffraction could prove the actual existence of such structures. Artistic and philosophical practices had actively contributed to historical understandings of his own object of study. Although his work in the field is strongly empirical and the lab equipment he relies on grants him access to such minute scale, he began to articulate his surprise about the usefulness of artistic investigation and philosophical speculation. He later pointed out that philosophical commitments often precede the construction of meaning, even for scientists working largely with empirical methods. Hirmas's interaction with other forms of research made aspects of his own research more legible. In addition, soil monoliths made in the field for instruction in the lab had very productive formal, conceptual, and methodological connections with other works in the inquiry's exhibition, many from the museum's own permanent collection. His practices in the field were in conversation with embodied and performative knowledges, while his methods were considered in relation to other global practices and issues around research accessibility. By bringing a scientist's work with soil monoliths into direct conversation with artistic investigations into the same materials, we learn more about soils, but also about how we make and circulate knowledge more broadly as a diverse community of researchers.
Social Histories, the 2018 IARI inquiry, had programmatic components that ran October 16–20, 2018. Scholars and artists presented and performed their respective practices and discussed how the forms and methods they use inevitably shape their understandings of social histories. The inquiry was initiated in a roundtable about some of our own internal launching points for what we define social histories against—political history, or the history of kings and queens or "great men"; intellectual history, or the history of big ideas and thinkers; or constitutional history, for example. We certainly used disciplinary and field-specific assumptions as pushing-off points, as is often the case in many forms of inter/trans/extradisciplinary inquiries. We also identified an academic interest in lived experience that flourished in the 1960s and 70s, broadly signaling an emphasis on the marginalized and exploited as fundamental to historical understanding. Some well-known textual examples include Dee Brown's Bury My Heart at Wounded Knee (1970) and Howard Zinn's A People's History of the United States (1980).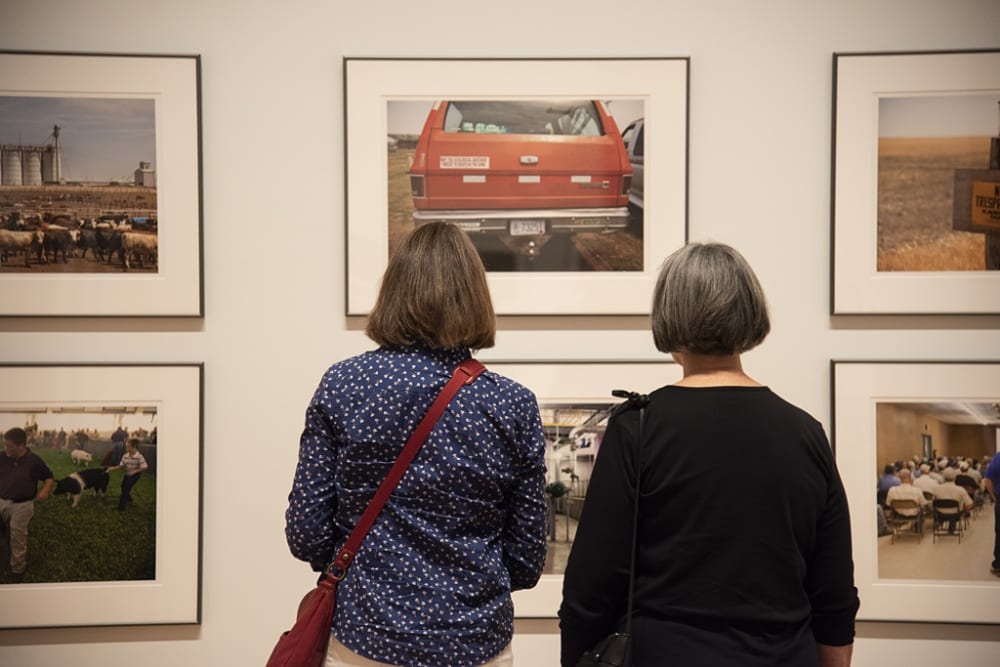 The exhibitions on display at the Spencer Museum set the stage for the inquiry. They exhibited different forms and methods to investigate social histories, through video, photography, installation, and painting, with exhibition schedules that ran before and after the official public gatherings, enabling preparatory prompts and provocations, as well as spaces for consideration and reflection. The three exhibitions included Larry Schwarm: Kansas Farmers, Mohau Modisakeng's three-channel video installation Passage, and The Ties that Bind: Haiti, the United States, and the Art of Ulrick Jean-Pierre in Comparative Perspective. Exhibiting artist Ulrick Jean-Pierre was among the visiting creatives and scholars for the social histories inquiry. Visiting artist Adrian Stimson presented Resistance is Futile, a performance of Buffalo Boy, his Two-Spirit persona referencing Indigenous gender-variant identities. Tina Takemoto, artist, associate professor of visual studies, and Dean of Humanities and Sciences at the California College of Art, gave an experimental lecture that incorporated her recent videos exploring queer social histories among Japanese Americans in World War II–era US concentration camps. Finally, artist Rena Detrixhe, an alumna and visiting artist in KU's department of Visual Art, installed an iteration from her Red Dirt Rug series that uses finely sifted Oklahoma dirt to represent landscape and history at The Commons, the university's premiere interdisciplinary space.
One important theoretical foundation was Irit Rogoff's 2010 essay "Turning," in which she reflects on an educational turn in curating. Rogoff's notion of a turn—changing one's position toward spaces of learning, research, and exhibition—is fundamental to our ambitions for IARI's work. Rogoff states, "Education is by definition processual—involving a low-key transformative process, it embodies duration and the development of a contested common ground."3 We understand the inquiry as initiating this process of low-key transformation by opening spaces where disparate practices and commitments can begin to coexist. The exhibitions, programs, and performances posit subjects, questions, and propositions that give participants different ways of encountering and producing knowledges together, if at times in oblique relation. By working across academic and artistic assumptions and perspectives, we do not seek consensus as much as an openness to the different forms knowledge can take. As IARI builds an accretion of inquiries over time, we hope to develop longer-term affiliations with researchers of many stripes and begin to understand what might be possible through such an experiment.
Social Histories took place over the course of a week, with participants occupying different positions in lectures, performances, screenings, gallery talks, exhibitions, and roundtables. The inquiry was also guided by the museum's own commitment to making the art museum a space for social action.4 We anchored this writing in the work of visiting and exhibiting artists. This enabled us to be explicit about integrating artistic practice into research. We have, therefore, embedded visual documentation here alongside discussions of the contributions to give readers different encounters with the archive of their work at the Spencer Museum. What follows is a summary of the Social Histories inquiry's content and themes.
Kansas Farmers showcased photographic work by artist Larry Schwarm. The exhibition was composed of fifty photographs depicting the realities of contemporary farm life in Kansas, and is one of the many outcomes of "Biofuels and Climate Change: Farmers' Land Use Decisions," a project funded by the National Science Foundation (NSF). As a research project funded by the NSF, this exhibition may have the most legible connection to more traditional understandings of research. Although a deeply interdisciplinary project that spanned research areas in multiple fields and disciplines, it featured Schwarm as the sole artist-participant.5 Curator Kate Meyer describes Schwarm's work as both offering visual evidence of the study and providing his own form of research into lives and landscapes.6 Although the exhibition featured photographs that directly portray farmers, the lives of farmers were apparent even in the depiction of big skies and tornado-sculpted silos, or the palimpsests of buildings whose materials have changed along with their uses. Even unpeopled images of farm equipment and crop design speak volumes about how farming decisions can change in relation to emerging technologies and shifting economic realities that deeply impact farmers' lives. Schwarm's work reveals how these particularly located economic decisions become legible in place, a question that was central to the larger research project.
Passage, a three-channel HD video installation by South African, mixed-media artist Mohau Modisakeng, highlights cultural and social histories that have been impacted by the long history of slavery in South Africa. Modisakeng uses what he refers to as "material, metaphor and the black body," all tools that trigger questions on how we remember the past and how the past shapes the present.7 Passage revolves around movement, water flow, pauses in time and space, submerging, and reemergence in the wake of black death. Modisakeng explores the establishment of racial hierarchy by the Dutch and British, who maintained the longue durée of racial capitalism that still impacts social relationships. As colonizers, the Dutch and British elite exploited people, goods, and land; in their use of slave labor, they extracted brown and black people from the Indian subcontinent, Southeast Asia, and Africa. Modisakeng exposes slavery as a site of rupture in the fabric that binds blackness across waters: tenuous, ever-changing, and violent. But this site is also metaphorically figured as a journey.
In Modisakeng's video, the center channel shows a bird's-eye view of a black man in a boat that just frames his body. Two different black women, also in boats and filmed from overhead, are featured on the left and right channels, their boats sinking into the water. The submersion of the man's boat in the center channel is played in reverse, challenging a strictly forward movement to the narrative. The three characters in their boats reference the social histories of the global black diaspora. The possessions and boats they lose by the video's end allude to the disbursement of cultures and languages and the loss of heritage and belonging. The three channels of digital video were projected in large scale, each taking up an entire gallery wall. The seating in the middle of the room enabled viewers to engage with each of the video's channels, but required them to shift their gaze or position to follow the actions of a different subject, causing at once an embodied interaction and a fracturing of the viewing experience. The sound composition did not simply evoke a sense of struggle as the three black bodies sunk beneath the surface. At times it served the immersive nature of the installation; at others it seemed to gently indicate narrative movement in tones that were at odds with the gravitas of the subject matter. Indeed, struggle, power, abandon, and meditation seemed in active tension throughout. Some viewers were soothed and remained in the gallery for longer than one run of the work, while others were uncomfortable with the work's references to racialized violence.
Because water plays a central role in the containment of black bodies, the "death and life-giving capacities of water" are at the center of the social and visual dialogue in the gallery space.8 As Modisakeng points out, the Setswana word for life is botshelo, which means "to cross over."[9] The title Passage, therefore, simultaneously references individual lives lived and the longer global histories of colonialism and enslavement that have produced our present moment. The issues of underpaid labor, slavery, black dispossession, death, and migration remain relevant today, and within this context, Passage makes clear the relationship of contemporary black diasporic subjects—as well as nonblack subjects—to Western colonization. Passage speaks to how slavery and its afterlives impact our collective narratives and personal histories, even if at times imperceptibly. Modisakeng's installation contributed a video and sound composition to the inquiry, exhibiting the use of space and mixed media in exploring the impact of history on the present.
The exhibition The Ties That Bind explored the histories of Haiti and the United States and the complicated ways in which they are entwined. This was a result of IARI faculty and undergraduate research fellowships. Dr. Cécile Accilien, Associate Professor and Acting Chair of African and African American Studies and Director of the Institute of Haitian Studies, used her IARI faculty fellowship to research and cocurate the exhibition with Spencer Museum curator Dr. Cassandra Mesick-Braun. Tyler Allen, now a graduate student in Museum Studies and African and African American Studies, served at the time as the IARI undergraduate research fellow on the project. This research team selected works of art from the Spencer Museum's collection of contemporary Haitian art, which largely depicts daily social life in Haiti, and paintings by New Orleans–based Haitian artist Ulrick Jean-Pierre. Jean-Pierre works within a grand master, historical tradition, depicting important figures from Haitian history in a manner that asserts the importance of their inclusion in more widely circulated Euro-Western histories. In this sense, the work is revisionist. Jean-Pierre's gallery talk, however, revealed him as an educator who knows this history well; he remixes a well-known narrative and opens up a part of US history to a more robust and precise retelling. Ulrick's talks were integrated into other university-wide initiatives, as well.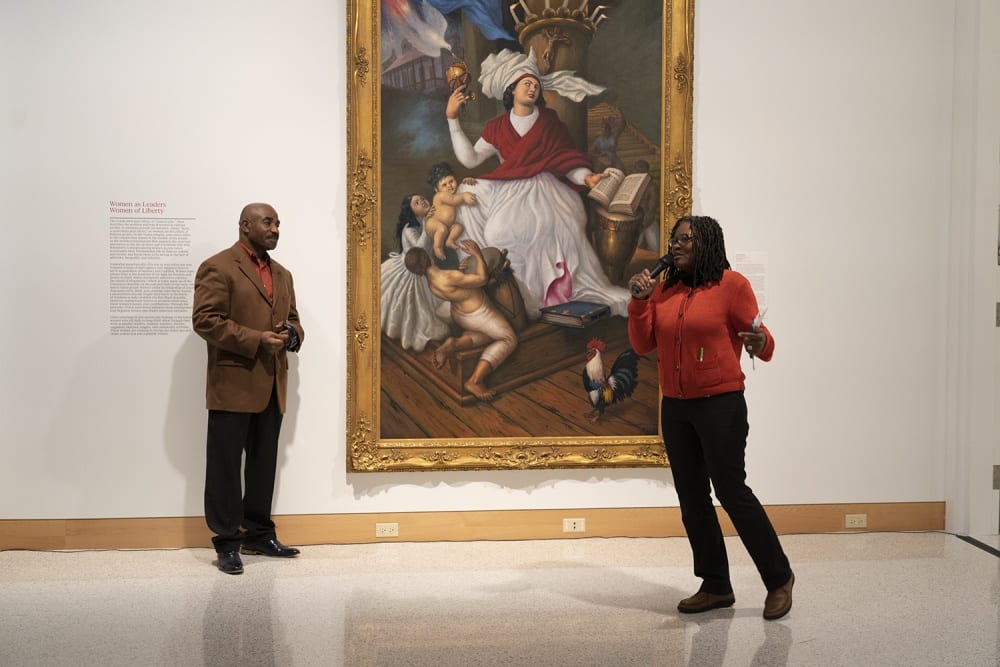 One of these programs is the Common Work of Art. In 2018, the museum selected Jean-Pierre's painting Marie Laveau—a portrait of Marie Catherine Laveau, a priestess who influenced the development of the Voudou religion in New Orleans, where it is known as Voodoo—as its Common Work of Art. The massive canvas—over nine feet tall and six feet wide—depicts the priestess surrounded by symbols that reference Haiti, Catholicism, and African and West Indian spiritual beliefs, providing opportunities for many gallery discussions around cross-cultural influences. The Common Work of Art is selected for its productive intersections with the Common Book, organized by KU's First Year Experience. This program offers incoming students and faculty and staff a shared reading experience. In 2018, the Common Book was Create Dangerously: The Immigrant Artist at Work (2010) by Haitian author Edwidge Danticat, which explores immigrant artists who create work in conversation with the struggles of their homeland. The coordination of these programs enabled the KU community to engage with both Danticat and Jean-Pierre directly through gallery talks and lectures. Students just entering the university also begin to experience the museum as a space relevant to many disciplines that promotes critical engagement, in this case with the histories of social, economic, and political struggle.
Beyond the artists exhibiting in the museum's galleries, IARI invited practitioners deeply invested in the work of social history to share their own scholarly and artistic practices. The many ways these artist-scholars performed, resituated, or diverged from dominant historical narratives revealed that social and cultural histories are composed from available evidence and are therefore always particular constructions. These non-static histories may also be actively choreographed as a way of examining their evidentiary status and historical claims. Tina Takemoto, a fourth-generation Japanese-American scholar, performance artist, and filmmaker, focused on experimental film as a mode of engaging with archival evidence of queer lives.
Takemoto delivered her experimental lecture, "Queer Social Histories and the Wartime Incarceration of Japanese Americans," in the Spencer Museum of Art's auditorium. She asked how "queer of color artists and scholars approach those silent yet provocative historical traces" in the archive when the material is being excavated and pieced together after histories of violence and incarceration.9 Takemoto's lecture specifically addressed her own attachments to queer histories that are speculative and remain beyond our grasp. In response to these gaps in the archive, she pieced together her Queer Camp Trilogy, made up of three short films screened over the course of her lecture, which revealed her deep commitment to archival knowledge from a queer-of-color point of view. She made connections among cultural and archival encounters, images, soundtracks, and performance—for example, mashing up propaganda wartime video footage with a Madonna soundtrack, and slowing down video reels out of sync with the music, inviting the audience to read with her against the archival grain.10
The experimental aspects in the lecture format challenged what might have been a decidedly more formal tone. Humor is rarely a featured component in academic spaces, but Takemoto took advantage of this method to rattle the audience's expectations, drawing attention to the performative aspects of her work and the human complications inherent in the study of social histories. She began by posing a key provocation that "artist-led inquiry can enable us to speculate about various aspects of the past, while emphasizing the specificity and partiality of our vision, as well as our deep attachments to the stories that remain beyond our grasp."11 The performance unfolded in three sections corresponding to the trilogy's three films: Looking for Jiro, Warning Shot, and On the Line. Takemoto clearly and generatively guided the audience members through a rumination on how obscured histories call for the paradoxical task of locating the unknowable in archival documentation—an absurd but revealing endeavor. She remixes archival material found through scholarly research and produces what she refers to as a kind of "shadow archive."12 Her work about "same-gender-loving individuals" living in Japanese concentration camps during World War II is a real contribution to understandings of camp life.13
Takemoto also discussed Rea Tajiri's 1991 film History and Memory, an acclaimed work on Japanese-American World War II incarceration. Tajiri stated that she was haunted by a great sadness before she was born. Takemoto shared with the audience personal childhood stories of life with her own grandmother in which similar feelings resurfaced. She explored with humor and generosity how violent life in concentration camps was for her own family. Her archival research then revealed how doubly vulnerable queer people of color must have been. The complicated history of erasure or unknowable aspects of these lives creates an ambiguous space that often relies on scant evidence. This frustrated legibility, then, calls for experimental, hybrid, and performative approaches to tease out a historical impression. Her work furthers our understanding of how to be in relation to historically located visual culture artifacts of same-sex love in the context of sexual, gendered, and racial violence.
Takemoto's assemblage of methodologies—video production, archival research, experimental lectures, and academic writing—presents a generative way to scramble the more fixed dominant histories that often erase marginal subjects. These methods blur lines between the lives being performed and the lecture-performance and films as methods for their deployment. By making her approach a subject of the inquiry, Takemoto underscores a critical position toward historical forms, pressuring the use of archival research and academic formats in establishing and circulating knowledge claims. Takemoto's work, therefore, intervenes in the archival record, enabling audiences to question how storytelling, embodied knowledges, and living archives might do their work. The work of social histories has the potential to disrupt settled forms and bring together ideas in unexpected ways—a hybridization of methods that might constitute social histories with deeper and productively unresolved complexities. Takemoto is an interdisciplinary scholar-practitioner, and because her work is not constrained by the methods of only one discipline, she is able to leverage the usefulness of hybrid methodologies.
Adrian Stimson's performance, Resistance is Futile, was presented at the neighboring Haskell Indian Nations auditorium. Haskell—a residential school, as it is known in Canada, the counterpart to US boarding schools—opened in 1884 as the United States Indian Industrial Training School. Originally designed for the purposes of assimilation, it is now one of the largest Tribal Colleges and Universities in the United States. Stimson attended three Canadian residential schools in his life and considers himself a residential school survivor. His work often reflects on histories of genocide, loss, and resilience. Buffalo Boy, one of Stimson's performance personas, is Two-Spirit, referring broadly to Indigenous gender non-conformity. This performance began with them being tied up with a rope and laid down in the center of the stage. During the first movement of the performance, they struggled to get free, a task that at times required true exertion, at times performative emphasis. Amidst the struggle, Buffalo Boy paused in their efforts at freeing themself, caught their breath, straightened their wig, searched a pouch, and, despite the constraints, produced a tube of lipstick and touched up. While on the surface an obvious deployment of camp humor, this also underscored the right to dignity in struggle, as well as recent, topical themes of self-care. It put into relief the performative nature of identities and its usefulness to different ends.
Once free, Buffalo Boy performed with a whip. This conjured up cultural projections of the dangerous Indian from Buffalo Bill's Wild West attraction that toured the United States and Europe in the late nineteenth and early twentieth centuries, a historical spectacle Stimson intentionally appropriates. Then, Buffalo Boy went into the audience, taking selfies on their cell phone with different audience members. The mood was productively awkward, as it was unclear how various attendees saw themselves in relation to the history of Indian representation Stimson was leveraging. In the performance's final movement, Buffalo Boy read from a script. Part of the conclusion follows: "Did you ever think that you were the ones being colonized?…Resistance to our ways is futile. Resistance to our ways is futile. Resistance to our ways is futile. Decolonize. Decolonize. Decolonize. Decolonize. Indigenize. Indigenize. Indigenize. Indigenize. Now is the time. Resistance is futile…"14 The performance's title originally seemed to suggest that perhaps there was some futility in Buffalo Boy's resisting the fact of colonization, but Stimson reversed this reading by pointing out that Indigenous peoples remain. "You think we were beaten. You think we were conquered. You think we were assimilated. Resistance is futile."15
The inquiry also used the Museum's Brosseau Center for Learning gallery to enable interaction between visiting artists and our permanent collections. The Learning Center gallery is one of the most responsive exhibition spaces in the Museum, rotating every two to three weeks to accommodate use by classes across the University. IARI has, therefore, engaged the space often in support of our inquiries and research forums. In thinking about how our collections are poised to enable audiences to author their own questions and explorations, Takemoto worked with our Curator of Global Contemporary and Asian Art and Stimson worked with our Curator of Global Indigenous Art to make selections. The artists were able to conduct initial searches through the online collection, and curators could then prepare object lists based on their interests through the collection database.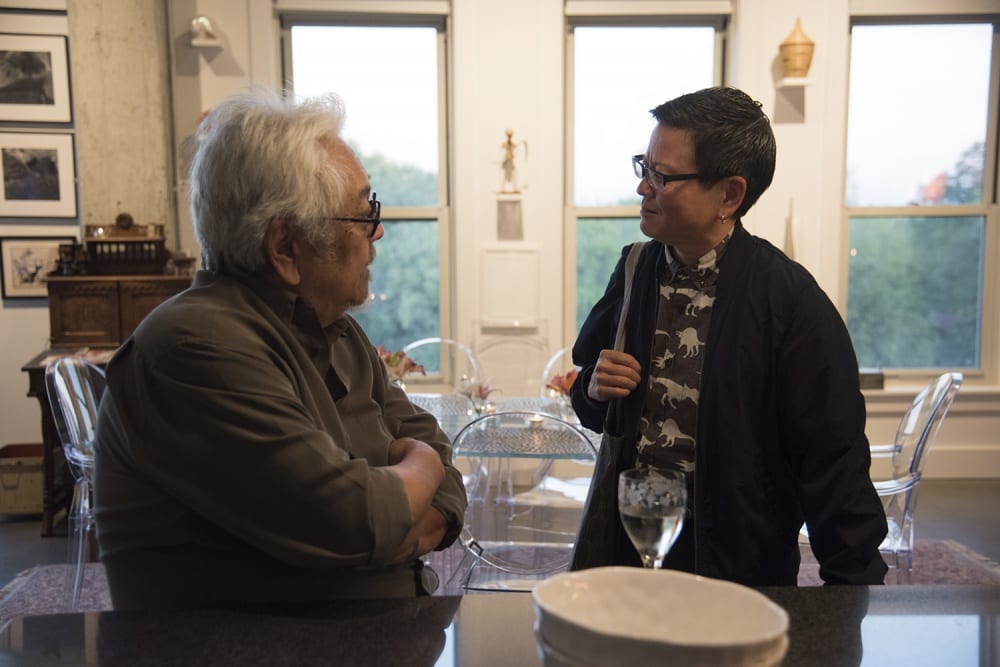 Takemoto selected mostly photographs and prints by Asian and Asian American artists that emphasized queer readings of the body and landscape. One of the artists whose work was included was Roger Shimomura, a retired art professor at KU whose work deals with popular culture and stereotypical Asian imagery, and who joined the inquiry for an evening and invited Takemoto for a studio visit. But the Learning Center gallery also enabled her work to remain in circulation at the Spencer Museum of Art after the inquiry visit concluded. The video work, On the Line, from her Queer Camp Trilogy explored in her experimental lecture, was looped in the gallery space for a period of two weeks, providing students, community members, and other visitors additional ways to interact with her research. This exhibition space was also used to put artists' works in conversation with each other. Adrian Stimson exhibited his video work, The Shaman Exterminator On the Trail of the Woodcraft Indians with the Buffalo Boy Scouts of America, which explores the reappropriation of Indigenous references.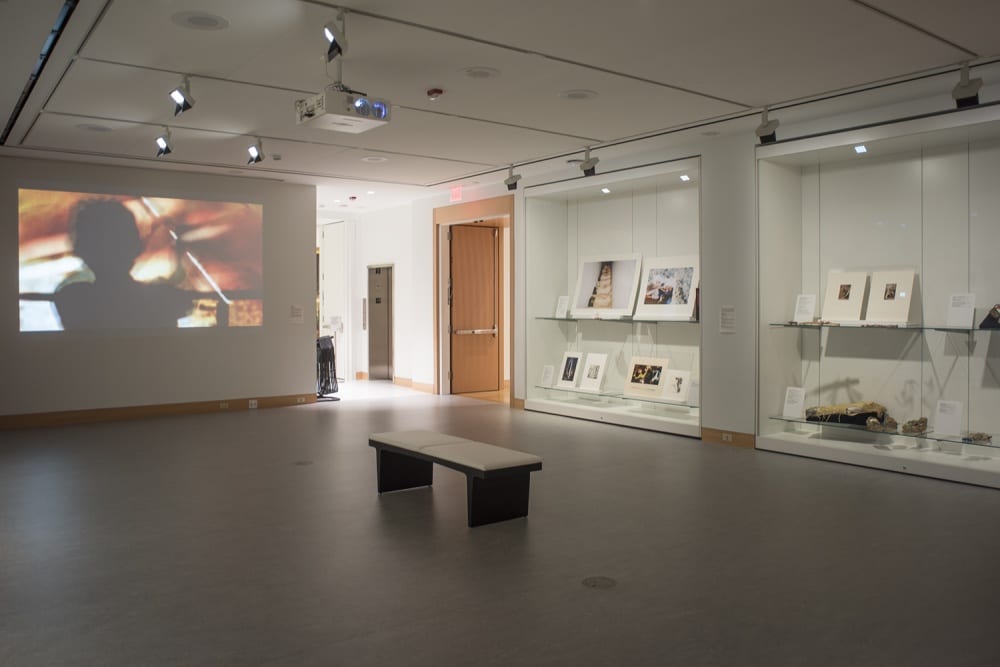 The selections Stimson made from the collection mostly referenced the Blackfoot Nation, though the selection also included photographs of Wild Bill Cody and Annie Oakley as a nod to Stimson's interest in how native cultures get variously taken up in the American imagination. The museum, however, was unable to display particular objects requested by the artist due to exhibition permits and the objects' potential status as ceremonial or sacred. In order to display one pipe, museum staff had to keep the bowl and neck separate, since connecting them activated the object for ceremonial purposes. Stimson commented that for the Blackfoot, they were not objects at all, but rather living entities. To take seriously the task of Indigenizing the museum, we must understand that there are moments when things cannot appear. The tension between living entities that may not be displayed on the one hand and the museum's privileging of the exhibitionary mode on the other reveals the colonial history of the collection and display of objects. Indigenizing the museum means not defaulting in every case to display, even if it is the museum's dominant trope, but instead at times subscribing to other systems of knowledge and encounter that may provide more robust and case-specific forms of stewardship. In this case, the inquiry offered a critical lens to examine museum practices more broadly as themselves the product of troubled histories.
The inquiry initially began with a roundtable among visiting artists and university faculty, staff, and graduate students. In addition to formulating early questions, participants discussed their artistic practices in relationship to the work of social histories, allowing interests and understandings to emerge that required untangling or further exploration over the subsequent days. Although we did not seek consensus, this was also a way to establish the familiarity, trust, and camaraderie that can spark collaborative investigation. In a discussion about social histories and how such ideas might relate to the practice of the artists, Stimson related the idea of social histories to storytelling, which he understands as a system of Indigenous knowledge. He sees his own work as conjoining the contemporary to a continuum of stories, therefore translating his performance persona Buffalo Boy, for example, back into Blackfoot through his work. This is a manner of "changing the systems we are in through stories."16 He states: "We know what happened…some of us have benefitted from it, some of us haven't…so what do we do with that knowledge?"17 Stimson suggested that the work of Indigenizing knowledge and institutions is about not repeating the harm and acknowledging many systems of knowing. It is also for this reason that we explored the many ways we can know social histories, in the first instance.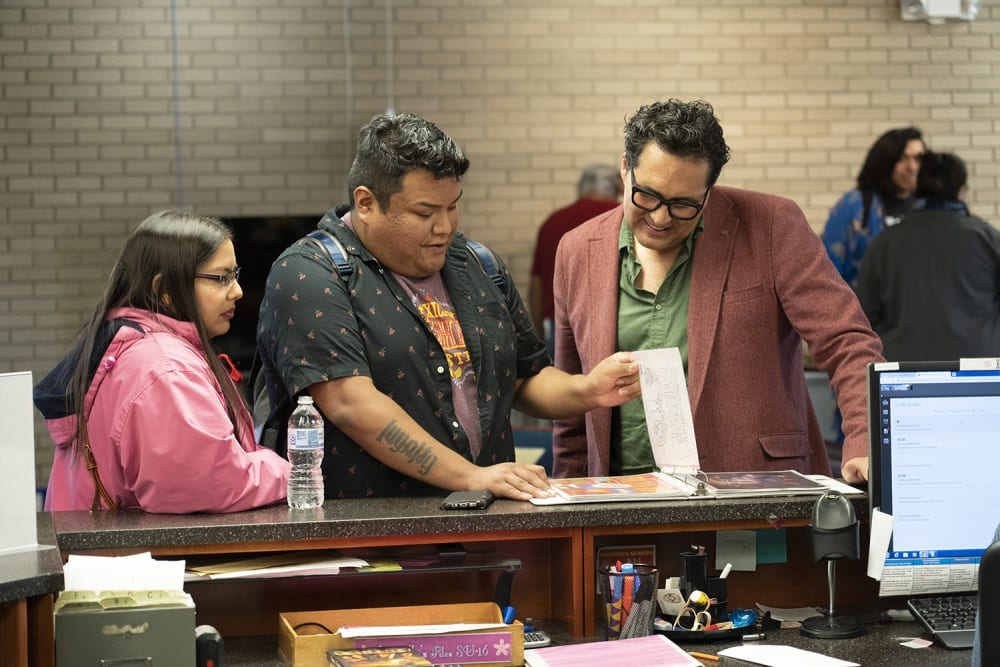 Rena Detrixhe, an alumna of KU's Visual Arts department who participated in the inaugural roundtable, was invited to install an iteration of her Red Dirt Rug project. The series is a response to the social and environmental histories of the Oklahoma landscape. Detrixhe processes red Oklahoma dirt into a fine, soft dust. She then uses impressions of altered shoe soles to create a pattern resembling an ornate carpet that references human presence and impact on the land. She comments on this human impact through pattern-making that references these social histories. The installation of the work was open for public viewing over several days, giving audiences the opportunity to experience social history as an embodied artistic labor.
Detrixhe's work sheds light on how these practices can be used to expose their social and historical contexts, especially rug-making's key role in thinking about feminine domestic labor on a global scale historically. Her rug-making process is not merely decorative in nature, but also harkens back to the very utilitarian purposes of rug-making as "women's work" not only in the United States, but also in places like Iran, where the once-booming Persian-rug-making industry dominated the international market.18 Reflecting on Detrixhe's interest in social histories more broadly, art historian Louise Siddons states:
Thanks to the red dirt from which they are made, the Rugs are self-evidently about Oklahoma and its people—but also, by extension, about all of our experiences of America, its landscapes, and its built environments. Crafted of the Oklahoma earth and sculpted into ornamental patterns, the Rugs simultaneously evoke frontier cabins and wealthy Victorian parlors. They are resolutely domestic, speaking of immigrants, class aspiration, old-world tradition (and taste), and hospitality.19
The Red Dirt Rug installation added another nuanced dimension to our general inquiry into how various intellectual and physical practices help to share and shape social histories. The work specifically highlighted connections among land rights, property, nonhuman animals, and human life. The installation of the work served as a meditation on alternative ways to know social and cultural histories. The exhibition of Red Dirt Rug concluded with the artist and attendees to her culminating lecture sweeping up the ephemeral work.
IARI's annual transdisciplinary inquiry at the Spencer Museum of Art has concluded its active public engagement around social histories. Through exhibition, performance, and dialogue, we encountered social histories as living in the sense that their impacts on the present are still very much in flux, constantly co-configuring one another. We understand that revision, collectivities, deconstruction, intervention, and counter-signifying, while not equal in every instance, can each be useful tactics when leveraged thoughtfully in different contexts. Inevitably in transdisciplinary discourse, inquiry and knowledge themselves often become subjects of investigation. And this is where our inquiries expose what kinds of meaning our institutions themselves may be proliferating. This became apparent in many ways, including our reflections on the display of Indigenous objects, or the careful treatment of the Haitian revolution and its position and use in US and other histories regarding emancipation. Our thinking continues, and as we build networks, we hope a feeling of affiliation enables us to revisit fellow artists and researchers in future inquiries.
There are two anecdotes from Social Histories that cohere in our thinking about these forms of inquiry. Stimson described that his early work with Buffalo Boy attempted, in many ways, to rescue suppressed notions of Two-Spirit people, who had once been highly regarded knowledge-keepers. More often now as he performs, as was the case here, he increasingly finds that younger Indigenous people honor that role, making him reflect on how this changes his position and responsibilities to the performances.20 In the concluding public roundtable, a KU student told the story of her husband bringing their five-year-old daughter to see Modisakeng's Passage. After the viewing, he asked if she liked the work, and she responded that she did not know, but that she wanted to find her own way to be free.21 We pass along these stories as nodes in which the work of researching, composing, and distributing forms of social history activates new narratives and understandings through a social medium—discussion about a performance and being with someone in a video installation, respectively. We posit that in addition to text-based scholarship, which we value for its own set of rigor and citational value, we might also advance social knowledges by being socially engaged with communities invested in such histories.
The challenge, of course, becomes how to collect and circulate such work so that it does not get lost in an endless vacuum of interdisciplinary one-offs. All documentation will continue to exist in the museum's archive for future researchers, but transcriptions and documentation alone can lead to well-known archive fever, which often results in manic accumulation with no real care or thoughtful activation of what has been collected. In the move from publicly engaged research to considerations about scholarly form, we share our experiences and reflections to continue to think, work, and learn together. How can an artist-integrated model for knowledge production activate museum pedagogy and pedagogies of the oppressed in communities locally, nationally, and internationally? How does a spectrum of pedagogies expose knowledges differently than more traditional exhibition, programmatic, and scholarly methods? As IARI develops and expands its inquiry model to be practiced across divergent modes of engagement, we reflect on how this "low-key transformative process" can be better integrated into future learning.22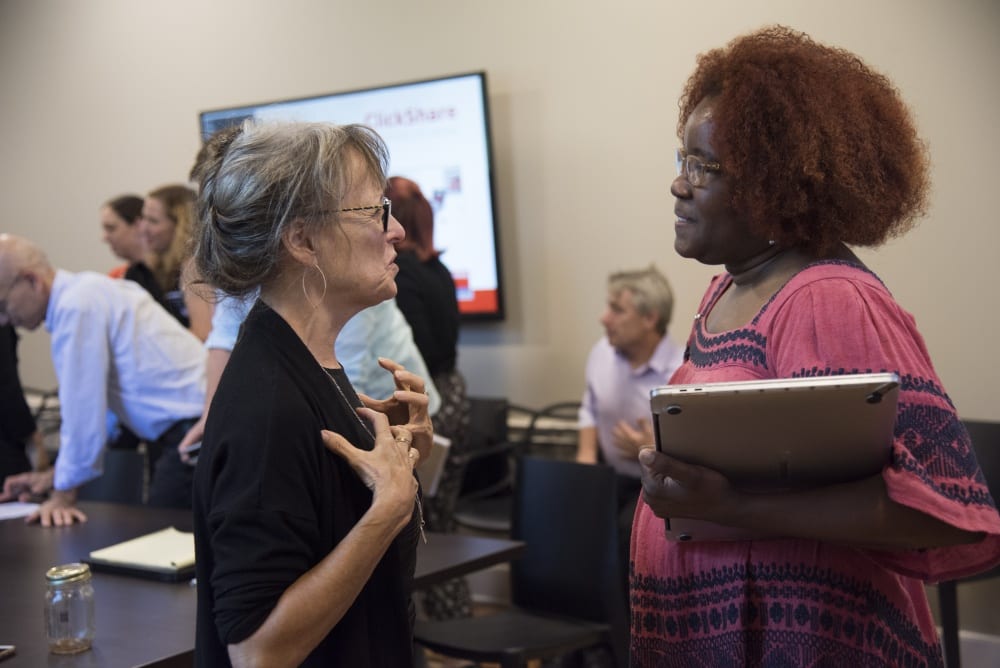 For now we turn to fall 2019, as we plan for our third inquiry, knowledges. We arrive interested in further examining how we might understand artistic practice as a method for knowledge production. Many artists are trained from the outset through studio critique, requiring students to be able to articulate their work in relation to contemporary and historical art practices and speak to the histories and valences their forms denote. This hopefully incites a critical position toward form, understanding the history of their medium(s) and what kinds of ethics and politics might get imported with them. We further suggest that this may be something artistic practice has to offer more disciplinarily discreet forms of knowledge production and circulation that assume scholarly forms are neutral vessels. In our preparations for this inquiry, we have invited artists Assaf Evron, Danielle Roney, Fatimah Tuggar, and Andrew Yang, along with visual culture scholar Nicholas Mirzoeff, to help us think about artistic forms of knowing and how these might take part in our interest to decolonize knowledges. This colloquium, scheduled for November 2019, will serve as the pre-conference for the national meeting of the Alliance for the Arts in Research Universities (a2ru) at the University of Kansas. We invite you to join us.
---
Joey Orr is the Andrew W. Mellon Curator for Research at the Spencer Museum of Art at the University of Kansas where he directs the Integrated Arts Research Initiative and serves as affiliate faculty in the Department of Visual Art. His previous post was the Andrew W. Mellon Postdoctoral Curatorial Fellow at the Museum of Contemporary Art Chicago, where his major project aligned three exhibitions around artistic research. He received his MA in Visual and Critical Studies at the School of the Art Institute of Chicago and a practice-based, interdisciplinary PhD as an Arts and Sciences Fellow from Emory University. Recent publications include the chapter "Collecting Social Things" in Rhetoric, Social Value, and the Arts (Palgrave Macmillan), an interview with Suzanne Lacy (Art & the Public Sphere), and "Inhabiting Cultures," a co-edited special issue of the Journal of American Studies (Cambridge University Press). He is also a founding member of the idea collective, John Q, whose projects explore collaborative notions of public scholarship.
Imani Wadud is the Andrew W. Mellon Graduate Research Fellow for the Integrated Arts Research Initiative's 2018/2019 academic year and a PhD candidate in the Department of American Studies at KU. With the support of a Chancellor Doctoral Fellowship, Wadud focuses primarily on the twentieth and twenty-first centuries, working at the intersection of visual culture, performance studies, critical ethnic studies, and Blackness. Her research incorporates visual culture theory and scholar-practitioner research that centers transnational, Black diasporic modes of artistic expression. With a background in social activism and performance-based social practices, Wadud's work with IARI investigates how decentralizing status quo modes of academic and museum engagement with marginalized cultural expressions might promote decolonial modes of thinking, doing, and being. Wadud is excited to spend a year of research working with colleagues at the Spencer Museum to bridge theory and praxis and, in turn, produce more politically responsible and inclusive encounters with marginalized knowledges in academic, community, and museum spaces.

---