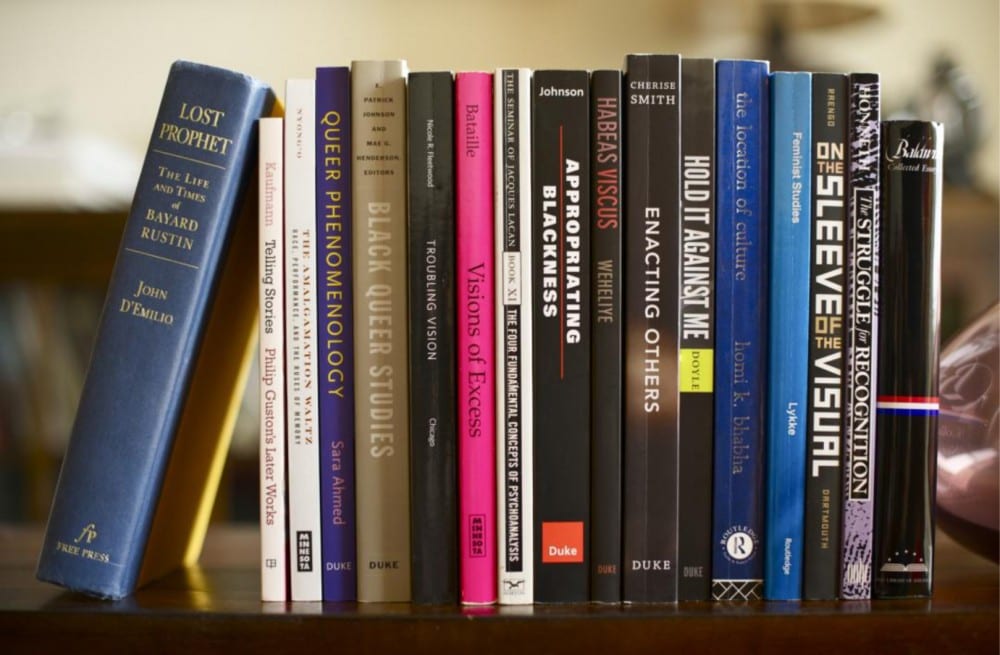 Some books are new discoveries; others are books to which I find myself returning often. All of them help me think on the new trajectories of my research in black visuality, particularly the representation of blackness as it intersects with queerness.
My Reading List:
John D'Emelio, Lost Prophet: The Life and Times of Bayard Rustin (New York: Free Press, 2003)
David Kaufmann, Telling Stories: Philip Guston's Later Works (Berkeley: University of California Press, 2010)
Tavia Nyong'o, The Amalgamation Waltz: Race, Performance, and the Ruses of Memory (Minneapolis: University of Minnesota Press, 2009)
Sara Ahmed, Queer Phenomenology: Orientations, Objects, Others (Durham, NC: Duke University Press, 2006)
E. Patrick Johnson and Mae G. Henderson, eds., Black Queer Studies: A Critical Anthology (Durham, NC: Duke University Press, 2005)
Nicole R. Fleetwood, Troubling Vision: Performance, Visuality, and Blackness (Chicago: University of Chicago Press, 2011)
Georges Bataille, Visions of Excess: Selected Writings, 1927–1939. Edited by Allan Stoekl (Minneapolis: University of Minnesota Press, 1985)
Jacques Lacan, The Four Fundamental Concepts of Psychoanalysis. Edited by Jacques-Alain Miller (New York: Norton, 1988)
E. Patrick Johnson, Appropriating Blackness: Performance and the Politics of Authenticity (Durham, NC: Duke University Press, 2003)
Alexander G. Weheliye, Habeas Viscus: Racializing Assemblages, Biopolitics, and Black Feminist Theories of the Human (Durham, NC: Duke University Press, 2014)
Cherise Smith, Enacting Others: Politics of Identity in Eleanor Antin, Nikki S. Lee, Adrian Piper, and Anna Deavere Smith (Durham, NC: Duke University Press, 2011)
Jennifer Doyle, Hold It Against Me: Difficulty and Emotion in Contemporary Art (Durham, NC: Duke University Press, 2013)
Homi K. Bhabha, The Location of Culture (New York: Routledge, 1994)
Nina Lykke, Feminist Studies: A Guide to Intersectional Theory, Methodology and Writing (New York: Routledge, 2010)
Alessandra Raengo, On the Sleeve of the Visual: Race as Face Value (Hanover, NH: Darmouth College Press, 2013)
Axel Honneth, The Struggle for Recognition: The Moral Grammar of Social Conflicts. Translated by Joel Anderson (Cambridge, MA: MIT Press, 1996)
James Baldwin, James Baldwin: Collected Essays (New York: Library of America, 1998)
---
Derek Conrad Murray is an interdisciplinary theorist specializing in the history, theory, and criticism of contemporary art, African-American and African Diaspora art and culture, Post-Black art and aesthetics, theoretical approaches to identity and representation, critical issues in art practice, and the methodologies and ethics of art history and visual studies. He has contributed to leading magazines and journals of contemporary art and visual culture such as American Art, Art in America, Parachute, Art Journal, Third Text, and Nka: Journal of Contemporary African Art (Duke University Press), where he currently serves as associate editor. Murray is also a member of the editorial advisory board of Third Text. Murray's most recent article "Notes to Self: The Visual Culture of 'Selfies' in the Age of Social Media," was published in Summer 2015 in Consumption Markets & Culture. Murray is the author of Queering Post-Black Art: Artists Transforming African-American Identity After Civil Rights (London: I. B. Tauris, 2015).