Art Journal Open bids farewell to Nicole Archer, its Editor-in-Chief of the last three years. Many thanks to Nicole for her commitment to AJO and its mission and for shepherding the journal through the challenges of the pandemic. The journal is better for her leadership of it.
We are delighted to introduce readers to the
AJO
's new Editor-in-Chief, Grace Aneiza Ali! We are taking this opportunity to get to know Grace a little better, hear about her work and life, and her plans for the journal.
Grace Aneiza Ali is a curator-scholar of art of the Caribbean Diaspora as it intersects with the aesthetics and narratives of migration. She is an Assistant Professor in the Department of Art and the Department of Art History's Museum and Cultural Heritage Studies Program at the College of Fine Arts, Florida State University (FSU). Her book, Liminal Spaces: Migration and Women of the Guyanese Diaspora, explores the art and migration narratives of women of Guyanese heritage. She serves on the international advisory board of British Art Studies. She has been named the 2024 Curator for the Engine for Art, Democracy, and Justice (EADJ) initiative at Vanderbilt University.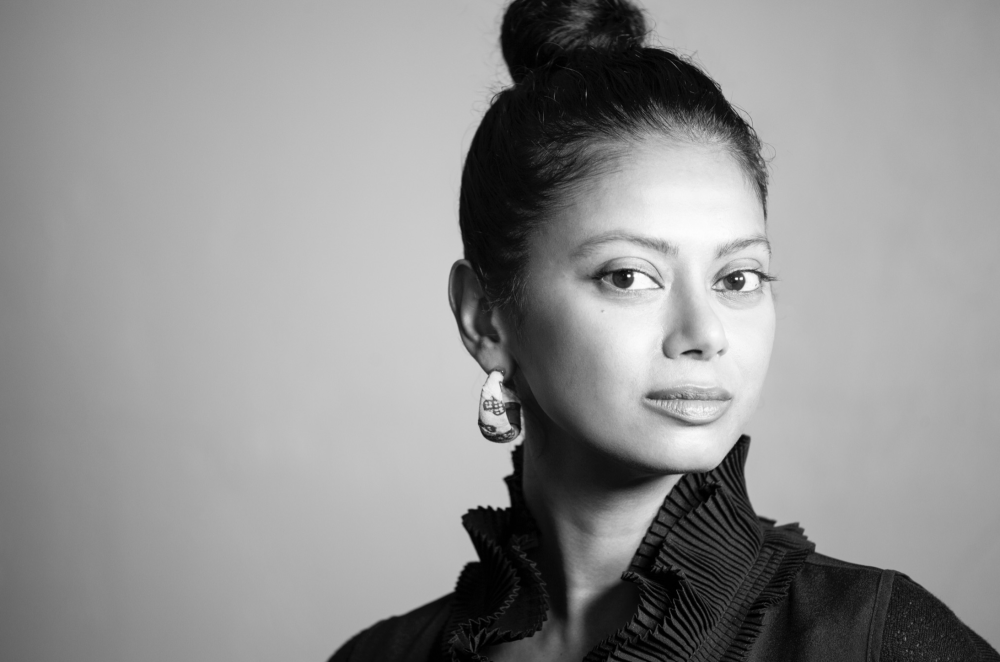 I subscribe to a philosophy of "curating as a space of listening," rather than a space of authorship. I approach editorship in similar ways—in lieu of exhibition walls, the digital page becomes a site where an ethos of inclusion, repair, and listening can be engaged.
Where are you from originally?
I am from Georgetown, Guyana. It's a port city perched on the Atlantic Coast of South America near the Caribbean Sea that has shaped the country's history and citizenry in profound ways.
What pathways led you to the work you do now?
There is one art museum in Guyana and as a young student there I never knew anyone with the title "curator." I've gone from these origins to having lived and worked in two of the most vibrant museum-cities in the world, New York City and Washington, DC and found a community of curators invested in transformative work. I'm humbled by this arc in my life and career. I'm often asked to share my thoughts about the future of museums. I think it's important to acknowledge what a privilege it is to even speculate about a "future" of museums, when for so many places like my country, a fully realized museum is still a dream deferred. I keep these beginnings and where I come from as a reminder of the responsibility I bear as a curator, to not just forge ideas, but to consider the relationship of the museum to a place and its people.
How does your research, curating, and public scholarship demonstrate a commitment to editorship?
I am grateful to what I've found to be a very thoughtful and devoted Art Journal  Editorial Board for giving me the opportunity to bring a curatorial framework to the work of editorship. I've shared with them how I  ground my practice in curatorial activism. This includes using curating and curatorial scholarship as a platform to make visible historically omitted, underexamined, or marginalized peoples from art histories. It also means I approach exhibitions and their public programs as vehicles to expand the museum from a space for representation and reflection to one of interrogation and repair. And, I subscribe to a philosophy, echoed by curator Candice Hopkins (of the Carcross/Tagish First Nation), of "curating as a space of listening," rather than a space of authorship. I approach editorship in similar ways—in lieu of exhibition walls, the digital page becomes a site where an ethos of inclusion, repair, and listening can be engaged. 
What is your vision for Art Journal Open during your tenure?
I am looking forward to expanding both the geographical reach and global voices of Art Journal Open. Who are the voices and perspectives we haven't yet heard from? Where are the places we haven't yet engaged? I'm also eager to find ways to activate and curate the Journal's archive. How has it both reflected and indicted the state of the field? How might we cull from it to illuminate a path forward where its artists' projects, conversations, interviews, and scholarship continue to have meaningful impact. And, because I have a commitment to public scholarship, I want to explore ways we can take the intellectual conversations and timely scholarship off the page and into public spaces, particularly local communities and non-traditional art spaces.
But, before I implement a vision, I've been doing the work of listening to the diverse publics and audiences this publication gathers, including the hard working editorial team, the editorial board, past and upcoming contributors, the visionary leadership of former AJ/AJO editors such as Jordana Sagesse and Nicole Archer, artists, curators, and the CAA community at large. I'm interested in connecting with our student readers—this next generation of art scholars—and find ways Art Journal Open can power their curiosity. And, equally important, because it's so easy to write to and for ourselves, I'm listening to the people outside our field—audiences that we might not expect. What do poets think of our approach to writing about visual art? I'm listening for the good, the gaps, and the silos.
And finally, what are your arts-related recommendations at the moment?
I draw from many interdisciplinary sources in my work. So I am sharing a few art-adjacent things that are part of my personal "study"at the moment. In my early morning walks, I indulge in the On Being podcast—a collection of "wise and graceful lives across spiritual inquiry and science, social healing and the arts." And, I am reading Margaret Renkl, particularly Late Migrations: A Natural History of Love and Loss and her New York Times column on all things "flora, fauna, politics and culture in the American South." They have been eye-opening for me as I prepare for a curatorial project in Nashville with the Engine for Art, Democracy, and Justice (EADJ) initiative. Renkl offers, "To love the South is to see with clear eyes both its terrible darkness and its dazzling light, and to spend a lifetime trying to make sense of both."
Art Journal Open is CAA's online forum for the visual arts that presents artists' projects, conversations and interviews, scholarly essays, and other forms of content from across the cultural field. Founded in 2012 as an open-access affiliate of Art Journal, Art Journal Open has been independently edited since 2014. It remains open access and is always free to explore.