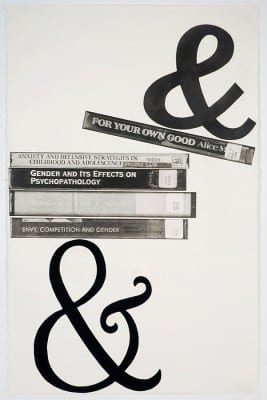 Art Journal Open is pleased to present a three-part, three-author project by Natilee Harren, Karl Haendel, and Nate Harrison. It examines appropriation as an artistic strategy that pressures both the legal and conceptual definitions of authorship. In a case study of the Los Angeles–based artist Haendel's practice of recirculating images, Harren, an assistant professor of art history at the University of Houston, explores three telling "episodes" in Haendel's work over the past dozen years in her series "Knight's Heritage: Karl Haendel and the Legacy of Appropriation." The artist Nate Harrison, a faculty member in the MFA program at the School of the Museum of Fine Arts in Boston, responds to Harren's texts with a critical reminder of the historical specificity of postmodernism and appropriation. Haendel himself vividly evokes his working methods by assembling some 130 images from his analogue archive of 10,000 found images and photographs into thematic animations, created especially for the project.
This project embodies Art Journal Open's commitment to fostering new formats for critical thinking on the web. The Art Journal Open editorial platform takes full advantage of the unique qualities of web-based media to present artists' projects, scholarly essays, and timely criticism. In this project, all three are presented on equal footing, underscoring the fact that no single format constitutes the historical record. Embracing the evolving nature of multimedia formats and techniques, this site seeks to serve as a provisional, suggestive, and projective archive for contemporary art.
The project's focus on appropriation coincides with the recent publication of CAA's landmark Code of Best Practices in Fair Use for the Visual Arts (see www.collegeart.org/fair-use/). Detailing how "fair use can be invoked and implemented when using copyrighted materials in scholarship, teaching, museums, archives, and in the creation of art," this resource presents artists, art historians, and "other visual-arts professionals with a set of principles addressing best practices in the fair use of copyrighted materials."
—Gloria Sutton, Web Editor
Art Journal Open welcomes proposals for artist's projects, critical writing, and other contributions. Please see the submission guidelines here.