Editors' Note

This conversation is the first of a series titled "Hard Lessons: Trauma, Teaching, Art History." Crafted in a moment of extraordinary collective trauma, the series acknowledges and examines the myriad ways we encounter trauma within our varied teaching practices. In our classrooms, we regularly confront horrifying histories of racialized and gendered violence, oppression, imperialism, colonialism, and other abuses of power. Often, we engage with artworks whose beauty obfuscates violent pasts and presents; other objects deliberately evoke affective responses from viewers by means of their formal elements. Students and instructors alike bring diverse and unknown backgrounds and experiences to the study of arts practice and discourse. But our classrooms are also rhizomatic networks of collaboration, of community, and of imagination. "Hard Lessons" takes seriously the crucial significance and transformative power of pedagogy, particularly as it intersects with the teaching of visual culture.

Through a series of contributions from art historians, practicing artists, and museum educators, "Hard Lessons" explores the multivalent ways in which arts educators make space for learning through varied, and often intersecting, experiences of personal and collective traumas. In content ranging from interviews and roundtables to critical essays and toolkits, we aim to bridge the gap between theory and praxis for arts educators. We hope that the space "Hard Lessons" carves out for critical reflection, coupled with the tools and actionable advice offered by our contributors, will provide support for educators not just during this period of collective trauma, but beyond: we aim to foster an extended conversation, one that continues to build trauma-informed pedagogies explicitly tied to the teaching of visual materials as we return to in-person teaching and open museum doors.

—Jenevieve DeLosSantos and Kathleen Pierce, Series Guest Editors
As practitioners in the arts—artists, art historians, and museum professionals—we often extol the poignant power of images. Whether to assert identities, convey political messages, or evoke pathos, shock, confusion, dismay, delight, or celebration, visual images are powerful conveyors and constructors of meaning. This central truth often undergirds the disciplinary discourse in our classrooms and beyond. As images hold the power to elicit strong emotional responses in viewers, they also, correspondingly, have the power to evoke trauma. This might include deeply personal, individually experienced traumas, intergenerational traumas, or, as we faced in the spring of 2020 and beyond, moments of collective trauma. As arts educators, we face the challenge of presenting a broad range of content to students from diverse, unknown backgrounds—backgrounds that may well include a form of trauma.
Like so many instructors, in the midst of spring 2020's chaotic shift to remote learning, I sought ways to continue teaching amid the backdrop of the unexpected and unprecedented collective trauma of COVID-19. It was in this search that I increasingly encountered the term "trauma-informed pedagogy." Speaking to the term in a webinar I attended, neuroscientist Mays Imad, professor of pathophysiology and biomedical ethics at Pima Community College, Tucson, Arizona, articulated a question I did not even realize was on my mind: "How do we teach to those who are feeling lonely, broken, and fearful?"1 How should we as educators—not counselors, psychologists, or social workers—help guide our students through coursework as they face a global health crisis, the loss of loved ones, and, as the year continued, the unjust and enraging murders of George Floyd, Breonna Taylor, Ahmaud Arbery, and many other Black Americans, unsettling images of violence and destruction, and unrelenting political instability? How do we help our students to learn through these new conditions of extreme social isolation and disconnect? Moreover, I wondered about how these conditions were affecting educators. How can we lead as we struggle to grapple with depression, shock, anger, and sadness? As we continue to teach through this crisis, there is no time like the present moment to discuss the need for a trauma-informed lens in our classrooms.
Trauma-informed pedagogy locates the belief that trauma can be a severe impediment to learning. There are literal, physiological changes that occur when the brain undergoes or reexperiences trauma. Mental-health professionals have demonstrated that these changes are best met with acknowledgment, compassion, empathy, and support. Trauma-informed pedagogy borrows best practices from other lenses of trauma-informed care and transforms them to create productive and inclusive spaces of mutual trust in the classroom that facilitate learning by helping students and teachers feel safe, connected, and empowered.2
In the interview, Imad speaks to the neuroscience of trauma and how a trauma-informed lens in the classroom can help support learning, even as students work through the physiological and cognitive effects of trauma. We also discuss why this framework is particularly relevant to those of us teaching with images, a modality central in most art and art history classrooms, and how senses of hope and community can be reinforced through the practice of communal looking. Please note that the second portion of this interview includes and directly engages with a visceral image of state and racialized violence in order to acknowledge how historical images harbor the power to trigger present-tense trauma (Francisco de Goya, The Third of May, 1808, in Madrid, 1814).
While the full hour-long interview can be found at the bottom of the page, the discussion below features shorter sections of the conversation framed with introductory text for greater context and ease of viewing. For further reading, we have included a list of online resources devoted to trauma-informed pedagogy.
Trauma, the Brain, Physiology, and Teaching
Trauma causes physiological changes to the human brain and body, changes that can profoundly impact learning and well-being. As Imad explains in "Leveraging the Neuroscience of Now," the cognitive functioning that typically supports critical thinking, time management, setting priorities, and creative and innovative thinking are impaired with the added cognitive load that trauma places on the mind.3 While students are engaged in learning, those who are also experiencing trauma are simultaneously processing deep and threatening forms of fear that can compete with the cognitive resources needed to both process new information and focus on competing stressors like deadlines and course workload. Students may subsequently become irritable, disengage, or have notable difficulties completing work or mustering motivation. While our role as instructors is not to uncover students' traumas, deploying a trauma-informed lens structures the learning environment in ways that create space for the shifting cognitive loads caused by these additional stressors. Whether by offering assessment options, building community, or adding new spaces for self-reflection, a trauma-informed pedagogy makes room for students (and instructors) to both engage in learning and process traumas, without having to reveal those traumas to the community.
In the first part of the interview, Imad discusses the clinical definition of trauma, what happens as the body physiologically experiences trauma, and ways that instructors can leverage their pedagogy to help support student engagement and content mastery.




Part 1 of the video interview between Mays Imad and Jenevieve DeLosSantos, conducted in December 2020
The Trauma-Informed Art History Classroom
While many of the hallmarks of a trauma-informed lens are applicable to art history teaching, there are some disciplinary conventions that warrant a more targeted examination. When we ask students to encounter images, particularly but not limited to violent or visceral imagery, we force students to confront content that is not only conceptually challenging but also potentially traumatizing or retraumatizing. Considering any number of traumas that our students might face and the large number of images we often teach per semester, it is likely that at least one student in our classroom will experience a traumatic reaction to course material. At the same time, instructors are not counselors, and they cannot (and should not) know what content will initiate a trauma response—indeed, students themselves may not know until they experience it.
Furthermore, as the field increasingly reckons with its colonial pasts and exclusionary histories, many of us are presenting our students with history's horrors. How do instructors' choices to engage—or not engage—with painful topics such as racism, violence, rape, sexism, homophobia, or war, among others, relate to students' experiences of trauma in and out of the classroom?
In the second portion of our interview, Imad and I explore how one might best facilitate a conversation around a challenging yet frequently taught image: Francisco de Goya's Third of May, 1808, in Madrid (1814). Together, we explore what a trauma-informed lens looks like when applied to the quick study of an image like Goya's, as it is often taught within the context of a survey course. We also explore the many resonances a historical image might have with contemporary visual culture, as well as how to create space for these connections and reactions in the classroom.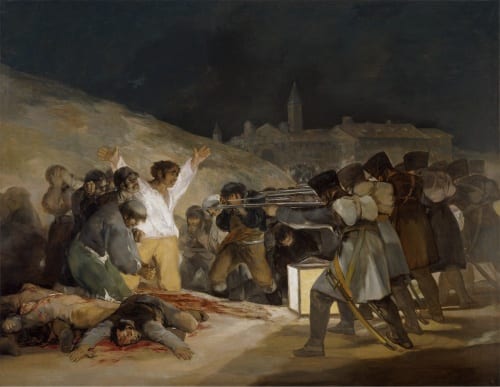 Part 2 of the video interview between Mays Imad and Jenevieve DeLosSantos, conducted in December 2020
Key Takeaways and Hope and the Arts
As the trauma of the present moment continues to unfold, both the editors and authors hope that this interview will provide readers with manageable, actionable changes they can implement in the courses and lessons they have already developed. Modifications like providing spaces for student reflection, offering instructor reflections and perspectives, and providing options for participation and assessment are small ways to help strengthen a sense of community, recognize students who are struggling or perhaps retraumatized, and provide multiple paths for students to engage with course content in ways that best meet their respective needs.
This final part of the interview offers an optimistic reminder that the critical study of art and visual culture affords us all an opportunity to connect and communicate. In a way that makes our fields distinct, the communal contemplation of art is something that can be activated to help create communities of care and trust through the collective power of looking, analyzing, and creating.




Part 3 of the video interview between Mays Imad and Jenevieve DeLosSantos, conducted in December 2020
Further Reading and Resources
Read

Carello, Janice. Trauma-Informed Teaching and Learning: Bringing a Trauma-Informed Approach to Higher Education (blog).

Imad, Mays. "Hope Matters." Inside Higher Ed, March 17, 2020.

Imad, Mays. "Leveraging the Neuroscience of Now," Inside Higher Ed, June 3, 2020.

Imad, Mays. "Dear Faculty: 'Keep Walking,'" Inside Higher Ed, November 24, 2020.

Imad, Mays, and Lisa C. Schumaier. "Trauma-Informed Teaching: During the Transition to Virtualized Learning and in Response to the Coronavirus Pandemic." Teaching Professor, August 17, 2020.

Simmons, Dena. "Confronting Inequity / The Trauma We Don't See." Educational Leadership 77, no. 8 (May 2020).
Watch

Bali, Maha, and Mays Imad. "How Is Your Heart? Trauma-Informed Pedagogy—Community Building Resources" (video conversation). Produced by Equity Unbound in collaboration with OneHE. August 26, 2020. YouTube video, 17:33.

Imad, Mays. "Examining the Intersection of Equity, Trauma-Informed Pedagogy, and Student Learning" (workshop). Streamed live on August 28, 2020. YouTube video, 1:36:30.

Imad, Mays.  "Trauma Informed Teaching & Learning (for Teachers)" (workshop). Streamed live on April 13, 2020. YouTube video, 57:48.

Imad, Mays. "How to Recognize & Mitigate Stress & Traumatic Experiences (for Students)" (workshop). Streamed live on August 5, 2020. YouTube video, 1:11:15.
Listen

Imad, Mays, and Bonni Stachowiak. "Trauma-Informed Teaching and Learning." November 12, 2020. Episode 335 of Teaching in Higher Ed. Podcast, 44:02.
Tools

Costa, Karen. "Trauma-Aware Teaching Checklist." 100 Faculty. Google Doc.




Full video interview between Mays Imad and Jenevieve DeLosSantos, conducted in December 2020
---
Jenevieve DeLosSantos is assistant teaching professor of art history and director of special pedagogic projects in the Office of Undergraduate Education for the School of Arts and Sciences at Rutgers University–New Brunswick, New Jersey. In her dual role, she teaches art history courses while working on larger initiatives devoted to teaching and learning, high school partnerships, and undergraduate research. Her current book project with Rutgers University Press, "Poetries—Politics: A Multilingual Project," explores project-based learning in the humanities. Her art history scholarship focuses on nineteenth-century American Orientalism and, more broadly, on race and imperialism in nineteenth-century visual culture.
Mays Imad is professor of pathophysiology and biomedical ethics at Pima Community College, Tucson, Arizona, as well as the founding coordinator of the Teaching and Learning Center. Mays earned her PhD in cellular and clinical neuroscience from Wayne State University School of Medicine in Detroit and then completed a postdoctoral fellowship at the University of Arizona. Her current work focuses on the relationship between stress and self-awareness, self-advocacy, emotional resilience, and metacognition as they pertain to learning. She recently contributed a number of essays to Inside Higher Ed on trauma-informed pedagogy and is committed to sharing educational innovations that strive for a more inclusive and equitable classroom for all.
---
Mays Imad, "Trauma-Informed Pedagogy Webinar Presentation," Pima Community College, Tucson, Arizona, March 26, 2020. ↩
SAMHSA (Substance Abuse and Mental Health Services Administration)'s Trauma and Justice Strategic Initiative, SAMHSA's Concept of Trauma and Guidance for a Trauma-Informed Approach, July 2014, 9–11. For more information, see "Infographic: 6 Guiding Principles to a Trauma-Informed Approach," Centers for Disease Control and Prevention, September 17, 2020. ↩
Mays Imad, "Leveraging the Neuroscience of Now," Inside Higher Ed, June 3, 2020. ↩