From Art Journal 80, no. 2 (Summer 2021)
Christine I. Ho. Drawing from Life: Sketching and Socialist Realism in the People's Republic of China. Oakland: University of California Press, 2020. 320 pp.; 85 color ills. $70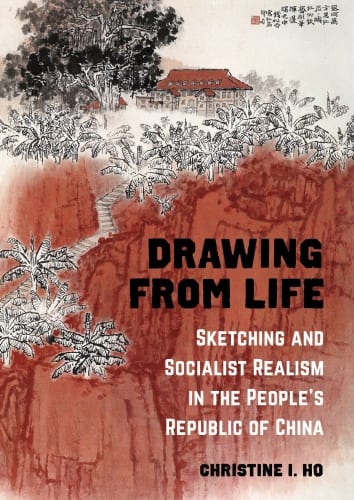 Several years ago, at his studio in Woodside, Queens, the global-contemporary artist Zhang Hongtu (b. 1943) spoke frankly of his experiences as a young trainee at the high school attached to the Central Academy of Fine Arts in Beijing in the early 1960s, just prior to the Cultural Revolution in China (1966–76). "Everyone," Zhang stated, "but everyone had to follow the teacher's instructions closely to master the style of socialist realism." As part of the usual practice, Zhang's class was tasked to reproduce precisely the forms and dimensions of a figural sculpture with brush and paint on paper. One day, a lunch break interrupted the exercise, and students ran off to the school canteen. "But when we returned to the classroom after lunch," Zhang recounted, "not a few of us had trouble discerning which painting was whose. You see, the paintings all looked alike."1
Memory of this anecdote permeated my reading of Christine I. Ho's marvelous Drawing from Life: Sketching and Socialist Realism in the People's Republic of China, a book that takes on the formidable task of historicizing the pedagogical and philosophical processes through which artists negotiated both socialism and creative agency in the Mao era. Foregrounding the sketch in her exploration of mass arts (dazhong wenyi, a term denoting the popularization of art for the masses), Ho contributes mightily to an emerging body of scholarship on modernism and modernity in a twentieth-century China that struggled to shape the postrevolutionary realities of implementing Chinese Communist Party (CCP) cultural policy after 1949, both in and beyond the studio.2
Generally dated from the 1949 founding of the People's Republic of China (PRC) to the death of Mao Zedong (1893–1976), the Mao era in China has long posed a methodological and ideological problem for sustained examinations of modern and contemporary Chinese artworks. Whereas mere decades ago, university syllabi throughout North America and Western Europe often eschewed this "thirty-year period" in classes on modern Chinese literature and art—from the reasoning that little to no art could be produced under the extremity of Maoist revolutionary didacticism—increased scholarly attention to the era now opens up exciting perspectives on twentieth-century Chinese and sinophone lived realities. This broadening of art historical scope also contributes to the cutting-edge work on late socialist or postsocialist contexts adjacent to modern and contemporary China, extending to Eastern Europe and Southeast Asia, among other areas.3 Ho, who acknowledges such transnational connections throughout Drawing from Life (and explores specific case studies of socialist internationalism in chapter 6), formulates this longstanding problem with perspicacity. There is a need, she argues, to "apprehend socialist culture as generated through hybrid traditional and local references rather than as imposed irruption, as cosmopolitan and international in orientation rather than as closed isolation" (12).
Indeed, a crucial shift has taken place since the late Cold War years in cultural scholarship on China, revealing greater willingness to contend with the phenomenology of mass arts; Ho's book is a direct reflection of this shift.[Additional recent publications of note include Yi Gu, Chinese Ways of Seeing and Open-Air Painting (Cambridge, MA: Harvard University Asia Center, 2020); Margaret Hillenbrand, Negative Exposures: Knowing What Not to Know in Contemporary China (Durham, NC: Duke University Press, 2020); Yang Wang, "Envisioning the Third World: Modern Art and Diplomacy in Maoist China," ARTMargins 8, no. 2 (June 2019): 31–54; Denise Y. Ho, Curating Revolution: Politics on Display in Mao's China (Cambridge: Cambridge University Press, 2017); and Lily Chumley, Creativity Class: Art School and Culture Work in Postsocialist China (Princeton, NJ: Princeton University Press, 2016).] It was not uncommon for researchers of socialist visuality, not very long ago, to shy away from designating the objects under scrutiny as "art," opting instead for the categories of cultural production, visual culture, or even the much derided category of propaganda. To this end, many of the groundbreaking examinations of Mao-era works produced over the past twenty years have treated posters, graphic design, cult images of Mao, and related forms. Still other studies prioritized hyperstylized art forms, including the yangbanxi ("model operas"/ballets) that were honed under the oversight of Mao's wife Jiang Qing (1914–1991) throughout the latter years of the Mao era in the Cultural Revolution.4
Ho's study, by contrast, conceives of mass arts in ways that prioritize the relatively less explored mediums and genres that evolved earlier in this thirty-year period, including easel painting, brush-and-ink painting, and monumental watercolor painting. Acknowledging that "the auratic associations of the fine arts … appear at odds with the socialist experience," Ho demonstrates in each chapter how such tensions "between the elite, technical and bureaucratic associations with the fine arts and the popular address sought by revolutionary mass culture" shaped a socialist fine art and socialist realism in China (13). Ho's work reflects, moreover, a criticality of approach and a methodological rigor that weaves historiography and multiple sets of secondary scholarship with close analyses of primary texts such as artist diaries, speeches, published manifestos, and the documentation of museum exhibitions in her examinations of artworks.
Note the following from chapter 4, on the artist Li Xiongcai (1910–2001) and his adaptation of landscape painting that both documented and envisioned the socialist state's technological transformation of rural waterways in the 1950s: "Unlike [Li's] sketchbooks, where impressions are scrawled in pencil with an immediacy conveyed through the most abbreviated of loopy contour lines, the preliminary sketches from surveying Zhanggong Dike range from polished painting to mnemonic notation. By tightly cropping each construction scene, he tracks a series of physically situated episodes in a crisp, confident hand, drawn with pliant brushes in sooty, undiluted ink" (143–44). With granular precision, Ho interweaves visual analysis of the sketches, which functioned as the artist's on-the-spot notes, with historical accounts of the scene in question (in this case, Flood Prevention Station No. 1 in Hankou, Wuhan). In related passages not quoted here, narratives of dike construction planning from the late Qing (late nineteenth to early twentieth century) alongside journalistic accounts of flooding disasters from the early 1950s are also brought into consideration.
Chapter 1 alone carries 115 footnotes—and this offers just one example of the author's meticulous engagement with original archival research as well as her generous attributions to existing scholarship. The first chapter's topic repays such a close-handed approach, exploring as it does the tensions through which intellectuals in China negotiated and eventually socialized European Beaux-Arts drawing pedagogy in the decades leading up to and beyond 1949. The eminent figure of Xu Beihong (1895–1953) offers a prime illustration of this trajectory, given Xu's training in Beaux-Arts education throughout the 1920s in France, Belgium, and Germany prior to his appointment in 1950 to head the Central Academy of Fine Arts in Beijing, where he laid the ground for adapting the pedagogical systems of the Soviet Union in China after 1949. Ho places this process in the context of both a translated and transnational educational field to historicize the concept of drawing in China as the origin of the plastic arts, through a "conceptual grasp of the purpose of art-making," "a foundational technique that was configured as a quasi-scientific means of viewing the world" (25).
Draftsmanship, Ho points out, was central to mediating the artist's access to the objective material world. As cultural workers, artists were employed to mediate the actual through the observed (43). In this vein, chapter 2 considers the politically remolded subjects turned out from the studio in one of the most characteristic activities of the Mao era, that of mass mobilization to the countryside to undertake the (sometimes disputed) cultural labor of the outdoor sketching trip. Homing in on the historical instance of The Bloodstained Shirt by Wang Shikuo (1911–1973), an uncompleted work from the late 1950s that depicts a scene of the peasantry amid the CCP's land reform movement (conducted 1949–53), Ho considers how Wang's participation in mass sketching evidences a process that "inaugurated drawing as an independent genre," in part, through its multiple phases of draftsmanship (59). The son of a landholding peasant, Wang undertook Republican-era arts training in multiple cities, including Shanghai, prior to studying abroad in Japan. He ultimately relocated his efforts, like so many cosmopolitan artists and intellectuals of the time, to Yan'an in the late 1930s.5 A product of Yan'an remolding, Wang was initiated into mass sketching and land-reform campaigns that dramatically reshaped his compositional process by the 1950s: "Going into life," writes Ho of Wang, "was a critical component for researching and envisioning the imagistic, entailing the accumulation of figural studies as well as superseding immediate perceptual impressions by continually reworking multiple impressions captured within sketches" (89). The case of The Bloodstained Shirt illuminates how Wang, through mass sketching, painstakingly sought to render visible (if not to inhabit) the peasant subjectivity upheld by CCP-led land reform; and yet, ultimately, the chapter calls into question the efficacy of the artist's particular realization of this politics of recognition.
While the struggle to bring to life peasant subjectivity is outlined in Wang's process of navigating and remolding political subjectivity, chapter 3 turns to the process of reforming guohua, translated by Ho as brush-and-ink painting, through the mass sketch in the 1950s. A medium embodying the privilege of literatus social stature since the Song dynasty (960–1279), ink painting carried a "counterrevolutionary" prestige that faced heavy interrogations in the early PRC years. Artistic mediums such as ink, much like the artists and intellectuals hailing from Shanghai or foreign training in Western Europe, required remolding under the auspices of state socialism. Li Keran (1907–1989) was a figure who negotiated the relevance of ink and brush for socialist realism by pushing against the medium's inward-looking reputation. Calling on a canonical master of the Yuan dynasty (1279–1368) and inheritor of the Song tradition, Huang Gongwang (1269–1354), as "a nativist exemplar" and a "homegrown model for entering into life (shenru shenghuo)" (95), Li adapted the classical tradition of the brushstroke as a conduit to nature and the cosmos, demonstrating its immediacy for the politicized purposes of building the new state. To what extent, the chapter questions, could the indigenous function of brushtechnique from inherited classicism facilitate an inherent access point to "the real" that was so privileged by socialist state educators and administrators in the 1950s and beyond?
Proceeding from chapter 4, the book's second part, encompassing the remaining four chapters and epilogue, takes the examination to several historical instances of mass campaigns and sketching tours from the mid-1950s up to 1960. Such tours and campaigns of mass sketching, as relayed in chapter 4, entailed transmedial explorations of painting as well as ink and watercolor notations— which competed with the increasing use of photography and film on hydraulic engineering sites—with the aim of recalibrating the organization and ultimate union of artists' mental and manual labor. Chapter 5, dedicated to the oil sketches produced by Dong Xiwen (1914–1973) during his tour of southwest China in 1955, examines the artist's efforts to reconcile the lingering specters of Beaux-Arts pedagogical practices that continued to reside in mass sketching. Chapter 6 recounts the exercises in international diplomacy and cultural exchange undertaken by Li Keran and Guan Liang (1900–1986) in East Germany in 1957, as well as the trips of Fu Baoshi (1904–1965) to Czechoslovakia and Romania in the same year. Chapter 7 explores the transformation of socialist realism into the unique "combination of revolutionary realism and revolutionary romanticism" that, on the one hand, served as a hallmark of an administrative turn away from Soviet socialist realist pedagogy and, on the other, presaged the radical extremity of creative practices to come. Each chapter in part 2 of Drawing from Life builds upon the momentum of the book's first three chapters to set up a narrative of temporal—if not teleological—evolution, guiding readers to a "penultimate" conclusion, a moment just prior to the point at which "the landscape of new China became washed with crimson" by the onset of the Cultural Revolution in 1966 (240).
As evidenced above, and despite the titular emphasis on sketching, Ho's book is not a medium-specific study. Rather, Ho treats mass art that evolved over several decades of the twentieth century through the lens and praxis of mass sketching as a collective public act in socialist China. For specialists and students alike, Drawing from Life offers both essential and sophisticated conceptual understandings of the categories of mass art that promise to enrich a multitude of medium-specific examinations.
Moreover, Drawing from Life raises broad questions as to what makes modernity possible in twentieth-century Chinese socialism. Through her disciplinary rigor and methodological innovations, Ho shows how socialist realism, as a hallmark of Chinese modernity, offered artists unparalleled opportunities to locate and redefine forms of self-realization. Socialist realism also facilitated artists' realizations of the rationality of modern nationhood as the ultimate site of political subjectivity. Consequently, the subjects of Ho's book wield fascinating forms of historical agency through creative and intellectual practices that hinge on a specific engagement with the world, as well as the ability to mass disseminate that engagement well beyond the eyes and ears of an abstract state apparatus. What does it mean, ultimately, to conceive of socialist art both within and without the realism, where realism is understood in and through a dynamic process of direct engagement with the material world? Ho states that such art is not purely about style, genre, or painterly technique but also and most crucially about agency that depends on the means of rendering both "legible and visible" the representational politics of socialism (243). In historicizing the institutionalization and evolution of mass sketching in socialist China, Ho executes the incredible work of exposing the unevenness of socialist realism's mediums, its disputes, and its transnational negotiations. To a considerable degree, these debates and negotiations continue to resonate in the present day, as new global histories of postwar art proceed to peel back the layers of what has, thus far, been left off the records of the twentieth century.
---
Jennifer Dorothy Lee is assistant professor of East Asian art at the School of the Art Institute of Chicago. Lee's first book manuscript, "Anxiety Aesthetics: Maoist Legacies in China (1978–1985)," is currently under review. Lee's next research project will take up social histories of art in mid-twentieth-century Taiwan and Hong Kong.
---