×

Anaïs Duplan, Bodybuilding, 2021, digital collage (artwork © Anaïs Duplan). Click on the image above to scroll through the collage in its entirety.
Download a PDF of Bodybuilding here and listen to the audio while making your own accordion book per the instructions below.
---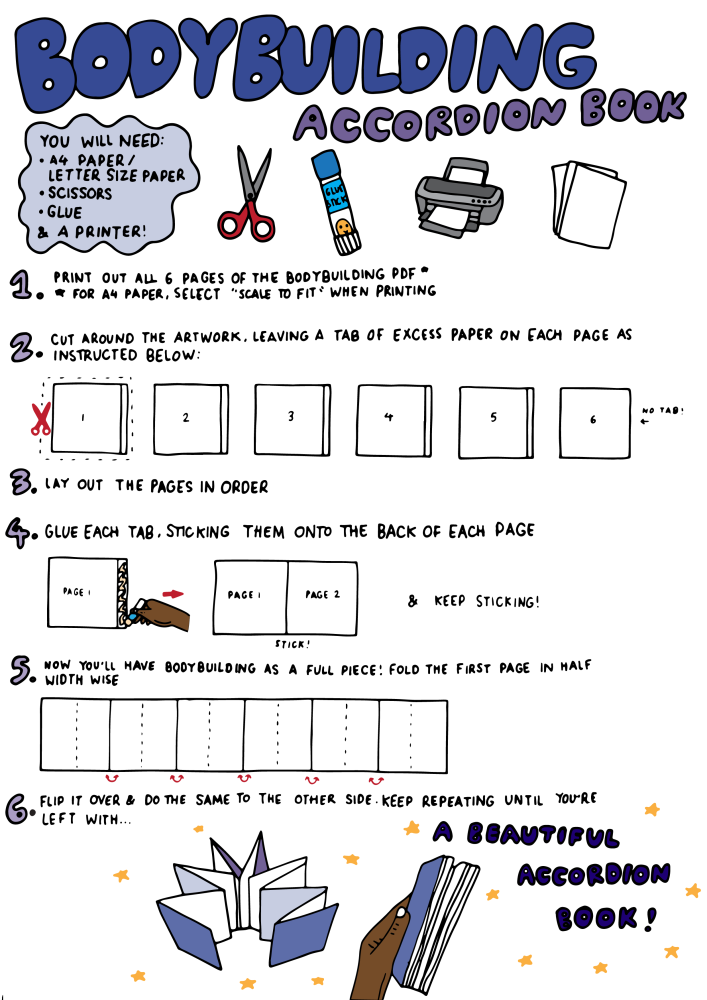 Further reading prepared by Nikki Gamboa
Bella, Tim, "Inside Trans Bodybuilding." Al Jazeera America, November 28, 2015.
Rillark Bolton. "Fluid Realities: Exogenous Testosterone and the Multiplication of Transgender Worlds." PhD diss., University of Sydney, 2020.
Cerankowski, K. J. "Praying for Pieces: A Practice in Building the Trans Body." CrossCurrents 68, no. 4 (2018): 515–24.
Marshall, Kayala. "Negotiating Heteronormativity to Challenge Gender Inequality: What's Happening on Instagram?" PhD diss., Massey University, 2019.
Mischke, Kelsey Jean. "Body Dissatisfaction, Body Projects, and Efficacy-Based Self-Esteem: Paths into Bodybuilding." Masters thesis, North Carolina State University, 2019.
Seamont, Morgan M. H. "Becoming 'The Man I Want to Be': Transgender Masculinity, Embodiment, and Sexuality." PhD diss., University of Colorado, Boulder, 2018.
---
Anaïs Duplan is a trans* poet, curator, artist, and founder of the Center for Afrofuturist Studies, an artist residency program for artists of color. He is the author of I NEED MUSIC (Action Books, 2021) and a book of essays, Blackspace: On the Poetics of an Afrofuture (Black Ocean, 2020), for which he won the 2021 QUEER|ART|PRIZE for recent work.
Nicole Archer, editor-in-chief of Art Journal Open, would like to thank Ace Lehner for their help facilitating this feature in its early stages.