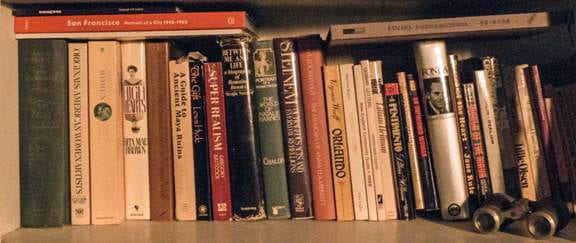 I am a visual artist, working primarily in painting and photography. This collection of eclectic books was accumulated through my varied interests. In some cases, the books were inherited from friends during the early 1980s. Most are related to the arts, or are biographical novels, reference books, and travel guides by an assortment of authors.
My Reading List (from the top of the stack, left to right):
Tran Troung (San Francisco: Telegraph Hill Gallery, 2013)
Fred Lyon, San Francisco, Portrait of a City: 1940–1960 (New York: Princeton Architectural Press, 2014)
Fan Hon, Fan Ho: A Hong Kong Memoir (San Francisco and Hong Kong: Modernbook Editions & Asia One Books, 2014)
Anatole Chujoy and P. W. Manchester, eds., The Dance Encyclopedia (New York: Simon and Schuster, 1949)
Eleanor Munro, Originals: American Women Artists (New York: Simon and Schuster, 1982)
Charlotte Streifer Rubinstein, American Women Artists (New York: Avon, 1982)
Rita Mae Brown, High Hearts (New York: Bantam Books, 1987)
Louise DeSalvo and Mitchell A. Leaska, eds., The Letters of Vita Sackville-West to Virginia Woolf (New York: Quill, 1985)
C. Bruce Hunter, A Guide to Ancient Maya Ruins (Norman: University of Oklahoma Press, 1974)
Lewis Hyde, The Gift: Imagination and the Erotic Life of Property (New York: Random House, 1983)
Gregory Battcock, ed., Super Realism: A Critical Anthology (New York: E. P. Dutton, 1975)
Meryl Secrest, Between Me and Life: A Biography of Romaine Brooks (Garden City, NY: Doubleday, 1974)
Jean Chalon, Portrait of a Seductress: The World of Natalie Barney (New York: Crown Publishers, 1979)
Gloria Steinem, Outrageous Acts and Everyday Rebellions (New York: Holt, Rinehart and Winston, 1983)
Anna Lea Merritt, Love Locked out: The Memoirs of Anna Lea Merritt with a Checklist of Her Works. Edited by Galina Gorokhoff (Boston: Museum of Fine Arts, Boston, 1981)
Virginia Woolf, Orlando, A Biography (New York: Harcourt Brace Jovanovich, 1956)
Sally Hayton-Keeva, ed., Valiant Women In War and Exile (San Francisco: City Lights Books, 1987)
New England Community Guide (Boston: 1988)
Christine Heron Stockton, Lesbian Letters (San Francisco: Heron Press, 1986)
Lillian Hellman, Maybe: A Story (Boston: Little, Brown and Company, 1980)
Lillian Hellman, Pentimento (Boston: Little, Brown and Company, 1973)
Lillian Hellman, Scoundrel Time (Boston: Little, Brown and Company, 1976)
Lillian Hellman, An Unfinished Woman (New York: Bantam, 1980)
Henry Fonda and Howard Teichmann, Fonda: My Life (New York: New American Library, 1981)
Jane Rule, Desert of the Heart (Tallahassee, FL: The Naiad Press , 1985)
Victor Wolfgang Von Hagen, World of the Maya (New York: New American Library, 1960)
Linda Nochlin, Realism (New York: Penguin Books, 1971)
Carlos Castaneda, Tales of Power (New York: Simon and Schuster, 1974)
Tillie Olsen, Silences (New York: Dell, 1978)
Martin Gardner, Mathematical Puzzles (New York: Simon and Schuster, 1961)
Gail Sausser, Lesbian Etiquette. Cartoons by Alice Muhlback (New York: Crossing Press, 1986)
Edward Gorey, The Willowdale Handcar or The Return of the Black Doll (New York: Dodd, Mead and Company, 1962)
Doris Agee, Edgar Cayce on ESP (New York: Warner Books, 1969)
---
Lenore Chinn is an artist known primarily for her paintings, focusing on portraiture to explore the super-realistic depiction of a wide spectrum of people of color, lesbians, and same sex couples. In recent years she has transitioned to using photography to capture images, documenting the cultural landscape from a painter's perspective. Chinn has been included in Lesbian Art in America: A Contemporary History by Harmony Hammond (New York: Rizzoli, 2000), Women, Art and Society (Fifth Edition) by Whitney Chadwick (New York: Thames & Hudson, 2012), and Encyclopedia of Asian American Artists by Kara Kelley Hallmark (Santa Barbara, CA: Greenwood Press, 2007). In 2014, Chinn was a Spotlight Photographer for "A Day in the Life of Asian Pacific America," The Smithsonian Asian Pacific American Center + Flickr. She is a founding member of Lesbians in the Visual Arts and Queer Cultural Center, and is affiliated with the Asian American Women Artists Association.