From
Art Journal
74, no. 2 (Summer 2015)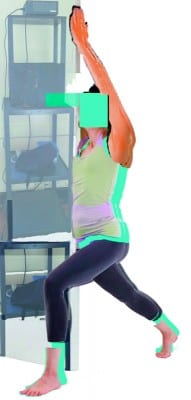 Greetings practitioners!
Let's begin by balancing on one leg. Good.
Or if you can . . . try balancing on no leg!
Feeling shaky? Remember: falling over is totally all right. Precarity is the greatest teacher.
Let me start off with a simple fact: art schools—which employ, at intermittent, recombinant intervals, a revolving majority of urban cultural workers, artist-teachers—have led the way in the loosening up of the rigid idea of the educator as wage-earning body.
Let's accept this—let it sink in. Let it quiver under the fascia.
We can't go home again. We can't go back. We have only now.
Or, to put it another way, let's find a new home in the floating world of now's institution, of managed, interlocking slots of short-term info-labor.
The private art school: overseen from afar, quantitatively, by tech-entrepreneur trustee boards and investment bankers with teams of consultants to translate their risk-management strategies into administrative policy. Let's take some deep breaths.
Let go of attachment—drop in, log in to a few hours of contact time.
Let's call the teaching artist it. Short for spir-it. A transparent crystal of self, clear bridge between worlds.
It: ancient wisdom of the one who dwells at the margins of the institution, who plays the edge of stability, no past, no future, alive and vigilant in the shimmering present.
• • •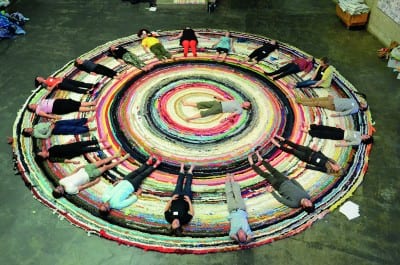 It offers an idea of work as a shirking of work. A miracle!
If you're working there's something wrong. You're always working. You're never working.
The divine worker is the one who works hard but whose value lies in your capacity to shirk work, to put joy above duty.
Let's embrace these contradictions.
The divine art worker is one whose suspicion of the institution is a practice of non-attachment. Whose skillful practice of non-attachment inspires trust in others—especially in those multiplying administrators who float like lonely bodhisattvas.
Pause now to ignite the divine worker who reposes fitfully, deliciously in the center of the anahata chakra.
It is the divine worker.
The divine cognitive worker in me bows to the divine cognitive worker in you.
Why cling to the old contractual baggage that neoliberal institutions have dispensed with? Flow with the new labor-capital relation, where there is no longer any determined quantitative time-value, where there is no longer any necessary constant in economic relations.
In all the time of life, the human machine is there, pulsating and available, like a brain-sprawl in waiting.
• • •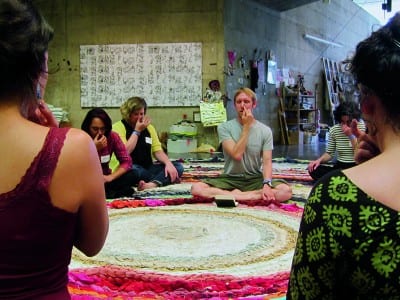 Still standing on one leg? Give in to the wobble. The wobble, if accepted, will help you stand tall, or to fall if you need to.
Trust in the abundance of the universe to manifest an infinite supply of labor just like you. No demands—only supply!
You, the divine worker, love your free time—time to create!—but you know there could never be enough time for the expansiveness of your visions. This is wisdom. So you abide in the space of a conceptual free time, where you work for no pay.
Instead of clinging tightly to your free time, you let the institution imagine this free time for you.
The work of the divine institution records the infinity of your conceptual freedom-time!
In this way the divine cognitive worker is supple and selfless, letting your imagination become one with a greater force.
You're still balancing? Amazing. Don't worry if those around you fall over. Failure—failure to have a career, a house, a guaranteed income—is the greatest teacher.
Remember, the universe, the institution doesn't need you. All it asks is that you show up. Or not.
Aspire to this simplicity of need. Identify with a higher force, which knows more about larger flows than your limited body.
Throw out the rigidity of contracts. No contraction—expansion!
No positions—poses to move through.
There is a juiciness to this angle of flow.
How to hold this paradox in your inner expanse:
That you are beautifully extra, that this excess, this abundance, composes you, cellularly.
And yet you yourself compose the institution. You are three quarters, or more, of its actual being!
You are its perfect face!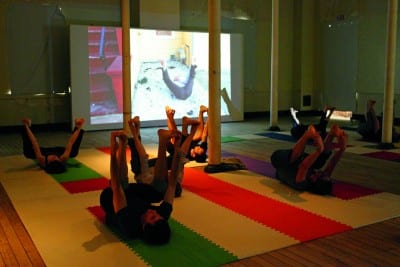 Liability Release Form
I, the undersigned participant in this fitness workshop, as a condition of my participation, hereby waive any and all claims I may have now or in the future against my instructor, Christian Nagler, Market Fitness, this institution and its owners, employees and trustees, in connection with or arising out of my participation in this workshop or any injury to myself related hereto.
I understand that any fitness workshop, any imbrication with physical or cognitive technologies, and any or all knowledge or ignorance of market dynamics and the terminology therewith carries with it considerable risk and I acknowledge that risk. I understand that any attempt to use this knowledge or ignorance to make profit, resist ideological frames, organize for revolution, invest in bonds, equities, or derivatives, or exist moment to moment as a fleshly incarnation of the infolding of creature-life carries with it considerable risk and I acknowledge that risk. I acknowledge that my mere existence in a world in which the concept of "value" has been derived (perhaps sometime in the 4th century B.C.) from a unified field of being, or in a world in which the concept of "value" has perhaps always existed separate from the purported concentration of material implied in a unified field as an eternal manifestation of fundamental volatility carries with it considerable risk. I affirm that my presence in a world in which two metaphors, such as, firstly, the "pearl of great price" from the New Testament Matthew 13:44 in which it is written that Jesus said:
When a man found it, he hid it again, and then in his joy went and
sold all he had and bought the field in which it lay.
and, secondly, the concept of liquidity as the price of immediacy of manifestations of value, can coexist, is a world in which I must acknowledge the presence of risk.
I have consulted with my Dr and she/he agrees that this workshop is appropriate for my current state of health and financial understanding/frustration.
_________________________________________
Signed
_________________________________________
Date
_________________________________________
Phone number E-mail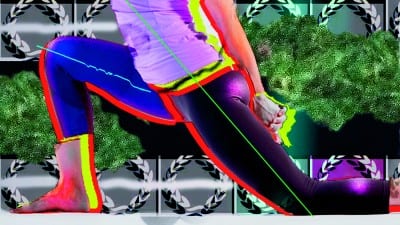 ---
Note: Some of these ideas were adapted from the following texts:
Franco Berardi, After the Future (Edinburgh: AK Press, 2011).
The Yoga Sutras of Patanjali, trans. Alistair Shearer (1982; New York: Bell Tower, 2002).
Gary S. Becker, Human Capital: A Theoretical and Empirical Analysis, with Special Reference to Education, 3rd ed. (Chicago: University of Chicago Press, 2009).
---
Christian Nagler is an artist and writer based in Oakland, California. He works at the intersection of bodily movement and geo-financial systems. Currently, he is doing graduate research on issues of performance in economic discourse and completing his first novel, The Capitalist. Yoga for Adjuncts is an element of the larger project Market Fitness.