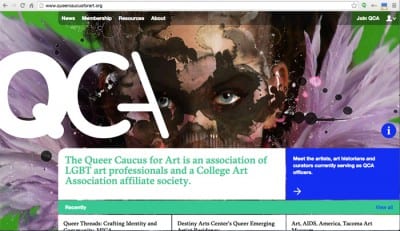 The Queer Caucus for Art has had much to celebrate recently, including a new website for the group, fantastic panels at CAA, numerous exhibition openings, and publications of books by our members.
The QCA is excited to announce the launch of its new website: http://queercaucusforart.org.The site provides regularly updated queer art news and resources such as archives, books, articles, information on residencies, and funding opportunities. Here, you can join QCA, create a profile to share information about your work, and network with other members.
Alpesh Kantilal Patel and Tina T. Takemoto have assembled an exciting lineup of speakers for "Queer Exhaustion," the QCA's panel at the 2016 CAA conference next month. Panelists Xandra Ibarra, Nao Bustamante, Tameka Norris, and Robert Summers will discuss "the pleasures and perils of employing exaggeration as an artistic strategy to combat stereotypes that cut across intersecting identifications of race, class, gender, sexuality, nationality, and disability." The panel will take place on Saturday, February 6, from 12:30 PM to 2:00 PM in the Maryland Suite.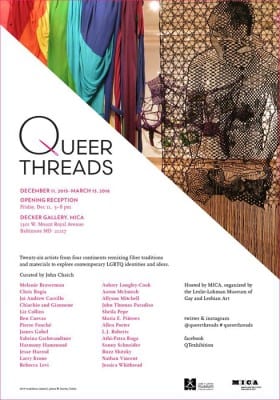 At last year's CAA conference, Jennifer Tyburczy and Anne Swartz presented "Irreverent: A Conversation about Sex and Censorship," with Jonathan D. Katz, Kelly Dennis, Hunter O'Hanian, Tobaron Waxman, and Michelle Handelman. The panel accompanied Jennifer's exhibition, Irreverent: A Celebration of Censorship, at the Leslie-Lohman Museum of Gay and Lesbian Art in New York. The exhibition was recently awarded the Allan Bérubé Prize for outstanding work in queer history. We are proud of Jennifer and are delighted that she has joined the QCA as a co-chair. Check out her new book Sex Museums: The Politics and Performance of Display, which was published by the University of Chicago Press this month.
John Chaich and Jeanne Vaccaro presented a panel at CAA 2015 titled "Queer Threads Unraveled," with Liz Collins, Aaron McIntosh, Sheila Pepe, L.J. Roberts, and Nathan Vincent. The panel represented work from John's exhibition Queer Threads: Crafting Identity and Community, which he organized with the Leslie-Lohman. The exhibition is currently on view at the Maryland Institute College of Art (MICA). An exhibition roundtable will take place at MICA on February 7, 2016, and features Julia Bryan-Wilson, Ann Cvetkovich, Aaron McIntosh, Kristine Woods, and Jeanne Vaccaro. The exhibition will travel to Boston in April. Keep your eyes peeled for the Todd Oldham-designed exhibition catalogue, which is slated to come out in June.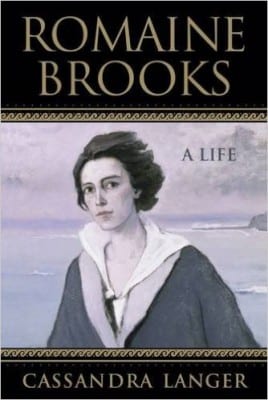 Jonathan D. Katz's new exhibition Art AIDS America, curated with Rock Hushka, is currently on view at the Tacoma Art Museum, and will travel to museums in Atlanta, Chicago, and New York later this year. The beautiful exhibition catalogue is currently available from the University of Washington Press.
Cassandra Langer's Romaine Brooks: A Life was released by the University of Wisconsin Press this past fall. Both biography and art historical study of Brooks' work, the book examines its subject in the milieu of creative women working in Paris in the 1920s.
– Lily Woodruff, on behalf of Queer Caucus for Art
For more information on Queer Caucus for Art, contact qcaofficers@gmail.com or visit http://queercaucusforart.org.