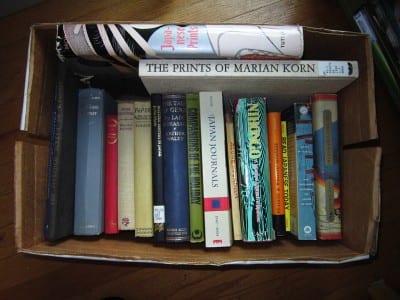 The box of books I brought along on sabbatical holds a random subset of readings (the rest being on digital platforms) around the idea of Japan in middlebrow culture.
This interest grows out of two recently completed projects. One is a book titled Bachelor Japanists about the uses of Japanese aesthetics to define non-normative forms of masculinity in the West. The second is a co-edited anthology, Queer Arts and Cultures.
The conjunction of queerness and Japanism brought me up (again!) against art history's self-imposed limits, in particular our assumptions about the progressiveness of the avant-garde. Despite skepticism about Greenbergian formalism, we too readily accept his historical model of avant-garde innovation diluted into popular culture and middlebrow "kitsch." Just as the art world actually came late to the civil rights movement and queer visual culture, however, an exploration of middle-brow engagement with Japan reveals prescient engagement with dynamics of globalism at a time when Greenberg and his ilk were narrowing the avant-garde canon by, as Bert Winther-Tamaki's Art in the Encounter of Nations: Japanese and American Artists in the Early Postwar Years (Honolulu: University of Hawaiʻi Press, 2001) demonstrates, anathematizing references to the Orient.
That much-thumbed book is on a bookshelf at home as is another informative study, Christina Klein's Cold War Orientalism: Asia in the Middlebrow Imagination, 1945–1961 (Berkeley: University of California Press, 2003). Here you see the first volume of Arthur Waley's 1925 translation of The Tale of Genji, which he promoted before it appeared not in avant-garde or scholarly magazines, but in British Vogue, where it was featured as the first "novel" written by a woman.
In the 1950s, Japanese "creative prints" appeared in magazines like Time and Holiday as evidence of their makers' global modernist sensibility. James Michener—the popular novelist and Tales of the South Pacific guy—collected and wrote about them. His 1959 coffee-table volume, Japanese Prints from the Early Masters to the Modern, is the biggest book my box. It salutes the modernist printmakers as "living men, men whom I love as creative brothers" (22), and urges readers to see them "as blood-brothers to Picasso, Mondrian, Marin, and Gauguin" (218). Michener confronts the prejudices of westerners who regret "that the artists no longer do Japanese scenes like Hokusai and Hiroshige," pointing out that "what such critics contend is that it is all right for a Spaniard Like Picasso or an American like Pollock or a Russian like Chagall to paint in an international style, but it is forbidden for a Japanese to do so" (219).
The rest are books by and about William Plomer, a South African living in Japan in the late 1920s whose fiction and poetry register prescient interest in modern Japan. There are also books by Donald Richie, an American novelist and essayist at the center of expat art circles in Japan after World War II. And a couple of recent novels. Oh, and I aspire to improve my Japanese.
Books in the box:
Thomas Baty, Alone in Japan:The Reminiscences of an International Jurist Resident in Japan, 1916–1954. Edited by Motokichi Hasegawa (Tokyo: Maruzen, 1959)
Liza Dalby, The Tale of Murasaki (New York: Doubleday, 2000)
James A. Michener, Japanese Prints from the Early Masters to the Modern (Tokyo: Charles E. Tuttle, 1959)
David Mitchell, The Thousand Autumns of Jacob de Zoet (New York: Random House, 2010)
Lady Murasaki, The Tale of Genji. Translated by Arthur Waley. Vol. 1. (London: George Allen and Unwin, 1925)
Sumie Okada, Western Writers in Japan (London: Macmillan, 1999)
William Plomer, The Autobiography of William Plomer (New York: Taplinger, 1975)
William Plomer, Four Countries (London: Jonathan Cape, 1949)
William Plomer, The Fivefold Screen (London: Hogarth Press, 1932)
William Plomer, Paper Houses (New York: Coward-McCann, 1929)
William Plomer, Sado (London: Hogarth Press, 1931)
Marian Korn, The Prints of Marian Korn: A Catalog Raisonné. Introduction by Oliver Statler and essays by Donald Richie and Tsuguo Yanai (Tokyo: Weatherhill/Graphics, 1988)
Donald Richie, Companions of the Holiday (New York: Walker/Weatherhill, 1968)
Donald Richie, The Japan Journals, 1947–2004. Edited by Leza Lowitz (Berkeley: Stone Bridge 2005)
---
Christopher Reed is professor of English and visual culture at the Pennsylvania State University. His forthcoming books are Bachelor Japanists: Japanese Aesthetics and Western Masculinities (Columbia University Press) and Queer Arts and Cultures: Reimagining Sexual Identities, co-edited with Jongwoo Jeremy Kim (Ashgate). His other books include If Memory Serves: Gay Men, AIDS, and the Promise of the Queer Past (Minneapolis: University of Minnesota Press, 2011), co-authored with Christopher Castiglia, Art and Homosexuality: A History of Ideas (New York: Oxford University Press, 2011), The Chrysanthème Papers: The Pink Notebook of Madame Chrysanthème and other Documents of French Japonisme (Honolulu: University of Hawaiʻi Press, 2010), Bloomsbury Rooms: Modernism, Subculture, and Domesticity (New Haven: Yale University Press for the Bard Graduate Center for Studies in the Decorative Arts, Design, and Culture, 2004), A Roger Fry Reader (Chicago: University of Chicago Press, 1996), and the anthology Not at Home: The Suppression of Domesticity in Modern Art and Architecture (New York: Thames and Hudson, 1996).