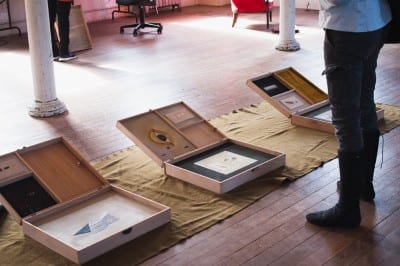 Headlands Center for the Arts opened as an interdisciplinary residency program in 1982, ten years after the abandoned military base it inhabits had been acquired by the National Park Service. The Park Service's master plan included the presence of several independent nonprofits nestled into the coastal wilderness of California's Marin Headlands. Headlands Center for the Arts took up residence in the then-dilapidated Fort Barry—a swath of buildings that were erected in 1907 and included soldiers' bunkers and officers' quarters alike—the perfect architecture for private studios, exhibition spaces, communal housing accommodations, and administrative offices. By nature of Headlands' unique location and the trailblazing vision of those who were among its first organizers and restorers (including the artists David Ireland, Mark Thompson, and Ann Hamilton, and Headlands' first executive director, Jennifer Dowley), Headlands quickly became a place where alternative practices could be developed. Artwork that did not manifest as objects (and thus had been underrepresented in the commercial gallery scene) could be created there and brought into a sphere of discourse, right alongside and in natural synergy with work that did.
The ethos of Headlands' is enlivened further by the organization's mission to provide residencies that do not require artists to foretell the fruits of their days, or to fulfill any quota of measurable work upon completion of the residency. Over the last thirty-four years, more than 1,300 creative practitioners (not only visual artists but also writers, musicians, performers, choreographers, curators, architects, and designers—all "artists" by our nomenclature) have participated in Headlands' programs. In the course of a single year, fifty–sixty artists-in-residence from all over the world, and at varied stages in their careers, come to live and work at Headlands for four to ten weeks, joining the organization's annual roster of Affiliate Artists (a subsidized, communal studio program for local artists) and Graduate Fellows.
The Alliance of Artists Communities approximates that there are roughly 1,500 residency programs worldwide, with residencies in the United States providing an estimated $40 million in support to artists annually.1 As these numbers grow, the shape of residency programs continues to morph to meet contemporary needs in an increasingly restrictive economy for the arts. Administrators of such programs, and those they serve, are sensitive to the often conflated notions of a residency and a retreat, as well as the presumption that artists are seeking a utopian, reclusive lifestyle. While many artists may certainly enjoy respite from their daily responsibilities while in residence, the circumstance afforded by a residency is one where artistic labor is centralized, valued by direct means, and professionally regarded as to be holistically sustained.
Yet few would deny the certain kind of magic that residencies often spark for their participants, as new avenues or modes for their practice are accessed like drawers. In the fall of 2015, the Spanish-born, Los Angeles–based artist Patricia Fernández Carcedo was in residence at Headlands for a little over five weeks. Fernández Carcedo's practice is infused with itinerancy. Sometimes painted, sometimes carved, and sometimes stitched, the objects that she creates and culls together are often as illustrative of the labor of their making as they are of the labor of a memory that is trying to hold onto a place, or perhaps trying to create a place that never was. Her installations—most often concerned with the displacement of people, culture, and ideas during the time of Franco's dictatorship in Spain—reframe geography as a collection of parts that are human-made (and often hand-held), in which use and sentiment are leveled, and authority and artifice are meticulously intertwined. Below, Fernández Carcedo and I discuss the influence of her residencies at Headlands and other programs on her interdisciplinary practice.
–Vanessa Kauffman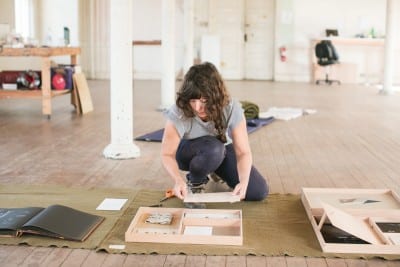 Vanessa Kauffman: When and where was your first residency, and what was it about having a residency that first appealed to you?
Patricia Fernández Carcedo: The first residency I attended was at Painting's Edge in the small mountain community of Idyllwild, California. Unfortunately, this residency no longer exists, though while I was there I forged relationships with artists whom I am friends with to this day. The residency at Painting's Edge was the determining factor for me in deciding to apply to graduate school. At the time that I applied, I was trying to figure out how to manage my life and my art, and I was looking for space to think. I felt out of place and like I had been working in a vacuum for a while. I took about four years between undergraduate and graduate school. That seems so long these days, but I think that length of time out of school was important for me. By the time I went to the residency I was considering graduate school, but I had my doubts. After meeting many of California Institute of the Arts graduates, I decided that it was the place for me.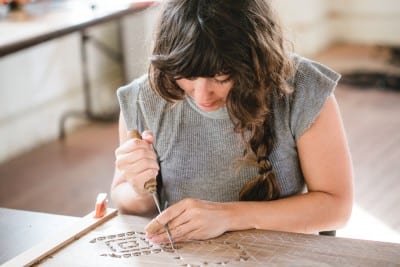 Kauffman: Much of your work is directly influenced by particular places and the inhabitants of them—I'm thinking specifically of your attention to material culture, your interest in unearthing and reshaping memory, and the notational way you weave landscapes, iconography, and narrative into each of your projects. How do you prepare yourself for the unexpected aspects of being in residence in new, perhaps unfamiliar places?
Fernández Carcedo: The first and most important thing is to create a mindset where I am completely open. This sounds simple, but I find that unless I remind myself of this—and give myself the permission to be flexible, to listen to others, to be willing to be present, to have patience—the residency is going to be a failure. I like being in unfamiliar situations because it makes me reevaluate everything I believed that I knew—about others, about myself, about the place, about the history of the place, and perhaps my relationship to it. My first long-term residency was a few years ago in Bordeaux, France. I had a clear idea of what I wanted to do, which was to learn about the exiled population of post–Civil War Spain living as permanent exiles in Bordeaux, but I had no way of knowing how it would materialize and how to even enter that very particular community. It took months before I was able to begin having important conversations about this exodus, and it required a lot of openness, availability, and following people's cues to get to this place.
Kauffman: What did you do during those months of waiting to tap into the community, and to keep up your work in the meantime?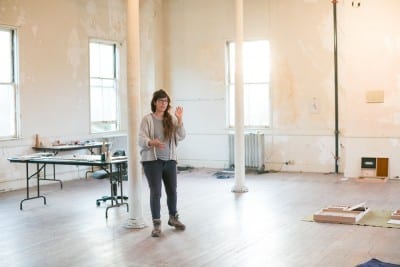 Fernández Carcedo: If I remember correctly, I was there almost three months, and had extended my stay. I met a lot of people in the first month and made a lot of telephone calls asking people to coffee to talk about my interest in this particular history. It was interesting and unusual for me—riding a bike all over town and meeting strangers for coffee. Sometimes people invited me to their homes. Although at times they did not have direct experience with this history, their lives had been impacted in some way by this event and they had things to show me—particularly personal objects—which related to the Spanish Civil War or the concentration camps in France. I met a few journalists who were helpful. I spent a lot of time at the municipal archive handling old documents and newspapers from the 1940s, where I tried to look for records of the mass immigration of Spanish refugees and did not find much in writing. But at the archive, I met a generous librarian who told me stories about his family coming over to France from Spain. It seemed clear to me that the most productive way to spend my residency was by having conversations with people about life, politics, and history. After intense days of meeting new people I would retreat into my studio to process everything by writing the conversations as I remembered them and making drawings relating to the stories I had been told. Everything became important for the archive project. Even on the days that I felt I had found nothing, that too became part of the work. Though one often has expectations about a residency, I think the best thing is to welcome each unfamiliar place and engage with it on its terms, and not your own.
Kauffman: Are there ways in which you have been able to bring this openness and embrace of the unfamiliar into your studio practice at home?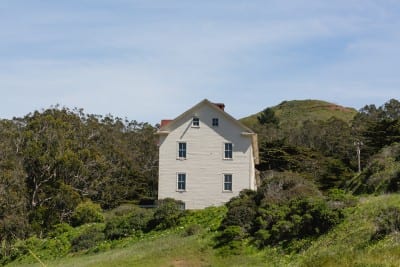 Fernández Carcedo: The only way I find I can bring openness into the studio is by having uninterrupted days in the studio—three consecutive days is best—when I barely leave. Sometimes I'll even tell people I am out of town. That gives me enough time to get into the work and push through all of the difficult bits of being in there. This time allows me to make mistakes and then figure them out. Making mistakes is both the worst and the best thing.
Kauffman: With so much of your work being about site and history, what has it been like to conceptualize and create work while you are removed geographically from the place of origin of its content?
Fernández Carcedo: It helps to be outside of the moment or location to materialize the work, but most of the actual conceptualization of my work happens onsite. Being within the context of my subject matter, so to speak, helps me solidify an idea. I need to be able to ask questions about why I am making the work: What's the purpose? Why is it important? Does the project really matter to me? How does it speak to others? Is it relevant? These are the deciding factors of whether or not creating the project makes sense. I don't think it makes sense to create work completely outside of or decontextualized from its origin. But being removed also can put things into perspective and allow you to reevaluate a process, or the entirety of a project. Being removed enables you to test out if the work can stand on its own outside of a particular site or time, if it can be understood, and if it makes sense in the world.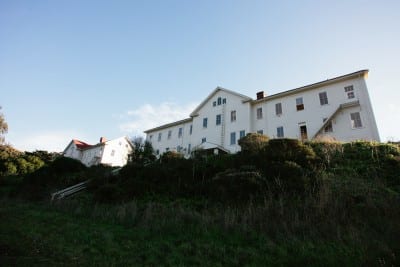 Kauffman: So the location of the residency can be a testing ground for new work? Have you ever done a residency that was channeled more toward the reflection of a completed piece of work, rather than having a residency of execution?
Fernández Carcedo: Of all the residencies I've done, my residency at Headlands demanded the least production. I had a vague idea of what I wanted to do, but it was clearly noted that I did not have to propose something specific in order to go. Most other residencies have asked for a specific project proposal, and that can be nerve-wracking because you can't predict what is going to happen in the future. Any small thing can change the direction of a project, and sometimes it's good to go with that intuition. I had planned to not be productive at the Headlands, but that didn't work.
Kauffman: While listening to you talk about your work while you were at Headlands, I wrote this note: "speeding up the psychology of the archive." Undoubtedly this was in regard to the adept sensibilities at play in your work as you so expertly conflate materials old and new, worn and freshly crafted, but I'm now curious if it says something about the headspace necessary for artists-in-residence. Have you noticed new relationships to time while you've held residencies?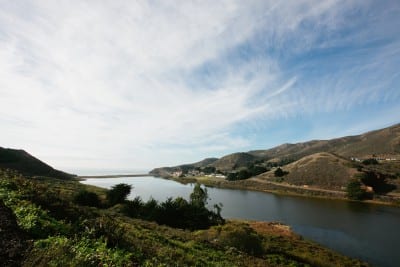 Fernández Carcedo: The Headlands residency was one where I felt time the most, in some surreal ways. Being apart from the comforts of familiar surroundings can take you out of time, but I being at Headlands was unique because so much of time was understood with the sun and the moon, and also my response to their rhythm. It is left up to the individual to mark time, and after a while, I began to lose my sense of it. Or at least I lost it in a linear sense, and this was possibly the best place to be to think about my work in the world. I always laugh when I remember this—and I am grateful for it—but the dinners were the only thing that kept time for me. I didn't leave the Headlands to go into San Francisco while I was in residency, so clocks did not matter to me. I felt that space was a gift, and I wanted to savor it completely. Something Nabokov wrote in the 1960s has stayed with me forever—I am not sure why, because the hierarchies it establishes are questionable—but it rings true to me: "Time without consciousness—lower animal world; time with consciousness—man; consciousness without time—some still higher state."2
Kauffman: Hierarchies aside, I can see that quote becoming resonant, especially considering your sensitivity to the consciousness of materials that are outside of and always in the middle of time. When thinking about your work, I am reminded of Susan Howe's Spontaneous Particulars: The Telepathy of Archives [New Directions Books, 2014], wherein she writes about the divination of archived objects (she uses the examples of a bobbin, a sampler, and a scrap of lace) resurfacing at the precisely perfect moment for the researcher, artist, or writer. She calls them "things-in-themselves and things-as-they-are-for-us" and writes, "If you are lucky, you may experience a moment before."3 Did anything show up for you while you were in residence at Headlands that you were shocked to find here?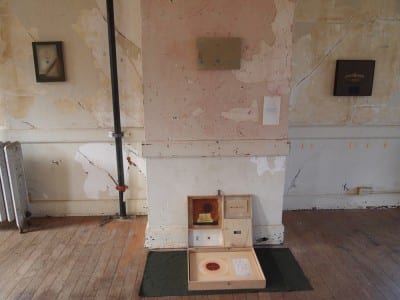 Fernández Carcedo: The Headlands studio buildings are unique and spectacular. I was in studio 13, a very large space with vast walls that reveal something of a timeline of markings all over them. It was one of the rooms where the soldiers' bunks were, where they slept. The colors of the walls spoke to me about time. The layers of paint were peeling off slowly, as if a wind storm or certain elements in the weather were revealing new layers. Many of these marks transferred onto my paintings as if by chance, haunted. For example, there were numbers on the walls that came to correspond with my paintings. This is not something I can explain very well with words. But also, relating more to objects—the wood shop just below my studio has a real collection of antique hardware, and many of these pieces are still being used for building maintenance. It made me feel like I was living and working in an old ship when I was in that building, just because everything that held it together was out of this time. And the outdoors—the animals, the landscape—felt truly mutable, constantly changing and different.
Kauffman: Headlands residencies are untethered from the requirement of completing a specific project or body of work. Of course, many artists still intend to make that the focus of their time, or predetermine work or research they hope to accomplish. What expectations, if any, did you set for yourself while in residence here?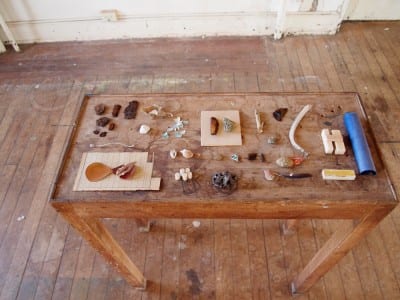 Fernández Carcedo: My goal while at Headlands was to do a lot of walking. Walking is a very important part of my process and was the beginning of a project I recently completed. In Points of Departure: Five Walks (2012–2015), I walked over the Pyrenees from Spain and into France several times, following the footsteps of those who crossed in 1939. It was this activity, seemingly unrelated to the materiality of the constructed archive, that became the piece's starting point. I had been so deeply involved both physically and emotionally in this project that I wanted to walk around the Headlands to be able to access something completely new to me. Admittedly, I knew some basic things about the Headlands, like the fact that it is a historic military site, and that there were apparently some vestiges of this era. I didn't know what I would find, or that I would be able to come to know so much about military warfare just through my daily walks and observations.
Kauffman: Did those specific walks manifest or record themselves into any current projects?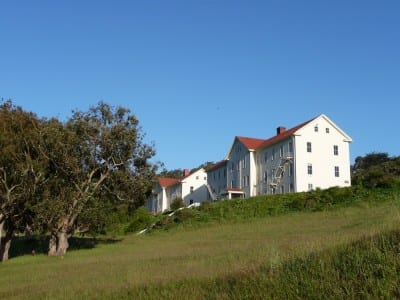 Fernández Carcedo: My walks through the Headlands aren't directly part of any work I am currently making, but they solidified the idea that getting out of the studio is necessary for being open to other forms of making, and the idea that something happens when you get outside. I've been thinking about the importance of place, and being in a physical site to get closer to understanding history in an other way (besides going to the library or reading). I think there is value both in seeing things from a distance and in being there. Sometimes I step out of the studio door and just start walking. I often walk to places where there are no paved roads, and while I am not always sure what the purpose of it is at the start, as I walk so many things I am thinking about are easily visualized and made clearer. Headlands was unique in that I was able to construct a daily ritual of walking the same path many times—and in so doing I almost always found something different. Where I live in Los Angeles I rarely get to take the same path anywhere twice, and there are often so many obstructions.
Kauffman: You also led a walk for the public while you were here, fairly early in your residency. Was that—and the other social aspects of the residency—fruitful for you?
Fernández Carcedo: The walk I led at Headlands was interesting because it was so early in my residency that I was not very familiar with the terrain and I had not fully connected with the landscape, so I was worried about how people would respond. The walks I had carried out there had been mostly alone, so there was no one to talk to. Landscape is experienced differently when alone. Leading the public walk was a learning experience for me, in the sense that the people who came on the walk led the walk as much as I did. It felt good to give up the expectation that I had to impart some kind of knowledge about the history of the landscape to them; we shared our own knowledge about walking in the landscape, about California, and about the coastal military history, as well as personal stories. It was a valuable introduction to Headlands because I got a sense of how people felt about the place, and learned a bit more about how people experience walking within the National Parks. I wonder how it would've been to do the same walk after my residency, after knowing more about the path of the soldiers and walking the same trail repeatedly over a month.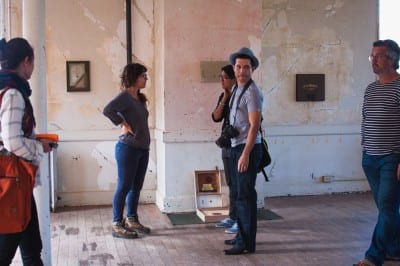 Kauffman: Many residency programs are unaffiliated with the majorly visible spheres of the professional art world: commercial galleries and academic institutions. Despite this, do you feel there is a demand, or professional expectation, for contemporary artists to be consistently participating in residencies in order to establish or maintain their careers?
Fernández Carcedo: I know many artists who have no interest at all in being taken out of their everyday studio practice, and on the other end, I know many who cannot step out of their daily responsibilities. I have grown so much as an artist while being at residencies, allowing myself the extra space to be challenged, at times faced with the unknown, and faced with strangers. For me, participating in residencies—whether they are socially engaged ones or more reflective ones—is an important aspect of my life and working process. At least for right now.
Kauffman: You be in residence this summer in Paris—anything about your plans there that you can share with us?
Fernández Carcedo: I will be at the Récollets residency for three months, which is in an old convent in the middle of Paris. I have long been interested in the history and sociopolitical climate of France during the aftermath of the Spanish Civil War, and then later in the 1960s. These moments have direct connections with my grandparents' and parents' generations. I am interested in the ideologies that were exchanged between Spain and France, just over the mountain range of the Pyrenees. At the time, there was a bookstore and printing press in Paris that served mostly immigrants and was a hub for exchanging ideas and texts. The press translated books into Spanish; because under Franco's dictatorship many books, images, or even ideas were cause to be incarcerated, this site became very important for the education of a whole generation that lived through a dictatorship. During this time, there was a lot of book smuggling, and the bookstore became a political meeting place. I've heard of this bookstore from past writers, some collaborators, and my parents, but its recorded history is very brief. I was invited to stay in Paris at Récollets to research this place whose history is perhaps not so known, but was a real weapon against fascism.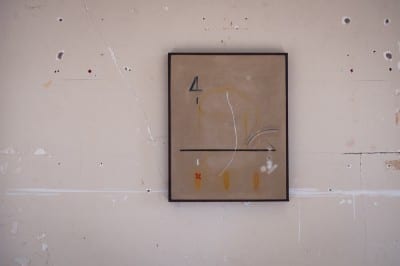 Kauffman: Is there a particular role that residencies are coming to play in your practice? Or any ways in which the practice of being in residence has come to catalyze a new way of working?
Fernández Carcedo: Residencies have allowed me to be attuned to my needs as an artist. Sometimes it is important that I am engaged in discussion with other working artists, and other times it is important that I am in retreat, with myself and my work. Like many other things in life, residencies are also about timing. Sometimes though, I find myself going to a new place, just to get out of the comfort of my own studio. As much as I believe every artist needs a studio space, I think there is something to be said about not having a space to call your own or being in a space just temporarily. Residencies keep me focused because I know that I need to take advantage of the moment I am in. Time is limited, and everything I do has to matter. Actions are cumulative. I can't dwell on the past or think of what's next. Everything is happening and sometimes outside my own control. I value adapting to new environments and challenging myself to be outside of a comfortable space. In my work I am always thinking of how to construct something from the pieces I have, from what's left. This is how I operate when I am in an unfamiliar place, or a residency. Even if I fail to accomplish what I intended to do, something always happens.
---
Vanessa Kauffman is a writer based in Oakland, California. She has an MA in visual and critical studies, and a BFA in printmaking. Her writing—which focuses on contemporary art, poetics, textiles, and print culture—has appeared in Art Practical, Sightlines Journal, andReview, and Eleven Eleven. She is the communications and outreach manager at Headlands Center for the Arts, a multidisciplinary, international residency center in the Marin Headlands.
Patricia Fernández Carcedo (b. 1980 in Burgos, Spain; lives and works in Los Angeles) studied at Saint Martins College of Art, University of California, Los Angeles, and received an MFA from California Institute of the Arts (2010). Fernández Carcedo applies an archeological approach to the family archive to investigate the inaccuracy of our inherited memories and the subjectivity of personal experience. Through a complex network of forms and information, she seeks to investigate histories and literatures forgotten, misplaced, or buried.
She has exhibited her work at Centro de Arte Caja de Burgos, Spain; Clifton Benevento, New York; David Petersen Gallery, Minneapolis; Commonwealth and Council, Los Angeles; and Los Angeles Contemporary Archive (LACA). Her project A Record of Succession was included in Made in L.A. 2012 at the Hammer Museum, Los Angeles. She is the recipient of the Joan Mitchell Grant (2010), California Community Foundation Fellowship (2011), France Los Angeles Exchange Grant (2012), and Lincoln City Fellowship (2015), and an artist-in-residence at Fondazione Antonio Ratti, Como, Italy (2013); 18th Street Arts Center, Santa Monica, California (2014); Headlands Center for the Arts, Sausalito, California (2015); D-Flat, México, D.F. (2016); and Récollets, Paris (2016).
Vladimir E. Alexandrov, Nabokov's Otherworld (Princeton, NJ: Princeton University Press, 1999), 25. ↩
Susan Howe, Spontaneous Particulars: The Telepathy of Archives (New York: New Directions Books, 2014), 18. ↩