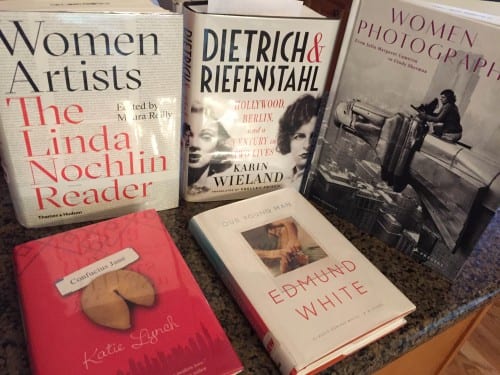 I am an artist and a trained librarian. I am also a National Artist member of the A.I.R. Gallery, which is the oldest artist-run gallery for women artists in the country. I utilize photographs from archives as well as photographs I take myself from movies as inspiration for my artwork. Because of my preoccupations with women in art, photographs, and movies, the following books caught my eye: Women Photographers: From Julia Margaret Cameron to Cindy Sherman by Boris Friedewald (New York: Prestel, 2014); Dietrich & Riefenstahl: Hollywood, Berlin, and a Century in Two Lives by Karin Wieland (New York: Liveright Publishing Corporation, 2015), translated by Shelley Frisch; and Women Artists: The Linda Nochlin Reader edited by Maura Reilly (New York: Thames and Hudson, 2015). I am in the very early planning stages of a possible panel discussion and exhibit of women artists at Princeton University, where I work, so The Linda Nochlin Reader is serving as inspiration and educating me about artists I have not read about in depth before.
The novels, Our Young Man (New York: Bloomsbury, 2016) by Edmund White and Confucius Jane by Katie Lynch (New York: Forge, 2016) reflect my interest in gay and lesbian writers. I had recently finished Sarah Schulman's novel The Cosmopolitans (New York: Feminist Press, 2016), and wanted to continue reading novels by queer authors. This was during Pride Month and it seemed especially appropriate. After the tragedy in Orlando, I have wanted to continue to surround myself with all things LGBTQ.
---
Elise Dodeles began her professional artistic career in the seminal group exhibit Part Fantasy at Nicola Tyson's project space in New York. She received a 2013 Artist's Fellowship from the New Jersey State Council on the Arts for her series of paintings of Olympic Club boxers, and her early work was included in Harmony Hammond's groundbreaking 2000 survey Lesbian Art in America: A Contemporary History, published by Rizzoli. Raised in New York, she did her undergraduate work at Carnegie Mellon and New York Universities, and obtained her Masters in Fine Art from the New York Academy of Art. In addition to making her art, in 2007 she obtained a Masters in Library and Information Science. She is included in the 20th edition of Who's Who of American Women, and her artwork can be found in personal and institutional collections.