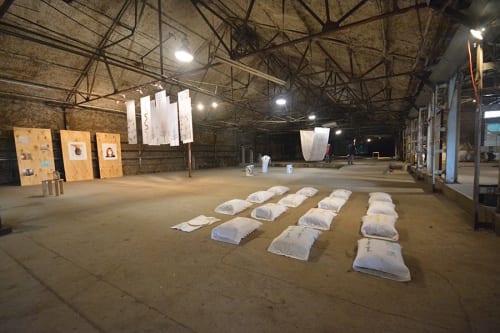 One of the common shortcomings of studio art education is the way in which the scope and scale of a student's work is dictated by his or her facilities. Students and instructors alike fall into a comfortable sufficiency defined by parameters of the classroom. Art students are also often sequestered away from the public, forsaking engagement with the local neighborhoods surrounding their universities. The ongoing story of Temporary Collectives, a dynamic intercollegiate graduate project involving professors and students from six major universities in North Texas, exemplifies the potential for new interdisciplinary strategies in graduate education. Temporary Collectives is a project that attempts to address these issues while simultaneously engaging with one of Dallas's most diverse communities.
The project was originally founded in 2012 through a partnership between Butch McGregor of Trinity Groves Development LLC and Stephen Lapthisophon from the University of Texas Arlington. That year, McGregor, Lapthisophon, and diverse group of students from colleges in the area turned a vast, abandoned warehouse into an ambitious site-specific installation. Now in its fourth year, the Temporary Collectives project has grown to include official representation from the Texas Christian University School of Art, University of North Texas College of Visual Art and Design, the Department of Art and Art History at the University of Texas Arlington, the School of Arts and Humanities at the University of Texas Dallas, Meadows School of the Arts at Southern Methodist University, and the Department of Art at Texas A&M-Commerce.
Temporary Collectives has three primary goals:
To foster the continued development of artists throughout North Texas by giving students and faculty a network to collaborate, share ideas, and investigate studio pedagogy.
To invigorate the diverse historic neighborhood of Trinity Groves in East Dallas.
To provide real life experiences for students that demand community interaction, engagement, skill building, and problem solving not reproducible in typical classroom settings.
Students are selected by their graduate committees each year for participation in the project. After a three-minute slide presentation where the students meet each other, often for the first time, they are placed into groups intentionally assembled from different programs and media. They must learn to work together. Given choices of space, theme, and content, they are expected to organize and promote their own installations while being mentored by their group leader.
Strategically, the Temporary Collectives exhibition runs concurrent with the Dallas Art Fair each April. In conjunction with the Dallas Art Fair, Temporary Collectives hosts a panel discussion about the project as a part of its commitment to ongoing educational programming. Other cultural institutions have taken notice: the Nasher Sculpture Center in Dallas recently provided in-kind support and event programming, including tours of the exhibition with their Avant Garde Society. As the project continues to evolve, efforts to engage the Dallas Office of Cultural Affairs and other universities are being made. To date, more than one hundred students have taken part in this project, and its success is quantifiable. Former students have gone on to collaborate with each other, open artist-run spaces and organizations, and exhibit within the greater Dallas–Fort Worth area.
For examples see:
Deep Ellum Windows
Performance SW
Culture Hole
Beefhaus
Dallas Biennial
For more information, visit the Temporary Collectives website
—Darryl Lauster, University of Texas at Arlington, on behalf of Temporary Collectives