From
Art Journal
76, no. 1 (Spring 2017)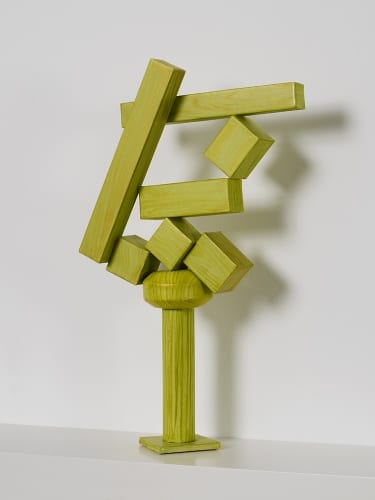 In 1974 news that David Smith's executors had stripped paint from some of his sculptures catalyzed a long-running public conversation about executors' responsibilities to artists, artworks, and art history.1 Forty years later, news that the same estate's administrators tried to stifle the exhibition and sale of Lauren Clay's diminutive, painted-paper objects inspired by that earlier incident has yet to prompt a similar critical response.2 That silence is remarkable, considering the parties' legal settlement: the gallery only reinstated Clay's show once she agreed to post the estate's disclaimer in her exhibition and obtain the estate's permission for future work in this vein.
Conversely, the Robert Rauschenberg Foundation made headlines last year with a decision to provide high-resolution images and waive copyright fees for most noncommercial purposes.3 A pilot version of this program has already benefitted the sculptor Rachel Harrison, who could freely incorporate Rauschenberg's images in her digital collages. The foundation's initiative, coupled with the Code of Best Practices in Fair Use for the Visual Arts issued by the College Art Association (CAA) in 2015, offers the first movement in decades in what has sometimes seemed a stalemate between heirs and agents seeking to protect artistic legacy and scholars and artists keen to build on it. For that reason, it is an apt moment to take a closer look at how the politics of legacy have informed modern and contemporary art and scholarship, especially as an old order may be crumbling.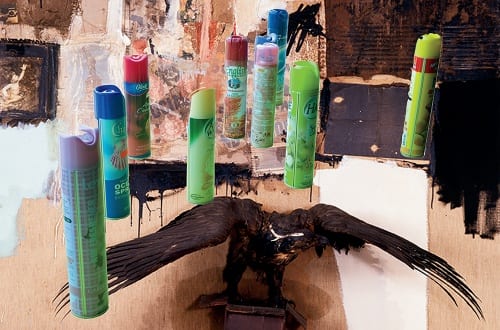 Also in 2015, we organized the CAA annual conference session "Posthumous Author-Function: Artists' Estates and the Writing of Art History" in hopes of expanding a conversation about the overlapping, sometimes conflicting priorities of artists, academics, curators, heirs, executors, dealers, and collectors invested, personally and professionally, in issues of artistic legacy. The session's title derives from Caroline A. Jones, who used Michel Foucault's concept of an "author-function"—the ongoing, collective process by which literary oeuvres and reputations are defined and consolidated—to think through the implications of posthumous discoveries in the visual arts in terms of the release by Robert Smithson's estate of his previously unknown, early works.4 We soon realized that theorizing about artists' estates more broadly is constrained by their diversity, since each is as unique as the artist it represents, and they can be united generally only under the most basic definition. Artists' estates comprise real and intellectual property (art, archives, copyright, live and work spaces, and so forth) under the control of those whose decisions are typically designed to advance the late artist's reputation and maximize the estate's value (a fiduciary obligation, in the case of executors and trustees).5 Executors may be chosen for their connection to the artist or hired for professional expertise, and their decisions can be the products of a stew of personal loyalty, legal responsibility, professional ambition, and financial incentive that outsiders can have difficulty sorting out. Such variables complicate and conflict with an ideal held by artists, scholars, and curators who imagine their relationships with estates as predictable, rational, and predicated on shared priorities. This forum aims to convey that complexity through a constellation of artists' projects, scholars' position papers, and interviews with heirs and executors. Some contributions frame the issues in terms of academic/artistic freedom and property rights. Others focus on the nexus of intimacy, obligation, and commerce that attends stewardship of an oeuvre and a reputation in the artist's absence.
Legacy's affective dimension is a primary subject for the forum's artists: Danh Vo (b. 1975, Bà Ri.a, Vietnam), Mimi Gross (b. 1940, New York City), and Jill Magid (b. 1973, Bridgeport, CT). Vo was inspired by his longstanding fascination with the American painter Martin Wong (1946–1999) to collaborate with Florence Wong Fie, the artist's mother and executor, who preserved the collections of curios, paintings, calligraphy, and tchotchkes they amassed together. Vo took up Wong Fie's mission when he bought and exhibited her collection. Here he extends that project in a two-part contribution comprising Amy Zion's interview with Peter Broda, who cleaned out Martin Wong's apartment in New York, and Vo's photographs of Wong Fie's collection in her home in San Francisco. The combination points to the emotional gravity of material objects—even those far removed from artworks, per se—for survivors seeking a tangible connection to the deceased.6
Mimi Gross has spent decades leading the foundation dedicated to her father, the American sculptor Chaim Gross (1904–1991), and even longer making and acquiring art in a downtown New York circle that has included the choreographer Douglas Dunn, the poet Charles Bernstein, and the visual artists Rudy Burckhardt, Bob Thompson, and Red Grooms, her former husband. Her contribution to the forum is a collage and narrative that explores that complicated subject position—her intersectional identity as artist, executor, collector, daughter, mother, and grandmother—as she has begun to consider how to consolidate her own artistic legacy.
As part of an extended, multimedia critique of bureaucratic systems, Magid has been using the tropes of romantic love and longing to engage Federica Zanco, founder of the Barragan Foundation. The Swiss foundation owns the professional archive and intellectual property of the Mexican architect Luis Barragán (1902–1988), which Zanco reportedly received as an engagement gift in lieu of a ring from her husband.7 Housed near Basel, the archive has been closed to researchers for over twenty years, ostensibly until Zanco completes a catalogue raisonné.8 Beginning with the project Woman with Sombrero (Art in General, New York City, 2013), Magid has been wooing Zanco with love letters asking her to open the archive and, ideally, return it to Mexico, where Barragán's buildings still stand. In 2016 Magid upped the ante by offering Zanco a diamond engagement ring made from the architect's ashes, an encounter that forms the crux of her multimedia installation The Proposal (Kunst Halle Sankt Gallen and San Francisco Art Institute, 2016). In this forum, Magid reproduces her own archive of the critical reception that exhibition engendered.
Magid's attention to the Barragan Foundation's restrictions bespeaks the power of well-funded estates to control the discourse or at least attempt to do so. Meanwhile, the works and reputations of under-recognized artists languish for want of the resources and documentation required to write them into art history. Our friendship with the artist Anita Steckel (1930–2012) alerted us to the difficulties of trying to fulfill testamentary wishes and preserve the art and archives of artists who die without a robust market for their work. It is hardly a coincidence that this under-recognized cohort often encompasses artists whose counterhegemonic projects excluded them in life from the most profitable corners of the art world and whose limited resources in death compound their heirs' and executors' challenges.
To represent estates as evolving, contingent entities whose goals and motivations are neither uniform nor fixed, we invited representatives of the estates of Anna Mary Robertson (Grandma) Moses (1860–1961), Joan Mitchell (1925–1992), Sidney Tillim (1925–2001), Donald Judd (1928–1994), and Bilge Friedlaender (1934–2000) to speak about their objectives, challenges, opportunities, and advice.9 These estates were left mostly by artists active in the latter half of the twentieth century, but their careers followed different tracks and varied in market success. What emerges from these conversations is a sense of the range, complexity, and specificity of issues that artists leave to their heirs, along with their work, reputations, and sometimes debts. We supplement their views with the perspective of Alla Efimova, who is among a wave of consultants offering estate planning and management services to artists and their heirs.10
More than twenty years ago, Art Journal published the special issue "Art and Old Age," edited by Robert Berlind, which signaled the impending impact of an aging baby-boom generation of artists. A practical article by Ralph E. Lerner, an attorney and art advisor, included an overview of estate planning for artists and discussion of potential problems, using the estates of David Smith, Georgia O'Keeffe, and Mark Rothko as examples.11 Such advice is, of course, a moving target, as laws change.12 But in recent years, new nonprofit programs to support artists' estate planning have appeared in response to the overwhelming need constituted by the large number of aging artists.13 In this forum, the art historian and artist's widow Diane Radycki considers the Joan Mitchell Foundation's Creating a Living Legacy (CALL) program, and Marcia Reed, chief curator of the Getty Research Institute, sheds light on how institutions define, evaluate, and collect artists' archives.
These archives hold the raw material necessary for writing art into history. Caroline A. Jones offers a historical overview that frames the "posthumous artist-function" as a process initiated by the artist's death that drives the materialization of work through the new revelations, reinterpretations, or fabrications by executors, scholars, curators, or other constituents. As those new works are subsumed in the oeuvre, they produce new versions of the artist that in turn perpetuate the increasingly expansive cycle.
Participants in that cycle are not equal, and executors have withheld access to archives or permission to reproduce copyrighted material, sometimes to dilute or discourage innovative, iconoclastic, or revisionist takes on the artists they represent. If, as noted, the regulatory operations of artists' estates may now be coming under pressure, historically there has been little to check their power, as some position papers in this forum attest. Nancy Troy mines her history with the Mondrian/Holtzman Trust to think about how its commitment to maximizing commercial gain has affected her publications and those of her peers. Michael Corris draws on his differences with the Estate of Ad Reinhardt (1913–1967) to theorize the structural conditions of the estate-scholar relationship. Aya Louisa McDonald uses the example of Foujita Kimiyo (1910–2009), widow of the Japanese modernist Foujita Tsuguharu (1886–1968), to consider widows' complicated position in art history and the recurrent conflict in the Foujita story between goals of objective research and personal loyalty. Renato González Mello examines how Mexico's approach to cultural patrimony and copyright effectively restricts scholarship about the nation's most famous artists. The combined experience of these contributors, gained over years of working with estates and artists' representatives, demonstrates how such relationships shape art history.
While estates' regulatory operations have been the subject of artists' and authors' private complaints, they are rarely aired publicly for fear of foreclosing further access to materials under executors' control. Those denied such access or permission have had little recourse but to proceed without the copyrighted material; that route was difficult for established artists and scholars such as Corris and Jacqueline Francis, who were denied image permissions for their respective books, and all but impossible for junior ones (a situation with real, negative impacts on publication plans as well as tenure and promotion bids).14 That concern remains pressing: a panelist in our CAA session could not contribute to this forum and preserve access to materials necessary for her future scholarship, and the Joan Mitchell Foundation did not provide images of her work for this project.
Some relief may arise from CAA's recent Code of Best Practices in Fair Use for the Visual Arts, an intervention designed to change the "culture of permissions" in the visual arts community.15 The guidelines demonstrate that US case law generally supports the use of copyrighted images without permission in artistic and scholarly contexts. On this basis, CAA's publications The Art Bulletin and Art Journal have published images absent a copyright holder's consent, an opportunity that Corris exploits in this forum.
It is unclear how many publishers will follow CAA's lead. Even if most do, artists and scholars remain vulnerable in a couple of ways. First, the necessary images—especially those of previously unpublished material—may be available only through the estate, which can use that monopoly to impose its own conditions, restrictions, and fees, as Jones demonstrates in her captions. Second, aggrieved (and deep-pocketed) copyright holders are always free to bring copyright infringement lawsuits, however frivolous and potentially fruitless, that require artists or scholars to finance a potentially expensive and time-consuming legal defense of their fair use. That possibility led Troy to omit an image from the essay published here. As the views of various stakeholders in this forum attest, the assumption that scholars' needs and finances should take priority in these decisions is not universally shared. As Francis notes in her response to the forum, "The bottom line is that scholars are actors in a complicated art industry: we pay into it and we profit from it in symbolic and concrete ways." Her essay acknowledges this dynamic and looks to possible remedies for the kinds of impasses described in the position papers.
Yet, to extend Francis's metaphor, the participants in this economy pay and profit unevenly. Arguably, the most vulnerable cohort are the heirs and executors of artists without a viable market. Not only must they catalogue, preserve, and sometimes conserve oeuvres and archives until demand arises, they must usually engender that demand themselves. That stewardship takes lots of time, money, and expertise, often on the part of the artist's family and friends with their own extra-aesthetic, personal, and professional obligations. Just the costs of safely storing fragile work can quickly mount into a daunting bill offset only by the perhaps dim hope of future sales. While the fair use exemption is a legitimate boon to artists and scholars, it can undermine one of the few, albeit minimal, income streams available to financially stressed heirs and executors trying to do right by an undervalued estate—yet another example of the "incommensurable" positions of stakeholders on all sides of the legacy issue that Corris theorizes. At some point, under-resourced estates face difficult decisions about what to save and what to sacrifice, and their choices—essentially attempts to predict the future—determine the horizon for research and collecting interests that have yet to surface. Those are the baldest stakes in the politics of legacy.
It is tempting to conclude with some prescription for reconciling the divergent interests of the diverse constituencies invested in this "business" of art and art history, to borrow another of Francis's phrases, but such assessments would ring hollow in light of the positions outlined in this forum. Equally hollow, in light of the new presidential administration's regressive posture toward the arts, rings a call for national support in safeguarding the life's work of aged and aging generations of artists. Perhaps the most salient recommendation at this point would be that artists, their heirs, and motivated scholars and curators develop local, grassroots collaborations to sustain vulnerable artistic legacies until the broader arts community figures out a solution that does not rely on individual fortunes and foresight to preserve and protect our collective legacy.16
---
A note about terminology: as Christine J. Vincent has explained, "In law, estate is the term for a legal entity comprising a deceased person's aggregate property and obligations. . . . Within art circles, estate is common parlance for the aggregate body of artworks, rights, and other property owned privately by an individual or group of individuals who are heirs or beneficiaries of a deceased artist." Foundations control similar kinds of material; however, as charitable, tax-exempt entities, they must operate exclusively for public benefit and so are subject to greater oversight and restrictions. See Vincent's study
The Artist as Philanthropist: Strengthening the Next Generation of Artist-Endowed Foundations
, vol. 1 (Washington, DC: Aspen Institute, 2010), 13–16. The Artist-Endowed Foundations Initiative is a program of the Aspen Institute dedicated to strengthening the charitable impact of the emerging artist-endowed foundation field by producing research, publications, and educational programs assisting those involved in creating, leading, governing, and advising such foundations. The publication and updates are available as free downloads at
https://www.aspeninstitute.org/aefi
, as of January 25, 2017.
---
Rachel Middleman is assistant professor of art history at California State University, Chico. She is the author of Radical Eroticism: Women, Art, and Sex in the 1960s, forthcoming with the University of California Press in 2017. She serves as the executor for the estate of the artist Anita Steckel.
Anne Monahan is an independent scholar who specializes in modern and contemporary art. She is working on the book projects Neo-Primitive: Horace Pippin and American Modernism in the 1930s and 1940s and Radical/Chic: The Legacy of Social Realism in Art of the 1960s.