From
Art Journal
77, no. 4 (Winter 2018)
This conversation took place in Tehran on June 18 and June 30, 2017. The participants (in Persian alphabetical order) were Rozita Sharafjahan (Azad Art Gallery), Anahita Ghabaian (Silk Road Gallery), Maryam Majd (Assar Art Gallery), Masoumeh Mozaffari (President of the Society of Iranian Painters), Combiz Moussavi-Aghdam, and Keivan Moussavi-Aghdam. The questions, asked by Combiz Moussavi-Aghdam, were formulated by Talinn Grigor (University of California, Davis, and a member of the Art Journal Editorial Board) in conversation with Art Journal's editor-in-chief, Rebecca M. Brown.
برای خواندن این اثر به زبان پارسی اینجا کلیک کنید
---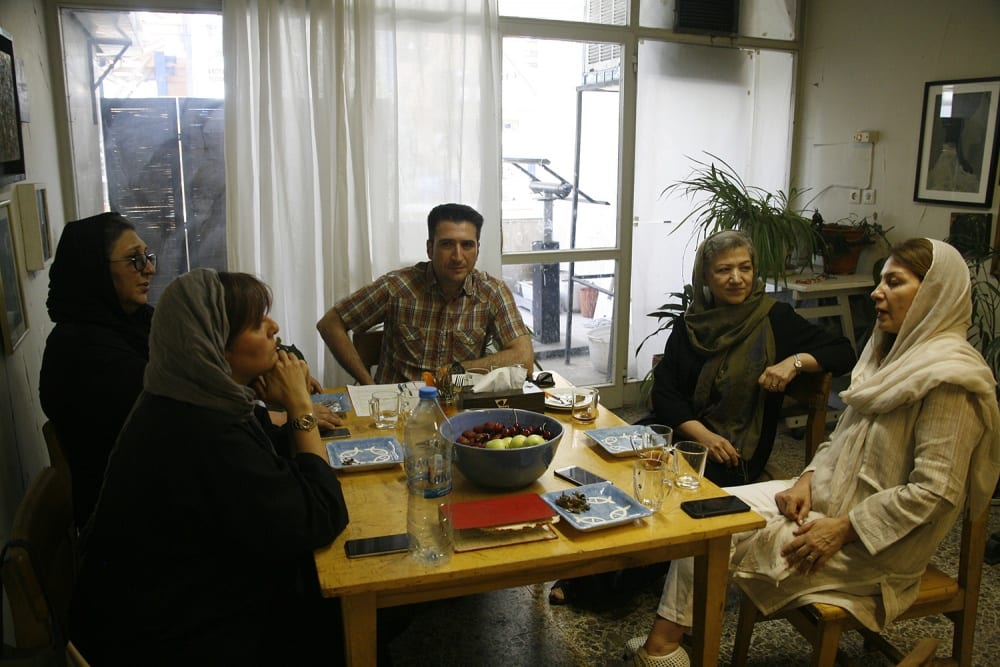 The Market, the Masterpiece, and Introducing New Artists
Combiz Moussavi-Aghdam: There is no doubt that your role in the realm of contemporary Iranian art has been significant over the past few decades. What's more, since the era preceding the [Iranian] Revolution, women have had an active role in the domain of gallery ownership. The international art market has changed the direction of Iranian art within the past twenty years. How have artists, gallerists, and collectors taken steps to accommodate or resist the forces of the market? More specifically, what stance have you adopted toward the market? Have you moved in the same direction, or have you mounted resistance? What were your strategies?
Maryam Majd: I have been practicing this profession for eleven years. The issue of market does not go back twenty years; it goes back to 2006—when Christie's started introducing and selling Iranian works in Dubai; at that moment Iranian art began to receive attention. In addition to modern art, Christie's exhibits contemporary art and works of younger artists. There is a vast difference between the present and 2006; similarly, 2006 and 2000 are vastly different from one another. As for accommodating or mounting resistance to the market, several concerns come to mind: becoming international, being able to introduce your artists to the world, and making artists who are at different levels visible.
The youngest artists who work with us are thirty-five. When we begin to work, we map out a route together. We have made every endeavor to introduce artists in the international arena; we have made efforts to participate in a number of art fairs. Art fairs are very expensive, and there aren't many that we have access to. I do not know to what extent that is intertwined with the market; art fairs are for introducing artists. Concerning resistance, the burden is mostly on the shoulders of the artist. Artists undertake their projects, regardless of whether they attain world renown, or whether a gallerist supports them. The job of a gallerist is to promote the artist. The Assar Gallery tried to promote young artists through Christie's at one point, but to no avail. All in all, we felt that we were completely on the wrong track—on the other side of the coin; so, we immediately switched tracks by only including masterpieces—not young artists—when we participated. In principle, auctions should be in the form of secondary markets: you do not directly enter into a transaction with artists in their studios. Even though a direct transaction with an artist is not proper, it is carried out, which results in works and gallery interactions that are not authentic. So, when you say "resistance," we did show it, meaning that we first tried to include younger artists in the auctions, but we realized that it was not the right direction.
Rozita Sharafjahan: After the Revolution, one could not expect an artwork to be visible or sold, which is entirely different from the present period. In those days, there was a highly limited market exclusive to intellectuals who supported one another. Within this limited scope, an artist was considered to be an intellectual, and other intellectuals—such as architects, physicians, and literary scholars—had a good rapport with artists. The works would be bought in small quantities at moderate prices—which seemed expensive then—to enable the painters to carry on their work in some form. There was a sudden shift of direction in 2006, as Maryam Majd aptly stated. The market sought massive investments in Iranian art, and the existing Middle Eastern market was well suited for this. A movement toward discovering and taking possession of new markets emerged. We were concerned that the auctions would be held in Arab countries and that the Arabs' tastes would influence Iranian art and our work as gallerists. We were concerned about an overemphasis on calligraphy—an abstract form of work that can be richly decorative—which was reaching its zenith at that time, but that did not happen. The auctions emphasized a very simple approach to conceptual art, with rudimentary concepts understandable to new purchasers, a small quantity of pop art that employed literary language, a lot of figurative art, and whatever else fell into the category of contemporary art—whether it applies to Arab or Iranian artists. These circumstances made a number of painters more visible, the most prominent of whom are Afshin Pirhashemi, Saeed Ahmadzadeh, and [Mohammad] Tabatabai; they became models for younger artists, due to the robust sales of their artwork. The works of figures such as Hossein Zenderoudi, Parviz Tanavoli, and Sohrab Sepehri remain treasures and historical examples of modern art, but the new generation—after the Revolution—became a model in the market domain for purchasable and sellable pop and easily legible art. Thus the galleries in Tehran did not inspire activity; the auctions played the key role. . . . This market-driven model holds back the experimental stream, and new movements cannot be established. . . . The sole purpose is to sell.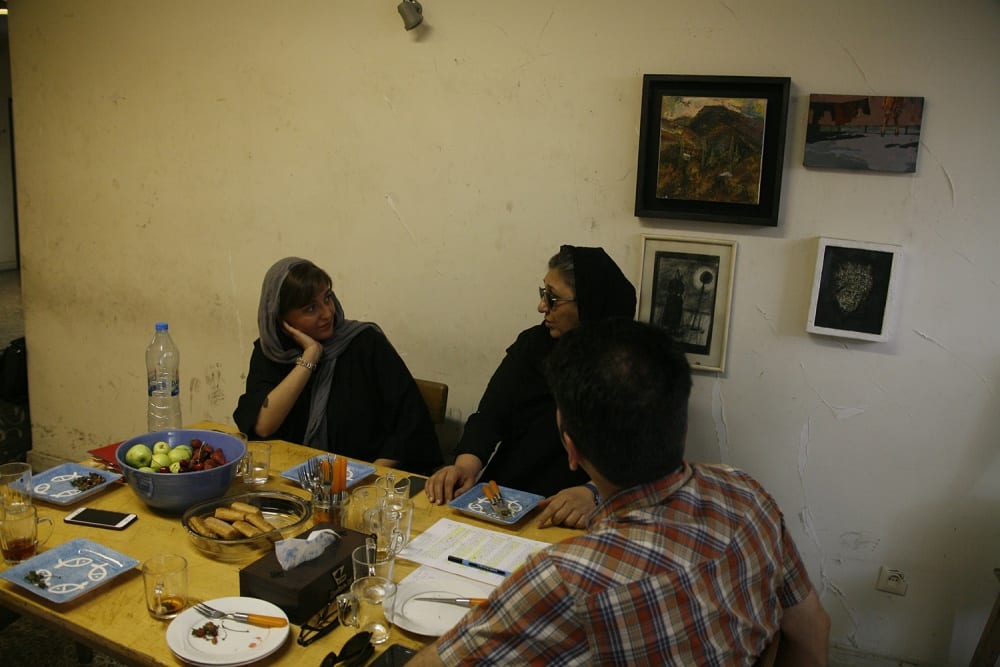 International Pressures, the "List," and Resistance
Combiz Moussavi-Aghdam: How have the varied forces of globalization—including digital networks, social media, the Gulf States, women's suffrage, end of Communism, and so forth—changed the function of art and galleries in Iran since the 1990s? Or, to put it more pointedly perhaps, how has Iranian contemporary art changed the specific areas of mainstream art culture, such as the global art market, the Western museum culture, the field of academic art history and criticism?
Anahita Ghabaian: With regard to the Third World and First World, or center and periphery, Iran's art has something to say today, but foreigners underestimate us. The media has created a perception of us, encouraging foreigners to indoctrinate us with their ideas—one of which is the special focus on women gallerists and women artists. That is utterly absurd: why does the question of women or men saying their piece matter so much to foreigners? They are constantly manipulating us like pawns. Of course, my work focuses on photography, not just women artists, but I am also asked to organize exhibitions of women. What is the point of organizing an exhibition solely of women? If our women are good artists, you should hold an exhibition for both women and men together to determine who is more competent and successful. But I will not organize an exhibition plan that is based on rubber-stamping . . .
What is important is that we should be able to make decisions about our own art, and that we should not pay attention to foreign tastes. We come from a rich culture, which enables us to determine the direction of our own art. We constantly place ourselves in circumstances that lead our own art toward a foreign-influenced market, to which I am not favorably disposed . . .
Majd: In general, when you categorize galleries, they are called "commercial" galleries. My point, of course, is not whether certain galleries make profits or not; my point is that the work of galleries in Iran compensates for the work of official and governmental museums and institutes. Galleries promote artists, publish numerous books, instruct, and perform other various tasks, whereas the museums and institutes are not invested in this kind of support. Therefore, in the current situation, which one calls "the market," gallerists incur considerable expenses. You spend so much to build up an artist from nothing, and this does not always result in a connection to the market. At the same time, we are not separated from the market; this is a tension that exists in our country. Large galleries, such as Gagosian and Lisson, operate and make money like any other business (e.g., oil); these galleries have their own publicaitons, and they focus on a particular area. Such circumstances, including niche markets, do not apply to galleries here. To create artwork, we must market it from the ground up, and our marketing must be part of a larger cultural element.
My point is that in order for you to become familiar with artists, books should be published about them, critics should write about them, their works should be exhibited in galleries; they should be in the spotlight, and they should be under discussion. We create these situations. That is the first point. Second, when you wish to present your work to prospective buyers—not to the general public—who are your audience, it is essential that you create collectors at the same time. In actuality, every gallerist has created a number of collectors who did not exist before. These efforts to produce an art culture are the necessary instruments for marketing.
Masoumeh Mozaffari: Occasionally, some individuals come to galleries to purchase items, with a list in hand, one not provided by the galleries, I imagine. To what extent have galleries been able to alter this standard list of artists?
Majd: The list is primarily the result of auctions, of attempts to keep up with the Joneses, and of competition among connoisseurs. The Assar Gallery has attempted to alter the list, with very little success. The list is usually about modern, not contemporary, artwork by a limited number of artists (for example, the paintings of [Bahman] Mohasses, Sepehri, and others), purchased as an investment. We have been able to alter the list slightly; its longevity is reflective of the buyers' approach to purchasing art.
Sharafjahan: In my opinion, while under no circumstances have we been a determining factor, we have played a significant role: we have enabled the entry of valuable and good artists into the art arena and have promoted their work. The Assar Gallery has strongly supported creative sculptors, such as Mohammad-Hossein Emad and Reza Lavasani.
Majd: Over the past recent years, a number of younger artists have been included in the list, due to the special support received from an individual or a particular movement during specific periods of time. But these additions have remained short-lived, because the support offered to those artists was beyond the bounds of the works' merit, happening artificially. These circumstances have misled the artists and have been deleterious to them over an extended period of time.
Parastou Forouhar (b. 1962), I Surrender, 2009, digital printing on balloons, ea. diam. 17 3/4 in. (45 cm), installation views, Azad Art Gallery, Tehran, 2009 (artwork © Parastou Forouhar; photographs provided by Azad Art Gallery). The seemingly benign images on the balloons in fact depict acts of torture.
Media: Conceptual Art, Photography, New Media
Combiz Moussavi-Aghdam: In the course of the developments in art in the age of post-media, together with the popularity of various new art forms (such as conceptual art), what changes have occurred in receiving, presenting, and selling works? Is the type of medium central to the way exhibitions are received? How has the increasing role of financial sponsors in exhibiting new art forms altered the operation of galleries? Ms. Ghabaian, what are the advantages and disadvantages of running a specialized photography gallery? What role does the transformation of the communication age—such as digital networks, mass media, and so forth—play in making galleries prosper?
Ghabaian: These developments have affected our work. Photography has undergone even more transformation, compared to painting and other types of media. Every new innovation affects photography: mobile-phone photography, video, the internet. . . . Expressing an idea through the use of video was not taken seriously fifteen years ago, but one cannot disregard such media nowadays. These media have grown in relation to technological and social developments in Iran.
Sharafjahan: This situation poses serious problems. Artists, in essence, choose these media in order to worry less about gallery representation and outside investors in their work. A performance is presented without conducting any transaction; it remains unregistered, and it does not become an investment [for collectors]. . . . The West has managed to incorporate performance art into a medium that makes profit. Such new activities and their outcomes in the West flow into Iran and create problems in the market here. First, many see it as positive that new media can better present revolutionary, avant-garde ideas. A minimum amount of money is needed for production, especially if one wants to produce films that rise above the level of student work. Performances in Iran are not presented in a free environment; the government sees them as uncontrollable. As a result, galleries house them; this defeats the purpose of many performances. Further, if you wish to create installations, there is no source of funding. During the Reform era (1997–2005), the government provided a little support, offering 5 million rials [in 2000, approximately $2,800] to each artist—a minimal amount that contributed to the project's progress; the funding levels were insufficient. You cannot film amid tight security in a city where governmental support has been cut off. How can you make a video or give a performance? As a result of such oppression, the work turns into a rehash of previous material. For example, a less-discerning gallery supports a proposal, and something is performed, with a negative, superficial outcome. . . . Generally, artists, whether those who still do paintings or prints, or those who are inclined toward new media, will end up with serious financial difficulties if they act independently and fail to follow the market's interests.
Ghabaian: The question of financing poses an acute problem for Iranian art. There are galleries that have achieved a good financial situation with the support of investors. But the financial sources of some of these individuals and galleries are not transparent, which could be highly threatening to independent activities, causing them to wither away.
When I started my work fifteen years ago, there were almost no photography labs, and photographers had their photos printed by public photographic studios. But photography laboratories gradually provided up-to-date machines. Thinking back to fifteen-year-old printing and exhibitions, it is surprising that current technological developments have occurred within such a short period of time. This has caused a number of individuals to draw on gargantuan budgets—the sources of which are unknown—to organize incredible exhibitions. Other photographers cannot function like those well-funded individuals; they visit various galleries, and when they do not receive any support, they eventually become disillusioned and give up. The circumstances in Iran are different from those of foreign foundations that offer financial assistance and that usually have a transparent financial source.
Gender and the Politics of Gallery Ownership
Combiz Moussavi-Aghdam: Women gallerists have played a central role in Iranian contemporary art. Historically, what is the relationship between women and the profession of gallery ownership? In recent decades, has the work of women gallerists evolved economically and socially? It is noteworthy that the first-generation gallerists were all women: Masoomeh Seyhoon, Afsaneh Baghaee, Parvin Amir-Bayat, Homa Zand, Goli Moghtader, Soosan Varjavand, Nazi Sheikh, Tanya Farmanfarmayan, Mehri Sabeti, and others.1
Majd: Compared to men, there are a large number of women gallerists. What could the reason be? My spouse and I run our gallery together, and we perform two different tasks. In Iran, women wisely took on suitable enterprises along with homemaking. If we consider serious galleries, which number about ten—out of thousands of galleries in total in Tehran—this profession has chiefly maintained a domestic form, and most of these galleries are run by women. Women embarked on this kind of work in their garages or basements, making them appealing and beautiful gallery spaces. It was not supposed to be a very serious type of work. At first, they were not pursuing the promulgation of a specific form of art or considering the social influence of their work. Galleries of this nature, which replace their paintings once every six days, still exist and are now considered art shops and gift shops. I do not mean that they have not undergone any hardship, or that their work is worthless. It depends on the owner's intelligence and the relation to her domestic life, and if you look at the art world, a great number of gallerists are women or gay men. Today, there are many women art brokers. The nature of gallery ownership might be concordant with women's temperament, but this does not mean the reverse is not true. There are also many successful male gallerists in commercial and noncommercial spheres.
Ghabaian: I think that this question is erroneous. We have a society in which the Revolution and the war took place. Our men had to make ends meet in adverse circumstances. In the years following the Revolution, men were entangled in material life, supporting their families. For women, gallery ownership was a form of entertainment mixed with household chores. It is not at all surprising that women were strong enough to carry out this type of important work. That is not the question, and posing it in that manner can be misleading.
Mozaffari: In the protests of 2009 most women were in the streets, perhaps precisely because they belonged to a generation that thought their children would not flock to the streets to chant slogans. I noticed many mothers stating that they had flocked to the streets at the time of the Revolution to secure their children's lives. The youth returned home quickly. In February 2011, I went to the streets, only to find out that many people of my age were present. It was crowded in 2009, but in 2011, we were surprised to see that the youth were disillusioned by the lack of results from their earlier action, so they did not march.
If you look at the presence of women on a larger scale—not only in galleries, but also in universities, for instance—I used to have one class of men and four classes of women (men and women had to be separated). At present, there are four classes of women and only three classes of men. Women have entered the sphere with an eye to the financial benefits, as they think they have to earn a livelihood.
Keivan Moussavi-Aghdam: There were more female photography students when I was a photography student, since it was seen as a more lucrative major, and families thought that a graduate could photograph weddings, whereas a family must be highly cultured to allow their son to study art.
Sharafjahan: The reason for choosing the profession of gallery ownership—during the years that galleries were scarce—for women (for example, Seyhoon, Golistan, and Arya, and the next wave that obtained licenses during the Khatami era) was because there was a safe atmosphere, meaning that if you did not hold an administrative post and that if you wanted to be self-employed, it was a job in a safe environment that included cultured individuals. We are talking about the tough years of the 1980s and 1990s. On the other hand, you were close to your home. It was not only a question of entertainment; a woman wanted to make money and have a job that she was enthusiastic about. From my perspective, when the art market in Iran had not yet become serious, we did not see serious male gallerists. When money came into play, men entered the profession and allocated vast spaces to it; their principal aim was business.
Majd: I work with some male gallerists; because they enter the profession from the market, they have neither sufficient knowledge nor a professional outlook about art. The gallery management is entrusted to women.
Sharafjahan: As to whether my stance changes when it comes to gender, I must say that I cannot disregard the fact that it might not be possible for a woman's artwork to be exhibited at a certain location. For example, I might try to help a girl from a small city who brings her art [to Tehran]. If I am not able to help her make a connection, or if I take a somewhat uncompromising position to her work specifically, I do not remain at all indifferent when it comes to women artists generally, especially the younger generation.
Majd: I have tried to maintain a neutral outlook on gender. My own feminist side has been influential, because the Assar Gallery has not had a masculinist outlook, although its director is a man. Since I joined the board of directors, I have tried to enforce gender-neutral standards and in some way to neutralize the masculine approach.
Ghabaian: In general, I do not like the fact that we are ordered from abroad to be involved in women-related affairs and to prioritize them; I do not like it at all. I am unwilling to go along with those activities and to become the vehicle for foreign taste.
Sharafjahan: Whether your work finds its way into the market is dictated by the market, which presumes that feminine artwork takes the form of simple and undeveloped ideas.
Ghabaian: And, regretfully, simple work does find its way to the market, but I will fight this, even if I imperil my position. I select original works, regardless of whether they are done by men or women.
Sharafjahan: On the other hand, we should take into consideration the difficulties of women artists who wish to work professionally; their difficulties are significantly heightened when their work addresses sexual freedom. Our stance may change, depending on where the exhibition is held. We cannot deny the sexual revolution in this generation. The women artists of our generation tended toward a gender-neutral stance. Today, things have changed, and the present-day course of events is like a social explosion. Not only do many in the current generation no longer exercise sexual freedom in secrecy, but they want to exhibit their art freely and directly, whether they are women or LGBT individuals.
Ghabaian: Concerning the question of an artist's gender and their works, I should like to say that I went through the process of participating in international exhibitions step by step. I myself would take a tent [to display works], but I was very discreet [in the choice of artists]. This goes back to a long time ago when such activities were not yet regarded as commonplace. In reality, those were the initial steps, but this year a major exhibition, cocurated with Newsha Tavakolian, was part of the 2017 Les Rencontres d'Arles photography festival.2 There we met an American woman who had organized an exhibition in the United States on Iranian women photographers. They had simply named the exhibition "Iran, Arabs, and the Region." An argument broke out among us about the title—and I won.3
First of all, we have many individuals in Iran who have command of Iranian art and are capable of organizing an exhibition. It is not necessary, at all, for an American or a French woman to come to Iran to collect works and display them somewhere; Iranian gallerists are capable of doing so. I have told a number of artists over the past few months that it is terrible if a foreigner collects your work for the purpose of exhibition. The people of this country have the capacity to introduce themselves, and they do not need foreigners. Second, it is strange if you only pursue women, implying that we are so downtrodden that you must highlight our women in these exhibitions, and then subsequently you say that they are not that downtrodden.
Because we do not have collectors, museums, and supporting organizations, in order to introduce works in Iran, one solution is to introduce them abroad to assure the individuals in this country that the foreigners are very pleased, so you [Iranians] may now have a glance at us, too. This happens regularly.
Sharafjahan: We can say an artist from Iran is at an international level when two of her or his works are selected for a group exhibition. They see us as a package: Iranian women, Iranians, and artists of the region; this is not called becoming international. Ultimately, they are seeing us from outside the borders and saying, "Well done!" Iranian artists are also doing a number of things. Therefore, working with Western curators has not been an objective for me, and I do not believe it would be useful to Iranian art.
Majd: We receive a number of propositions for organizing exhibitions, whose titles refer to "MENASA" [Middle East, North Africa, and South Asia]—which is their new invention—or simply "Middle East." We consider who the curator is and where the exhibition is being held. But we pay the most attention to exposure, since we have to make investments in certain areas, even though we might not wholeheartedly believe in the selected subjects, themes, and artists. Nonetheless, if we learn that an exhibition is being held at, for instance, a university in Philadelphia—which is good for an artist's résumé—we offer support. The way a gallery operates is not always consistent with the gallery's stated principles and policies. Each gallery decides on a case-by-case basis whether to participate in international events. For a Western or East Asian gallery, participating in an art fair means selling artworks, but that is not the case for us. For us, exposure is primary, for when the doors of your country are closed, and people from other countries cannot come to see your art, you are forced to present yourself, which is very costly. Not every Iranian gallery operates in accordance with international standards.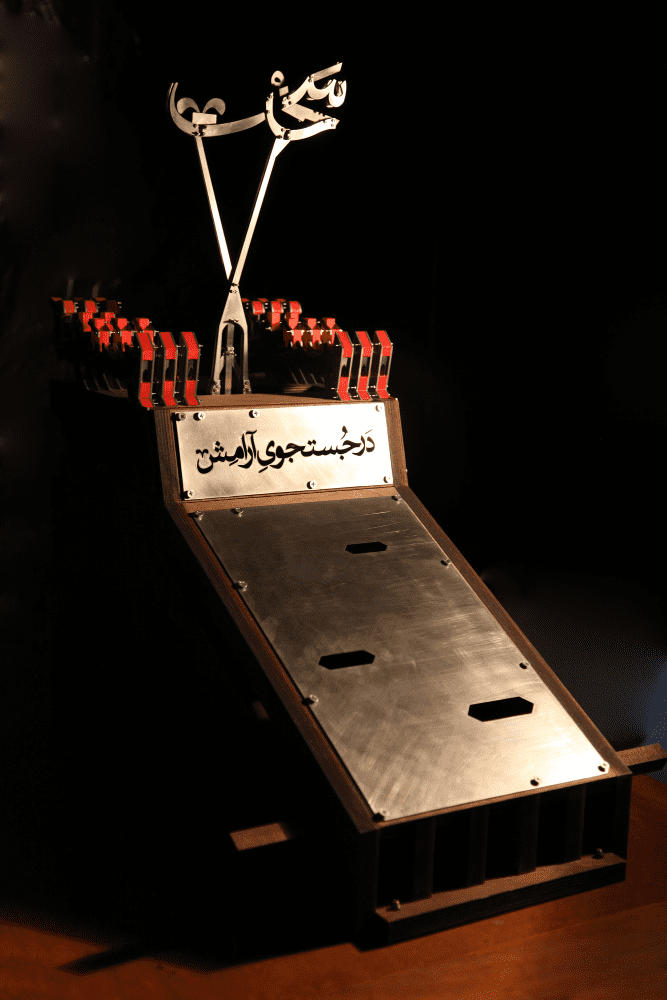 Directions: The Future(s) of Iranian Art
Ghabaian: In my opinion, art is compelling when it is based on commitment.
Sharafjahan: Given the issues raised here, from my viewpoint, the future of Iranian art is slightly worrisome. The art market is promoting platitudes that will obstruct the flow of new art. The future will definitely be eventful, but for the time being, with an increasing number of galleries (and you are talking about galleries), the wider market has not had a dramatic effect. In other words, a movement needs to begin somewhere. The government is imposing restrictions, meaning that artworks can only be displayed in galleries. We have no other free domain, and the galleries fall under the influence of the market. In the face of these issues, our task becomes onerous.
Majd: I think Iranian art is treading its natural path at a very slow pace (of course, what is considered natural in our culture is debatable), and as Ms. Ghabaian notes, it will continue moving forward. The path that we like might come into being within the next ten years, or it might not come into being within the next fifty years, but it needs to move forward, much like the story of democracy, which cannot happen quickly—it requires time. A large number of galleries come into being with an economic mindset; they either remain or vanish. The path that moves forward naturally will last, despite all the negative influences of the market. That is part of the process.
Ghabaian: I remain highly optimistic about the future of Iranian art. I think that we have reached a milestone; the events that are taking place had previously not been of such magnitude and quality. Of course, it will take years and decades for these developments to come to fruition, but I believe that the old dimensions of Iranian civilization have manifested themselves in new forms of artistic expression.
---
The translation from Persian to English is by Navid Saberi-Najafi, who holds a PhD in comparative literature and teaches Persian language and literature at the University of California, Davis, where he also serves as Persian program coordinator.
Additional translation, with Art Journal Open's gratitude, has been provided by Mehrdad Sedaghat.
---
Rozita Sharafjahan is the owner of Tarrahan Azad gallery and a visual artist. She received her MA degree in art research (1995) and BA in painting (1991), both at Tehran University. She has had several solo and group exhibitions in Iran and abroad.
Anahita Ghabaian holds a PhD in history from the University Paris–Diderot, with an emphasis in Third World social dynamics. After teaching for ten years in Paris, she returned to Iran and in 2001 opened the Silk Road Gallery, dedicated to Iranian photography. In 2009 she served as artistic director of the Photoquai biennial at the Quai Branly Museum, Paris. She has published and curated widely around the world; her books include La photographie iranienne: Un regard sur la création contemporaine en Iran (2011).
Maryam Majd is a research curator and art critic specializing in modern and contemporary Iranian art. She works at Assar Art Gallery in Tehran and teaches at the Tehran University of Art. She has curated and cocurated numerous retrospective, solo, and group exhibitions, and she has published, contributed to, and edited many exhibition catalogues, art publications, lectures, and interviews.
Masoumeh Mozaffari has served as the head of the Society of Iranian Painters from 2005 to 2008 and again beginning in 2013. She was a lecturer in the faculty of art and architecture, Azad University, from 1991 to 2011. She received her BA (1988) and MA (1998) degrees, both in painting, at Azad University, Tehran. She has had several solo and group exhibitions in Iranian and international galleries.
Combiz Moussavi-Aghdam is an assistant professor at the Tehran University of Art. He received his PhD in art history and visual studies at the University of Manchester in 2009. His thesis was on entropy and the ways this concept could be applied to contemporary Iranian art. He has continued to work on the adoption, reinterpretation, and transformation of modernism in Iran.
Keivan Moussavi-Aghdam received a BA in photography (2009) and an MA in art theories (2015), both from Azad University, Tehran. He teaches the philosophy and history of art and photography at several private institutes in Tehran. He has written and translated articles for Iranian art magazines. His MA dissertation was on the relationship between the state and artistic movements between the 1950s and 1970s. His current research focuses on the role of Western archaeologists in shaping the discourse of Iranian identity during the Pahlavi period (1925–79).
---
See Kamran Diba, Bāghī mīyān-i daw khīyābān (A Garden between Two Streets) (Tehran: Nashr-i Bungāh, 1393/2014), 161. ↩
The exhibition Iran Year 38: 66 Iranian Photographers was organized by Anahita Ghabaian and the Iranian photographer Newsha Tavakolian as part of the 2017 festival. It took place at the Église Sainte-Anne, Arles, July 3–August 27, 2017; see https://www.recontres-arles.com/en/expositions/view/172/iran-year-38, as of November 9, 2018. ↩
The exhibition, retitled She Who Tells a Story: Women Photographers from Iran and the Arab World, took place at the Museum of Fine Arts, Boston, August 23, 2013–January 12, 2014. The press release is at https://www.mfa.org/news/she-who-tells-a-story, as of November 9, 2018. See also She Who Tells a Story: Women Photographers from Iran and the Arab World, exh. cat., ed. Kristen Gresh (Boston: Museum of Fine Arts, 2013). ↩