From Art Journal 79, no. 2 (Summer 2020)
Adair Rounthwaite. Asking the Audience: Participatory Art in 1980s New York. Minneapolis: University of Minnesota Press, 2017. 280 pp.; 12 color ills.; 57 b/w. $108
---
In New York City during the late 1980s, amid a climate of social and political activism in the arts, two projects at the Dia Art Foundation shaped the emergent discourses and aesthetics of participatory art. Organized by Martha Rosler and Group Material at the invitation of the Dia Art Foundation, Democracy and If You Lived Here . . . combined installation and town hall meetings. In Democracy (September 1988–January 1989) the artist collective Group Material addressed conceptions of democracy in culture, elections, education, and the AIDS crisis.1 In If You Lived Here . . . (February 1989–June 1989) Rosler responded to issues of urban housing, gentrification, and homelessness in New York City.2 Writing about the importance of these works in 1991, Dia board member and renowned artist Yvonne Rainer recalled a "demonstration of how art exhibition can constitute a radically different approach, one that can offer not only a diversity of objects but can contextualize a social field in and from which the objects are produced and derive their meanings."3
A provocative entry into the socially intricate and aesthetically dynamic literature of participatory art and its genesis in the late 1980s, Adair Rounthwaite's Asking the Audience: Participatory Art in 1980s New York reasserts the potential of art as a social force. Rounthwaite looks at the interpersonal and professional relationships forged between Dia, Group Material, Martha Rosler, and the many other collaborators who shaped the narrative arcs of Democracy and If You Lived Here . . . . Intervening in a thirty-year-old material and social archive, one especially difficult to access given the ephemeral and affective nature of participatory art events, Rounthwaite's account is methodologically rich and historically enlightening. Building on a combination of theory, interviews, and archival research, the author also catalogs her own embodied response to these works as a contemporary observer. The resulting case studies are equal parts analytical roadmap for future readings of participatory practices and a toolbox for inquiry into past projects that have been understudied because of their experiential complexity—that is, as artworks that crystallize at the intersection of social, activist, and aesthetic processes.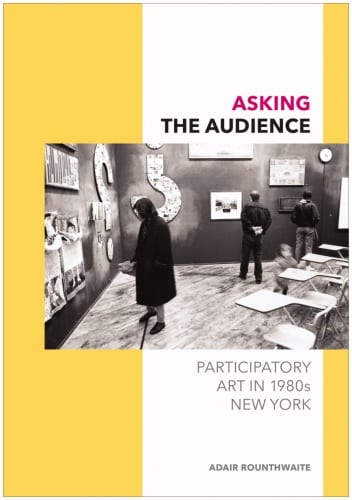 Implicit in Asking the Audience is the essential role of the audience in determining the artworks' outcomes, which is to say that "participation functioned as an essential generator of content" (2). In line with the book's title, the author "asks the audience" for their interpretation of exhibition reviews, transcripts, working notes, hours of audio recordings from town hall meetings, and visual artifacts. Archives of participation, she argues, are an "ongoing, material process, one that remains live in the sense that it is always in contact with a social field of power relations," thus demanding an art historical methodology that recognizes and values these networks of relationship (9). Analyzing clusters of photographic, oral, textual, and affective encounters in each chapter, Asking the Audience generously dissects the archive to highlight where and how the audience is located, historically grounds institutional and political engagement in the arts during the 1980s, and weaves together the images, voices, and agency of participants.
In the opening chapter, "The Politics of Participation," the author unpacks the union of the alternative, socially engaged art practices of both Group Material and Martha Rosler with the Dia Art Foundation, an institution hitherto singularly devoted to "high culture" (32). According to Rounthwaite's phone interviews with Charles Wright, Dia's director starting in 1986, and Gary Garrels, its director of programs, it was Yvonne Rainer, selected by Wright along with other reputable arts professionals to advise Dia for future exhibitions, who put forward Rosler's and Group Material's names, much to the ire of more conservative panel members (40). Pinpointing a shift in Dia's leadership and a desire to foster audience outreach in the early 1980s, Rounthwaite outlines the steps by which Democracy and If You Lived Here . . . came to be. She weighs the similarities and differences between Rosler, Group Material, and Dia, each carrying their own political motivations and aesthetic identity, in the course of creating a narrative timeline of the planning, executing, and unfolding of both projects. A close reading of the internal dynamics that shaped these partnerships demonstrates how the "infusion of institutional support into socially engaged art practice coincided with a new attention to the viewer," thus moving concerns "beyond the exhibition as a model of new social relationships" and toward a model of such events as a "lab for generating 'actual organizing tools'" (51, 56). Substantiating this claim with instances in which participants became intentionally visible and present in the works, Rounthwaite considers Rosler and Group Material's inclusiveness of artists who may not have otherwise been given access to Dia's privileged, white-dominated art circle—artists like Marilyn Nance, a Brooklyn-based African American photographer (60).
The town hall meetings, initiated by Group Material and repeated by Rosler, are anchor points for Rounthwaite, who sees both exhibitions as performative networks rich in interpersonal interaction. The author uses her own embodied experience of cassette recordings of the events to reframe archives as open-ended, for example when recounting a moment between artist and meeting chair Bill Batson and the artist Cenén during the "Homelessness: Conditions, Causes, Cures" town hall held for Rosler's project. Describing the visceral feeling produced by Cenén's unexpected scream midway through speaking, as it travels through headphones into her ears, she speculates on the real-time disruption it created within Dia's Wooster Street location in 1989 (68). In thus revisiting the archive and attending closely to an acoustic affect that might have been flattened by a transcript, Rounthwaite posits that the audience may have become further invested following Cenén's intervention (70). Mindful not to be overdetermined in her analysis, she acknowledges the difficulties of interpreting live events through their documentation, as one invariably becomes caught in a fantasy of past experience. Rounthwaite puts the format of the town hall in perspective, describing it as a "series of uneven and dynamic opportunities in which different agents can exercise power (73). As the complexity of the town hall and Cenén's scream is untangled, the difficulty of pinpointing, evaluating, and diagnosing participatory art's causal social impact and effectiveness becomes radically apparent.
Chapter 2, "The Pedagogical Subject of Participation," explores the pedagogical nature of participatory practices in Group Material's "Education and Democracy," one of the four successive installations of which Democracy was comprised. Rounthwaite outlines how, in addition to embodying a democratizing impulse, Group Material's emphasis on education conceptually challenged their own position as the creators of a socially engaged practice, by drawing attention to their desire to make art that increases political participation (76). Not only did they adopt an aesthetic that was "socially transformative yet experientially open-ended," but through this act they created a self-reflective environment in which participants questioned the politics of the project's institutional sponsorship (76). Reading performative interactions between the different agents as integral parts of the artwork, Rounthwaite focuses on how the audience "stepped out of the proscribed role of viewer and into a situation that invited their live input" (87). This is captured in the audio recording of the "Education and Democracy" town hall meeting, where Geno Rodriguez, director of the Alternative Museum, clashes with Felix Gonzalez-Torres, a member of Group Material. Rounthwaite describes how the tense moment underscores the potential of live participation to position organizers unwillingly at the center of their own oeuvre, thus drawing attention to the difficulties of taking up a position of institutional privilege in order to disassemble it (93).
Produced by the attempt to generate an open-ended pedagogical installation, this gap, between Group Material's "project's stated goals and the experiences that materialized under [them]," becomes a productive space to reframe "Education and Democracy" (97). Rounthwaite uses the affective tensions recorded in the auditory and visual archives to illustrate how Group Material themselves became transformed by the project. Through analysis of a set of black-and-white photographs of installation visitors taken by Doug Ashford, the author demonstrates how embodied learning took shape. Juxtaposing the disciplined bodies of gallery-goers who obey the spatial and social rules of the art institution with the blurry shape of Ashford's daughter, who playfully follows her own unregulated motivations (100), Rounthwaite points to the physicality of these images as complementary. She argues that Ashford's images recenter his subjectivity, with his daughter standing in as an avatar of himself in the exhibition, the photographs capturing the child's empowerment in that context (103). In these representations, art's educational aspirations manifest in a social process that supports its political value. Rounthwaite's activation and elevation of otherwise unremarkable images of people engaging the gallery enhances the importance of exhibition documentation and other ephemera as part of participatory art's performative network.
The study of images documenting participatory art is further exemplified in the next chapter, "Photography, Agency, and Participation." Addressing Rosler's career-long engagement with the politics of documentary photography, with specific attention given to her project Homeless: The Street and Other Venues, Rounthwaite uses image making to understand degrees of agency in the conceptualization and execution of participation (114). Specifically, she focuses on Homeward Bound Community Services, a self-organized group of homeless individuals that Rosler invited to maintain an office within the installation at Dia. Visibility as a pathway toward education becomes a prominent issue for Rounthwaite, who highlights the intentionally posed photographs that document the group's presence in the exhibition (124). Describing a series of images in which Homeward Bound members are seated behind a desk, united visually into a "compositional unit," she points to the tactical, quasi-theatrical staging that also appears in the exhibition design (134). Aligning the images with the group's own use of spectacle in the setlike aesthetic of Homeless and in its activism more generally, Rounthwaite illustrates the complicated social field of the exhibition (150). This chapter shows how documentation actively partakes in the production of agency, which is of particular importance considering the increasingly widespread circulation of past and present participatory-art documentation.
Deciphering the affective range of Democracy and If You Lived Here . . . is a process Rounthwaite returns to in each case study. This strategy is central to the final chapter, "Art, Affect, Crisis," in which the author catalogs Group Material's last installation at Dia, "AIDS and Democracy: A Case Study." Reflecting on both the installation and AIDS Timeline, a subsequent project created for the University of California, Berkeley Art Museum, the author delves into the ways art about AIDS interfaced with the audience's raw emotions and in some instances transformed preexisting feelings about the disease (156). Rounthwaite brings attention to written criticism and recorded oral arguments that focused on the shortcomings of art in confronting crises, arguing that the dialectical approach structuring "AIDS and Democracy" limited its reception relative to the acute effects born of the disease (177). Here she unravels the affectively heightened web of tense written exchanges between Group Material and Village Voice art critic Kim Levin and examines the critical monologue by ACT UP founding member Avram Finkelstein during a town hall meeting (180, 183). These confrontations, occurring in the media and at live events, are given texture and meaning by Rounthwaite, who neither generalizes nor grants any single instance or actor ethical or ontological priority (188). Turning to AIDS Timeline, she then traces how Group Material transitioned to a structure in which "various affective states of being could coexist as part of the same map," which, in contrast to Democracy, allowed them to actualize "art as a process that remaps existing positions, therapeutically and politically, to open up the possibility of new configurations of feeling and thought" (200, 201). Rounthwaite gives precedence to the social dynamics materialized in archives of participation, illuminating both transformations in Group Material's approach to presenting work about AIDS and the reception of this work by concerned audiences.
Given recent initiatives like Dia's—the projected opening of Dia SoHo (2022), the reopening of Dia Chelsea (2020), and the promise of free admission at all of Dia's New York locations, all in the name of greater inclusivity—there is present need to hold large cultural institutions accountable in their efforts to rebrand with an emphasis on social responsibility. Similarly, as socially engaged practices continue to redefine contemporary art, discourse, and spaces, the often immaterial and performative terms on which artists engage with audiences require constant scrutiny. By repeatedly homing in on moments in which live and documented, unscripted and intentional, aestheticized and socially produced events rub up against each other, Asking the Audience maps the ways in which documents of participatory art create meaning alongside and sometimes in spite of what they record. In addressing how to use these documents without fetishizing the past, the book advocates for greater accessibility to archives while still preserving their integrity (205). The notion that "these archives are their acts of use" allows us to think through participatory practices as both historically specific—discrete moments of mutual spectatorship—and inarguably connected to the contemporary researcher's interpretive power and personal experience (204–6). Thinking about the future while looking toward the past, Rounthwaite's study offers the tools to critically read and assess the aesthetic, sociopolitical, and institutional stakes of participation in both 1980s New York City and today's increasingly complex social practices.
---
Didier Morelli is a PhD candidate in performance studies at Northwestern University, Chicago. His dissertation focuses on the relationship between the built environment and the kinesthetic nature of performing bodies. His work has been published in Canadian Theatre Review, C magazine, Esse, Performa, and TDR/The Drama Review.
---
Group Material, composed of Julie Ault, Tim Rollins, and Felix Gonzalez-Torres, among others, was active between 1979 and 1996. Their exhibitions often occurred in alternative spaces, to better bring focus on the aesthetic, economic, and political culture of art. ↩
In 1989 Rosler created Housing Is a Human Right, an animation featured on the Spectacolor board in Times Square that spoke to the rise of homelessness in the United States. ↩
The book If You Lived Here . . . : The City in Art, Theory, and Social Activism; A Project by Martha Rosler (Seattle: Dia Art Foundation and Bay Press, 1991) documented the crisis of American urban housing and artist responses to it in the late 1980s. In her foreword, Rainer hoped that Dia's involvement with "artist/activist-curated exhibitions" constituted a "genuine precedent for future exhibitions." ↩