VotingStickersForALL Instagram Filter

Open link on your mobile device:
https://www.instagram.com/ar/783015609160230/

INSTRUCTIONS: Once you vote on Officialunofficial.vote, snap a selfie with the VotingStickersForALL Instagram filter, and use the hashtags

#officialunofficialvotingstation #votingforallwholegallycant #letusvote
In 2016, according to the United States Election Project, 28.6 percent of Americans, or 92 million people, were disenfranchised and ineligible to vote in the presidential election.
The Official Unofficial Voting Station creates symbolic voting events, performances, and art installations for those whose votes are suppressed—including youth under eighteen years old, noncitizens, the presently and formerly incarcerated (depending on state laws), residents of US territories, and those without government-issued identification (depending on state laws).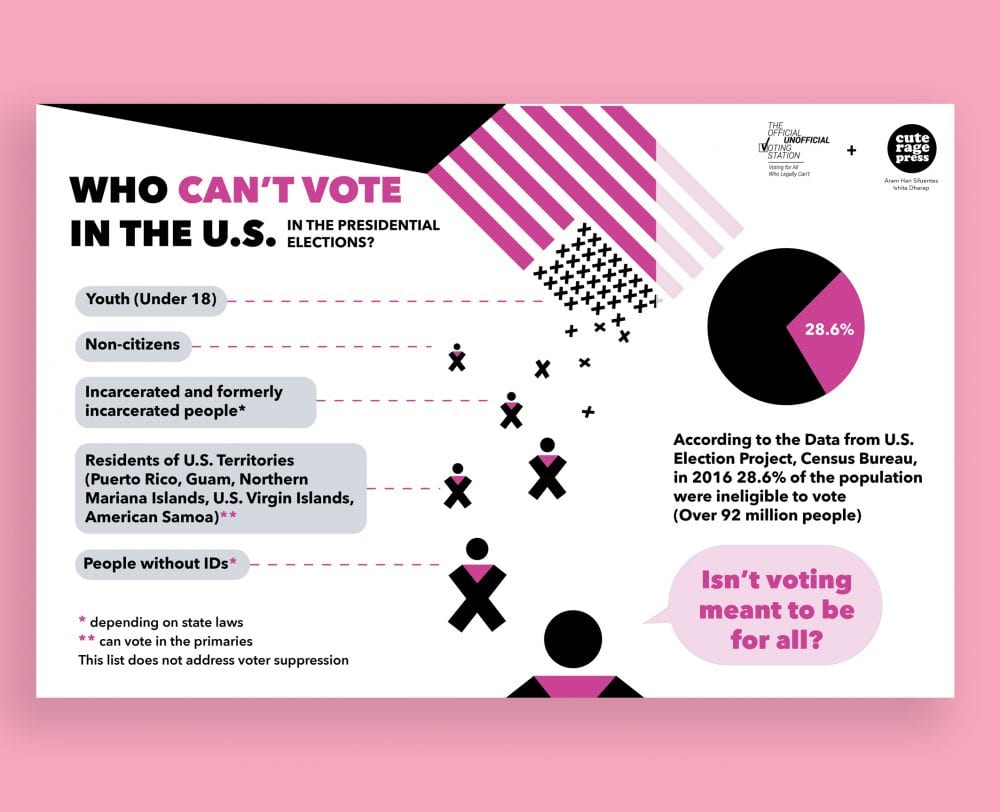 I am an immigrant and have only recently become a naturalized citizen. In 2016, even though I had lived in the United States for more than twenty-four years, I was not able to vote. During these last few election cycles, so much that has been at stake has revolved around immigration policy. I wanted to exercise the right to vote and have a say in what would so greatly impact the safety of my family, friends, neighbors, and community. In response, I created the first iteration of Official Unofficial Voting Station: Voting for All Who Legally Can't in collaboration with over fifteen artists, activists, and organizations. Together, we created more than twenty-five official unofficial voting stations in cities all over the United States and in Mexico. Each took a different form. Some were public sculptural installations, others were performative guerilla actions, and many served as pedagogical tools to engage students and prompt them to create their own voting stations open to all. In an election season in which the disenfranchised were rendered silent and invisible, these events were occasions not only for casting symbolic votes but also for loud celebration and protest.
Now, with the upcoming 2020 presidential election, even more is at stake, and again we face the prospect of rampant voter suppression. In response, and to expand the project, I created Voting Kit for the Disenfranchised, a collection of objects made by myself and other Chicago-based artists for distribution to, and activation of, official unofficial voting stations in the United States and around the world. To start, I created fifty kits that anyone can request to initiate their own voting station, and almost all have now been distributed. Included in Voting Kit for the Disenfranchised are these items:
100 Official Unofficial presidential candidate ballots
100 Official Unofficial issues ballots
1 Official Unofficial ballot box
2 Who Can't Legally Vote in the United States during the Presidential Elections? graphics, by Cute Rage Press
51 Voting Stickers for All, by Cute Rage Press
50 If We Could Vote, We Would! wristbands, by Undocumented Projects
Party as Protest, a compilation by DJ Sadie Woods, on USB stick or vinyl LP
50 Actions to Expand Voting Rights flyers, by Erin Delaney and Aram Han Sifuentes
Vote for Our Futures and Vota Para Nuestro Futuro screen-print posters, by William Estrada
Let Us Vote! or Official Unofficial Voting Station: Voting for All Who Legally Can't, a banner from Protest Banner Lending Library, by Aram Han Sifuentes, Verónica Casado Hernández, and Sarah Whyte
The kit is intended as inspiration. Those who are activating their own voting station can pick and choose which materials to use and which to riff on. There are no limitations to the uses of the kit. My only request is that "activators" share the voting results, along with any other documentation they wish to contribute.
Today, Voting Kit for the Disenfranchised is primarily being set up in community organizations; used in classrooms for student voting and to prompt students to activate their own voting stations; used in tandem with voter registration drives; activated by artists as inspiration for their own projects; and installed in various museums, universities, and colleges. An example is this virtual exhibition at the Skirball Cultural Center, Los Angeles, where visitors receive a "Voted Despite the System" justice kit. Mural Arts Philadelphia is creating a stand-alone voting station in Love Park, with student-generated materials that highlight the histories of voting rights, voter suppression, and voter advocacy. For her project Moto Voto, artist and community organizer Carol Zou is driving around Los Angeles with a "ballot box" attached to the back of her motorcycle and collecting symbolic votes and distributing information about voter suppression and disenfranchisement. These activations come together as a series of interconnected gestures meant to empower disenfranchised people and reimagine civic engagement in playful ways.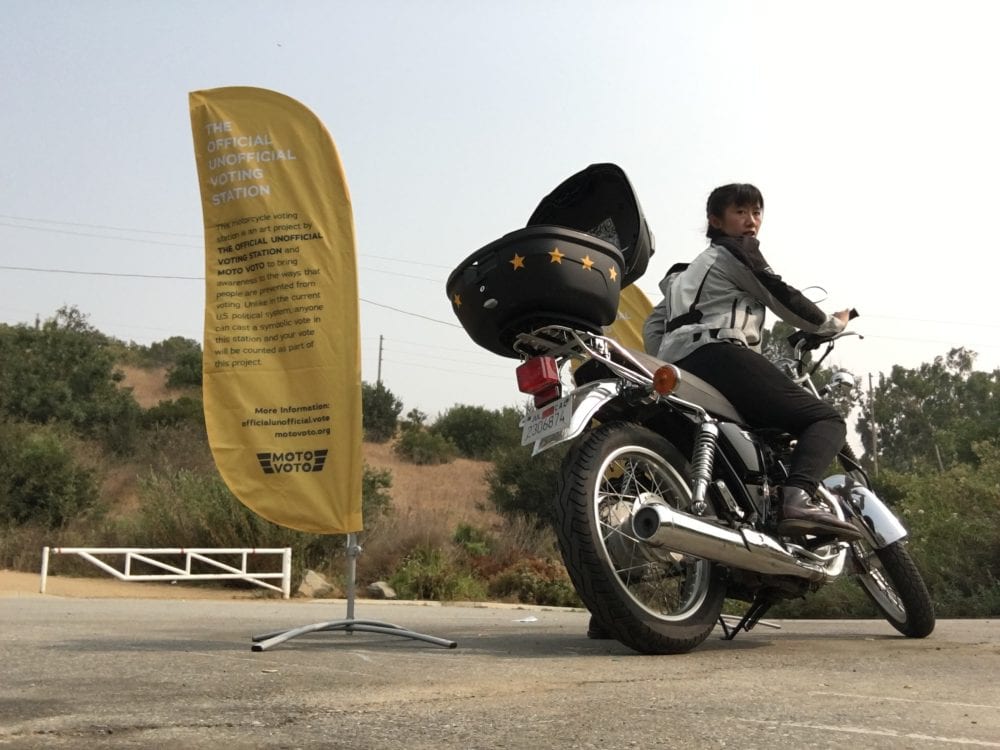 In light of the pandemic and its attendant concerns over safety and accessibility, over the summer I worked with new-media artist Jon Satrom to create a virtual iteration of the voting stations, Officialunofficial.vote. On the website one can "vote" in one of eight different languages for presidential candidates, write in one's own candidates, vote on other people's write-ins, vote on voters' rights issues, write in one's own issues, vote on other people's issues, and give voice to one's motivations ( "I am voting here because . . ."). Contributions already made include "Abolish ICE," "Abolish prisons," "Cancel the electoral college," "Arrest the police who killed Breonna Taylor," and "No new SCOTUS until after the election."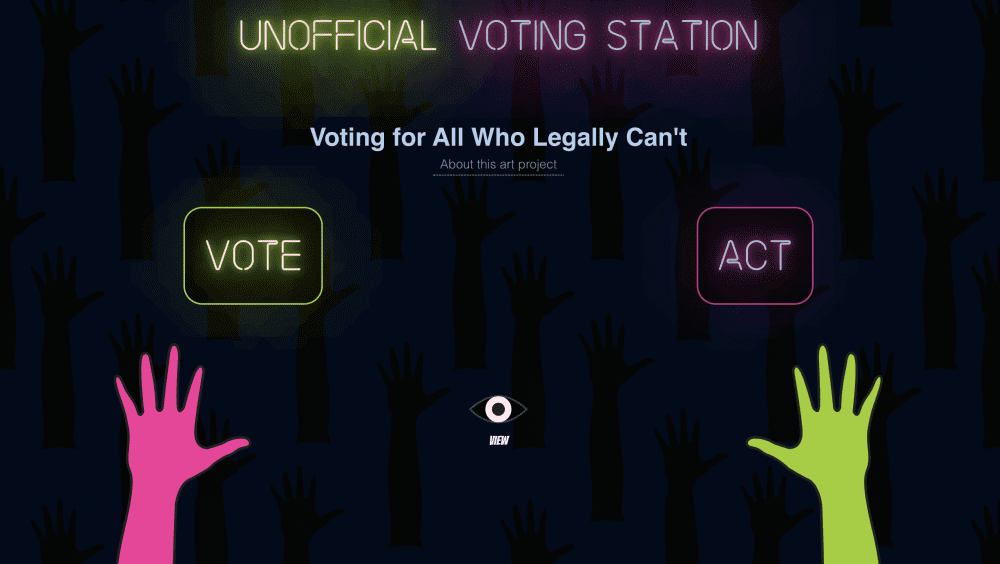 Under the heading "ACT," the website houses the collaborating artists' projects that are included in Voting Kit for the Disenfranchised (digitized for the online platform), along with digital tools enabling anyone to use and promote the collaborative project. For example, to share this project with Art Journal Open readers, Satrom created an Instagram filter using Voting Stickers for All, for taking selfies to document voting at the Official Unofficial Voting Station. In addition, on this section of the website Estrada and I developed a downloadable curriculum and tools for educators to engage students around the issue of disenfranchisement.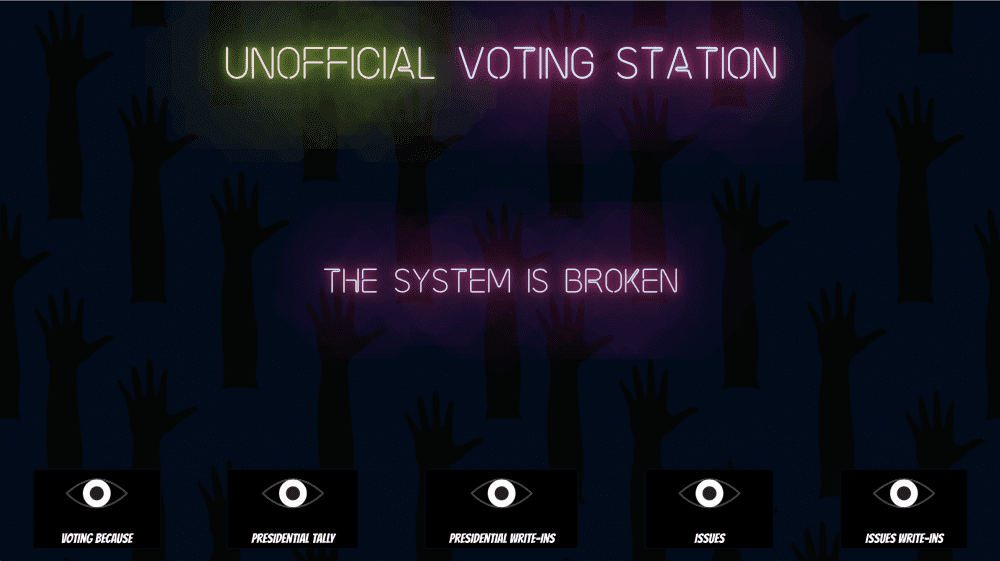 On the website under "View," tallies for the votes and the responses to the prompt "I am voting here because . . ." are compiled. The website is a place of convergence, a communal space where we can read each other's votes and responses. In this way it becomes a gathering site to discuss and vote on issues that are most pertinent in these politically challenging times.
What would voting look like if it were more accessible? What would it look like if the disenfranchised were the ones to determine what appears on ballots? The Official Unofficial Voting Station, in all of its activations, creates sites of empowerment, protest, shared resources, and social engagement. Ours is a collective art project making visible and fighting against disenfranchisement in the United States.
---
Aram Han Sifuentes is a fiber and social-practice artist working to claim spaces for immigrant and disenfranchised communities. Her work often revolves around skill sharing, especially of sewing techniques, to create multiethnic and intergenerational sewing circles, which become a place for empowerment, subversion, and protest. She is currently the 2020–21 artist-in-residence at Loyola University Chicago.

---