From
Art Journal
72, no. 3 (Fall 2013)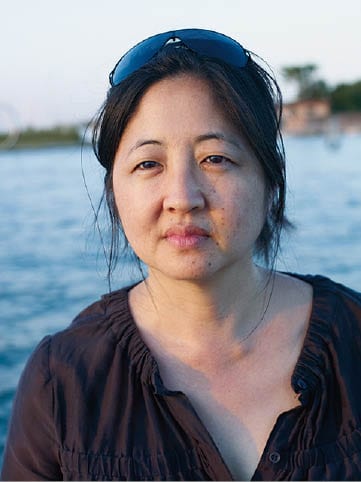 Well before I met Karin Higa, I knew of her as a curator of Asian American art, a prominent voice in the contemporary art world, and an author whose writings I frequently assigned to students. Though Karin would eventually pursue a PhD in art history at the University of Southern California (where I taught), she would always remain a colleague as much as a student. During our time together at USC, I found myself increasingly turning to her for clear-eyed guidance on intellectual issues and professional programs. Even as I advised her coursework and dissertation, Karin became my advisor as well.
Karin knew a great deal about contemporary art (and the art world), but she carried that knowledge lightly, with humor and affection. She also had secret reserves of expertise—Los Angeles real estate was one. When my partner and I were seeking to buy a house in 2001, Karin advised us on everything—neighborhoods, traffic patterns, prices. She even checked out open houses for us. Then she set us up with a realtor—a former punk-rock star now married (of course) to an art critic.
Karin would occasionally ask me pragmatic yet disarming questions about the process of writing ("What's your daily ritual for getting into the writing process?" "How do you organize your writing space?") that surprised me, given her own skill and productivity in this regard. But I think what Karin was really curious about was how other people organized an everyday life of the mind. She was interested in the material production not only of art but also of art criticism and history.
In her scholarly work, Karin made art history come alive through close visual analysis and thoughtful attention to context, whether the context in question was a Japanese American internment camp during World War II or an exhibition of black artists at L.A. Community College in 1970. She had the ability to mix historical and formal concerns in a way that animated the entire enterprise of writing about the visual past.
The dissertation-in-progress Karin leaves behind, "Little Tokyo, Los Angeles: Japanese American Art and Visual Culture, 1919–1941," is a beautiful reclamation project. It combines a vibrant history of Japanese American visual culture in Los Angeles with a wholesale rethinking of prewar American art in the context of international modernism. "Little Tokyo, Los Angeles" joins Karin's published essays and exhibition catalogues in expanding our knowledge of modern art and photography in the United States.
Given the widespread influence and great affection that Karin commanded as a curator, scholar, editor, and person, Art Journal has solicited a range of contributors to share remembrances of her. We hope that this collage of voices offers an appropriate tribute to Karin, who died in October at the age of forty-seven, but whose ideas, achievements, and intellectual imagination continue to inspire us.
—RICHARD MEYER, ART HISTORIAN
It is hard to write about such a dear friend whose life was only half lived, cut way too short. But it isn't hard to write about her phenomenal achievements that I witnessed personally for years. Starting back in 1992 at the Wight Gallery on campus at UCLA, tackling her own identity in a personal and poignant exhibition on Japanese internment camps during World War II. The exhibition acknowledged and showed the work of artists who were interned. There are so many exhibitions that Karin was involved in that I followed. Another will stay with me because it was so amazing and ridiculously beautiful, Living Flowers: Ikebana and Contemporary Art. Karin loved style; she was always fashionable and comfortable. Her knowledge was vast as a curator and a historian. I followed Karin as a person, every opening or event; I sought Karin out, to raise a glass of wine with her, have a little moment of real conversation amidst the small talk that sometimes happens. I always asked her what she was thinking, what was going on, who she was looking at. She didn't stop, not for a second; she was on in the best of ways. Once we were all in Venice together looking at the work in the Biennale. I was there working and had a boat in the morning and evening to take me around to explore, a quite small skiff with a guide who would take me around Venice to find the Canaletto sites. I invited Russell and Karin to go out with me one evening and it was beautiful to be with my good friends from L.A on the water in Italy. Karin's black hair against the blue sea, all of us smiling in the golden evening light—she will remain in all our hearts with a legacy of brilliance.
—CATHERINE OPIE, PHOTOGRAPHER
Joe Hannan at Art Journal, who knew Karin Higa for some two decades, recently forwarded me her introduction to the Los Angeles artist Andrew Freeman's book of photographs, (Manzanar) Architecture Double (2006). The book is simultaneously an architectural survey and a beautiful visual record of the contested history of a place. In her introduction, Karin recalled how, when she was a child in the early 1970s, her family would pile into their yellow VW van and make the five-hour journey from Southern California through the San Fernando Valley and the seemingly limitless stretch of desert known as Death Valley, to Manzanar, in her words, "a vast expanse of nothing." This was the site of one of the ten War Relocation Authority camps built after Franklin D. Roosevelt's presidential decree authorizing the forced removal and mass incarceration of Japanese Americans. Ten thousand people were detained at Manzanar from 1942 to 1945; Karin's father was interned at a similar camp in Wyoming. By the end of the war these camps, part prisons and part functioning townships, were entirely erased. All that remained at Manzanar, as Karin explained, was a small bronze historical plaque that became a kind of pilgrimage destination for former internees and their families. "We were all scavenging for history there," Karin wrote, "and we did it with our heads down, focusing on the land. There were no barracks, only piecemeal remains of concrete foundations, an occasional shard of thick, white, institutional pottery or bits of rusted metal. These fragments were the evidence in our archeological search for truths."
This image of Karin as a young girl seeking history and truth in the terrible dust of a California desert is what stays with me now that she too—unbelievably—is gone. This is because what Karin did so openly and honestly in her life was to turn this haunting sense of loss into a creative, positive, and productive cultural endeavor. To me, this was the most meaningful source of her extraordinary energy and talents, and it fed many of her major intellectual and professional projects, including her fifteen-year tenure as senior curator of art at the Japanese American National Museum and her unfinished doctoral dissertation concerned with Asian and Asian American contributions to modernism in the first half of the twentieth century. Karin was a friend and a lovely colleague, adored and valued by everyone who knew her. Her life has been ruthlessly cut short by cancer, but the gift of having known and worked with her will always continue to energize my own.
—SALONI MATHUR, ART HISTORIAN
Karin Higa had open eyes. Talking about art, she was curious, eager to see everything, and able to suspend judgment long enough to look. She also saw clearly. Karin had earned a wry understanding of institutional limits, and she used her insight to press at their possibilities, to make things better. Her pragmatic energy transcended conventional academic behavior, the tendency to complain, to disdain rather than build. This made her the ideal editorial-board chair for Art Journal, generous in contributing her own ideas and egoless in pushing for the ideas of others, qualities from which we all benefited. It also drove her own grounded and original scholarship, which married social history with her deep feeling for artists. But what impressed me most about Karin was her receptivity to life's opportunities and moments—a kind of highly developed skill at being in the world that far exceeded the various professional contexts she occupied. She made me her friend at an age when new friendships come along rarely, a surprise and a gift. Karin Higa had a radiant capacity for enjoyment (of a moose, a Uniqlo jacket, dance, a new idea). She will be terribly missed by the many, many people lucky enough to have known her for too short a time.
—KATY SIEGEL, ART HISTORIAN
Not sure, that is, I can't recall why, but we sat for what seemed to be nearly an hour in the front seats of her Prius that one morning, perhaps four or five years ago, parked not far from my house. We might have started out elsewhere, but we sat in her car snug as a cocoon, our exchange perhaps instigated by the fact that she wanted for her mother the reference of the person who built the unique fence for my front yard; nevertheless, it was a wonderful chance to hear about her mother's activities. Generally, it was mostly chitchat about this and that, but this bit stands out because I didn't expect it from Karin: I instantly appreciated the roots of her smart fashion sense—she kept subscriptions to several fashion magazines to casually keep up on fashion trends. Many of us know the public Karin, as I do, from the various Asian American panels she spoke on—the lucidity and the influence of her presentations—but I return to this snatch of time, the rare moment of the private Karin, as the one I treasure the most.
—YONG SOON MIN, ARTIST
Karin Higa was a connector. She seemed to know everyone in the arts in Los Angeles and New York and beyond. Her brand of connecting wasn't just networking, making connections for connections' sake. It was a way of seeing. She saw more art than most people I know. She was an expert in Japanese American art and its multiform expressions, as a mode of education and survival in internment camps on the one hand and, on the other hand, as a tradition to riff on and experiment with, as in her 2008 exhibition Living Flowers: Ikebana and Contemporary Art. She didn't just cultivate her own specialization, but connected it to other histories and identities (like African American art in 1970s Los Angeles). Karin connected people and ideas. Marriages were initiated in her living room; friends (including me) were fixed up with concern and care, all with the same clear-eyed ethical stance with which she confronted art. She saw, she judged, and she accepted. Her honesty was a gift not only to her friends, but to the discipline of art history.
—DAVID JOSELIT, ART HISTORIAN
In my memory, I've always known—and known of—Karin as a stellar, kind leader, colleague, and friend. While I was stuttering, struggling with the meanings of identity and politics, she trailblazed; she's a role model. As a fellow doctoral candidate at the University of Southern California, Karin was ever humble about being a pioneering arts leader and scholar. Let me share some gestures that moved me so.
Shortly after I first met Karin almost a decade ago in Los Angeles, I invited her to meet with the board of the Vietnamese American Arts & Letters Association (VAALA) in Orange County—we needed guidance to grow. Despite her hectic schedule, she patiently answered our questions over three hours. She also shared about collectively nurturing a grass-roots dream into a world-class institution: the Japanese American National Museum.
We spent a New York summer together with new and old friends—among them established and emerging artists, scholars, and organizers. Karin was a gracious, eye-opening seminar coleader for the 2012 National Endowment for the Humanities Summer Institute, Re-envisioning American Art History: Asian American Art, Research and Teaching.
An incisive curator and academic, Karin freshly reframed US history, and global art histories and art forms. Karin will always embody the best of what generosity, art, and community can mean.
—VIỆT LÊ, ARTIST, ART HISTORIAN
Karin Higa's recent passing was a shock to many of us. She made a substantial contribution to the scholarship of Asian American art through her writings and by curating exhibitions. I had the pleasure of collaborating with her on an exhibition, One Way or Another: Asian American Art Now, that coincided with Asia Society's fiftieth anniversary in 2006. It was a curatorial collaboration of Karin, Susette S. Min, and myself; we worked together for nearly three years to research and create an update to the identity politics that had surfaced in the 1990s. Karin came to this project not just in her capacity as senior curator at the Japanese American National Museum in Los Angeles, but also as a founding participant in Godzilla, an arts group of Asian Americans begun in 1990 that advocated for greater representation. In working with Karin, I always found her to be more than generous in her contributions and insights into artists' works. She had a deep commitment to furthering the field of visual arts and art history, which saw her focus more intently in recent years on academic enquiry. My only regret is that I did not have the chance to collaborate with her again. She will be greatly missed.
—MELISSA CHIU, CURATOR, ART HISTORIAN
It's raining in Culver City, making it feel more like a place than it tends to, usually. It's a small village really, whose identity attaches itself to the history of old Holly¬wood and Sony Pictures, which is still here, and home to the kind of television that no one you know actually watches. It backs up into the hills of Westchester, dotted with old oil rigs that still pitch back and forth like dinosaurs from another time. Culver City is where Karin Higa was born and raised. I love the idea of Karin's grace and intellect originating in such a generic, Mayberry of a city that exists only as a subset of Los Angeles.
I want to say something very specific about Karin and hold it so it won't go away. The gap I feel in her absence I feel every day, as though it were geologic or geographic, under the traffic of this sprawling place. When people like Mike Kelley or Allan Sekula leave us, we feel it in the art world as seismic, as one East Coast colleague said to me, as though the tectonic plate of California has separated and drifted out to sea. Karin's fast departure and gaping absence is like this.
When I moved to L.A. last year, Karin suggested we meet at a local eatery. Always one to know about the food scene, she was on a quest to prove that Los Angeles was home of some of the most interesting fusion cooking in the country. We met at Post and Beam in Baldwin Hills, one of the city's oldest African American communities. Not far from Leimert Park, Karin remarked that there was a bookstore she wanted to check out that Mark Bradford had recommended.
Karin was ill when we had lunch but didn't know it. She said she'd been tired but was eager to embark on the studio visits she would be making as co-curator of the 2014 Made in LA biennial exhibition at the Hammer Museum. Karin loved this city and wanted to map it for the artists and the community she was devoted to. Though I saw her on both coasts, we often compared notes about how to make an intellectual life on the left coast, was it possible, how good are the artists, how could she make it better. This directness—the deployment of her own generosity for a purposeful end—was one of Karin's most disarming qualities. And she did make it better.
—CONNIE BUTLER, CURATOR
It was a rare privilege to be able to work with a graduate student of Karin's superb caliber. She joined the PhD program at USC having already achieved wide recognition in her field as an accomplished curator and leading scholar of Japanese American art.
But as much as Karin's scholarly excellence distinguished her in the classroom, it was something else that made her truly admirable as a student: Karin set a tone of intellectual maturity through which she not only demonstrated her keen analytical mind and subtle visual acuity, but also encouraged the same high level of discourse from her fellow students, many of whom lacked her familiarity with the materials and general sophistication in the field, but whom she nevertheless consistently treated as intellectual equals.
Karin conceived her dissertation as a profoundly revisionist study of Japanese American art in Los Angeles that would change the way we think not only about a concept such as japonisme, but also about the structuring categories of American art and modernism more generally. That the dissertation remains unfinished points to the lacuna created by the tragedy of Karin's premature death.
It was perhaps the process of its conceptualization rather than the achievement of the final product that Karin herself most valued. Had completion been a priority, she would no doubt have finished. For those of us who knew her, it was indeed the process that left an indelible mark on our memory: the sensitivity with which she pursued her work and the respect she offered to everyone in her orbit created an impression that endures, even in her absence.
—NANCY J. TROY, ART HISTORIAN
Dear Karin,
I have been in Los Angeles for so long now that I forget that I'm not from here. But I don't forget that you had a big part to play in my leaving New York, that your encouraging and supportive words from California nudged me to make a giant life change over fifteen years ago, a transition not only from the East Coast to the West, but also from a graduate student to an assistant professor. You welcomed me and helped me. Thank you. I don't think I ever told you so.
I have often thought that you could run not just a museum or a school but an entire country. You always seemed so capable. So humane. So trustworthy. So generous. So authentic. So smart. No pretensions, no nonsense, never just going through the motions. Always facing things as is, and always presenting yourself as you are. I never saw you shy away from speaking your mind, expressing your opinion. No mannered politeness or a note of falseness from you. No fear. Even when you got sick, you were the same. Amazingly. I think I would have crawled inward like a terrified turtle. But you seemed to look outward and onward, as usual, as if to say to the world, to your cancer, Hey, I am here, and I am facing you, here I am.
You were a caretaker (. . . you'd say it takes one to know one) and even though we didn't see each other often, I felt you looked out for me. Thank you, Karin. It would have been so great to keep meeting up in Pilates class, sharing
our struggle to finally do one good Teaser. I will miss you, Karin. You are the only person who could taste the coming of spring in my asparagus frittata.
Your friend,
Miwon
—MIWON KWON, ART HISTORIAN
---
This essay originally appeared in the Fall 2013 issue of Art Journal.