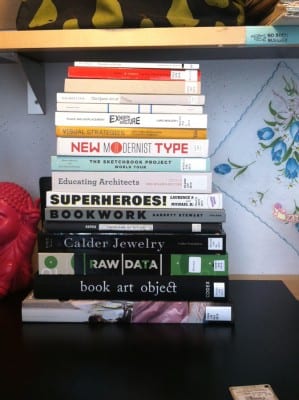 There is a long shelf in my office where I stack and restack books. The shelf also contains various postcards, two Luchador masks, multiple clipboards, a red stapler, two silver desk lamps, a bank for loose change, a water bottle, and many folders and papers. But mostly there are lots of books. The books move from the shelf, down to my desk, and back again. Most of the books on this list are library books, but not just because I am a librarian (although, that is probably part of it). I am an active library user and consider browsing as important as reading.
I buy very few books for my own personal library: partly out of a desire for a poetic simplicity, partly because they're heavy and I've moved a lot over the last few years, and partly because I spend my working life surrounded by them. The books I do purchase are ones that I use in my creative work, or are art books or graphic novels that I know I will return to again and again.
Some books I read, others I simply look at—and both activities are useful. I believe in the healthy separation between "work" and "life," but many of the things I read for work are related to my own personal interests. There are threads connecting all the books I have surrounding me at the moment, though the connections aren't always obvious and reveal themselves over time.
"Work"
Most of the books in my "work" list have to do with projects I am researching actively or just thinking about for the future. Part of my research has to do with making things, and with how the places, objects, and spaces we are exposed to manifest in the things we make. I make things out of metal, I paint things, I make prints of things, and I like to build things. I am a firm believer in the importance of life-long learning and research for the continued development of a creative life.
Thordis Arrhenius, Mari Lending, Wallis Miller, and Jérémie Michael McGowan, eds., Exhibiting Architecture: Place and Displacement (Zürich: Lars Müller, 2014)
A. S. C. Rower and Holton Rower, eds., Calder Jewelry. With contributions by Mark Rosenthal and Jane Adlin (New York: Calder Foundation, 2007)
David Jury, ed., and Peter Rutledge Koch, Book Art Object (Berkeley: Codex Foundation, 2008)
Johanna Drucker, Graphesis: Visual Forms of Knowledge Production (Cambridge, MA: Harvard University Press, 2014)
Felice Frankel and Angela H. DePace, Visual Strategies: A Practical Guide to Graphics for Scientists and Engineers (New Haven: Yale University Press, 2012)
Judith Halberstam, The Queer Art of Failure (Durham, NC: Duke University Press, 2011)
Steven Heller and Gail Anderson, New Modernist Type (New York: Thames & Hudson, 2012)
Steven Heller and Rick Landers, Raw Data: Infographic Designers' Sketchbooks (London: Thames & Hudson, 2014)
Gyorgy Kepes, Language of Vision (Chicago: P. Theobald, 1944)
Harold Koda and Jan Glier Reeder, Charles James: Beyond Fashion. With contributions by Sarah Scaturro and Glenn Petersen, and preface by Ralph Rucci (New York: The Metropolitan Museum of Art, 2014)
Laurence Maslon and Michael Kantor, Superheroes! Capes, Cowls, and the Creation of Comic Book Culture (New York: Crown Archetype, 2013)
Paul O'Neill and Mick Wilson, eds., Curating and the Educational Turn (London: Open Editions, 2010)
Steven Peterman and Sara Elands Peterman, The Sketchbook Project: World Tour (New York: Princeton Architectural Press, 2015)
Paul Rand, Thoughts on Design (London: Studio Vista, 1970)
Neil Spiller and Nic Clear, eds., Educating Architects: How Tomorrow's Practitioners Will Learn Today (London: Thames & Hudson, 2014)
Garrett Stewart, Bookwork: Medium to Object to Concept to Art (Chicago: University of Chicago Press, 2011)
Emmanuelle Waeckerlé and Richard Sawdon Smith, eds., The Book is Alive! (Sheffield, UK: RGAP, 2013)
"Life"
I am a very slow fiction writer. This isn't a bad thing—it is just the way I work. My art-making is just as slow, but there are tangible products along the way that make it seem less so. An unfinished painting is still a painting. An unfinished story is somehow not a story. I am reading a lot of short stories at the moment. I research occupations, cities, histories, afflictions, hobbies, and things of that nature for my characters. I used to think I was interested in everything I found myself researching, but as I've grown as a writer, I am now able to recognize the difference between genuine interest on my part and research for my work. I trust the process and am more interested in the thinking, making, and writing than I am in the product, hence my slow progression. My goal is to write one truly great story. Just one. I have no concrete goals with my visual art-making. The idea there is to just keep making it.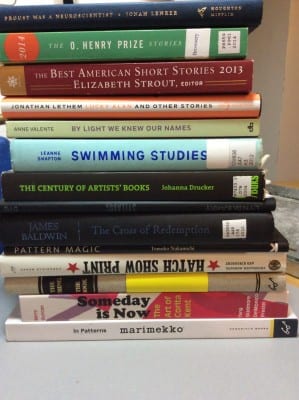 James Baldwin, The Cross of Redemption: Uncollected Writings. Edited by Randall Kenan (New York: Pantheon Books, 2010)
Lynda Barry, Syllabus: Notes From an Accidental Professor (Montréal, Canada: Drawn & Quarterly, 2015)
Ian Berry and Michael Duncan, eds., Someday is Now: The Art of Corita Kent (Saratoga Springs, New York: The Frances Young Tang Teaching Museum and Art Gallery at Skidmore College; New York: DelMonico Books, 2013)
Johanna Drucker, The Century of Artists' Books (New York: Granary Books, 1995)
Laura, Furman, ed., The O. Henry Prize Stories 2014 (New York: Anchor, 2014)
Jonn Herschend and Will Rogan, The Thing The Book: A Monument to the Book as Object (San Francisco: Chronicle Books, 2014)
Jonah Lehrer, Proust was a Neuroscientist (Boston: Houghton Mifflin Co., 2007)
Jonathan Lethem, Lucky Alan: And Other Stories (New York: Doubleday, 2015)
Marimekko, Marimekko: In Patterns (San Francisco: Chronicle Books, 2014)
Tomoko Nakamichi, Pattern Magic (London: Laurence King Publishing, 2010)
Leanne Shapton, Swimming Studies (New York: Blue Rider Press, 2012)
Jim Sherraden, Elek Horvath, and Paul Kingsbury, Hatch Show Print: The History of a Great American Poster Shop (San Francisco: Chronicle Books, 2001)
Elizabeth Strout and Heidi Pitlor, eds., The Best American Short Stories, 2013 (Boston: Houghton Mifflin Harcourt, 2013)
Anne Valente, By Light We Knew Our Names (Ann Arbor, MI: Dzanc Books, 2014)
In addition to chewing on all of these books, I'm reading Between the World and Me by Ta-Nehisi Coates (New York: Spiegel and Grau, 2015) and The Paying Guests by Sarah Waters (New York: Riverhead Books, 2014)). I am also planning to keep bees in the near future (and I'm working on a short story about bees) so there are some beekeeping books on my desk now, too.
I am many things but most importantly, I am a dreamer. The world needs us.
---
Lareese Hall is the Architecture + Art Librarian at MIT, where she manages collection development for circulating, digital, and special collections in the arts and architecture. She also provides reference services, research assistance, and library instruction in the arts and architecture to researchers, faculty, staff, and students. In addition, she manages the exhibition program at Rotch Library and collaborates with the MIT community to develop and curate library exhibits. Her own research focuses on spaces of learning and making, the experience of the analog in the digital world, rethinking physical reference collections, and book arts and printmaking in academic library environments. She is a visual artist and writer.