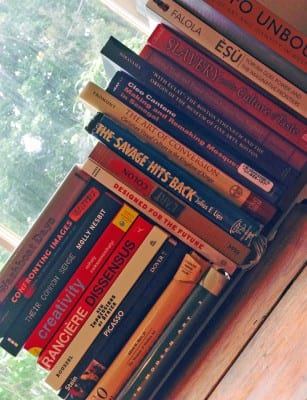 Books stacked horizontally:
I just completed a book manuscript on Picasso's iconic painting Les Demoiselles d'Avignon (1907), based in part on an array of new sources I have discovered that, among other things, allows us to date the canvas to a specific day in March 1907, while also offering new ways to explore and understand the work. During the last stages of writing, when this photograph was taken, I began to address larger, theoretical issues in the project, including questions of creativity. I rediscovered Roussel's New Impressions of Africa (2011) through this project and hope to explore it in a future article.
From top to bottom:
Janine Warnod, Washboat Days: Montmartre, Picasso and the Artists Revolution, trans. Carol Green (New York: Orion Press, 1972)
Georges Didi-Huberman, Confronting Images: Questioning the Ends of a Certain History of Art, trans. John Goodman (University Park: Pennsylvania State University Press, 2005)
Molly Nesbit, Their Common Sense (London: Black Dog Publishing, 2000)
Mihaly Csikszentmihalyi, Creativity: The Psychology of Discovery and Invention (1996; New York: Harper Perennial Modern Classics, 2013)
Jacques Rancière, Dissensus: On Politics and Aesthetics, trans. Steven Corcoran (London: Bloomsbury, 2012)
Raymond Roussel, New Impressions of Africa, trans. Mark Ford (Princeton, NJ: Princeton University Press, 2011)
Gertrude Stein, Picasso (1938; New York: Dover: 1984)
Jonathan David Fineberg, Modern Art at the Border of Mind and Brain (Lincoln: University of Nebraska Press, 2015)
Alfred H. Barr, Jr., Picasso: Fifty Years of His Art (New York: Arno Press and Museum of Modern Art, 1980)
William Stanley Rubin, Hélène Seckel, and Judith Cousins, Les Demoiselles d'Avignon (New York: Museum of Modern Art, 1994)
Upright volumes:
These are the books that I plan to read in the next month or so, for various reasons. Here is why:
Jared Green, Designed for the Future: 80 Practical Ideas for a Sustainable World (New York: Princeton Architectural Press, 2015): My short article, "Abomey," is the lead entry in this anthology of 80 essays and ideas, and I am now keen to read the other essays.
Denise and Michel Meynet, L'Art Colon (Lyon: Fage, 2013) and Julius E. Lips, The Savage Hits Back, trans. Vincent Benson (1937;New Hyde Park, NY: University Books, 1966): My catalogue essay on the image of colonials in African art just came out, and I was invited to give the keynote for a Cologne symposium on Lips this spring.
Cécile Fromont, The Art of Conversion: Christian Visual Culture in the Kingdom of Kongo (Chapel Hill: University of North Carolina Press, 2014): Fromont, a former student of mine, just won the Albert J. Raboteau Book Prize for the Best Book in Africana Religions for this book. I wanted to reread it for my class this fall on African art up to 1750.
Cleo Cantone, Making and Remaking Mosques in Senegal (Leiden, Netherlands: Brill, 2012): Someone posted good things about this book on Facebook so I decided to buy it. A quick perusal made me want to read it.
Hina Hirayama, "With Éclat": The Boston Athenaeum and the Origin of the Museum of Fine Arts, Boston (Boston: Boston Athenaeum, 2013); Patricia Johnston and Caroline Frank, eds., Global Trade and Visual Arts in Federal New England (Durham, NH: University of New Hampshire Press, 2014); Simon Gikandi, Slavery and the Culture of Taste (Princeton, NJ: Princeton University Press, 2011): I bought all three at the CAA book fair in New York last February because they looked interesting. The first two relate to my project of the last few years on the historical movement of objects in local Boston museums; the latter is important to a course I teach, "The Image of the Black in Western Art."
Toyin Falola, ed., Èṣù: Yoruba God, Power, and the Imaginative Frontiers (Durham, NC: Carolina Academic Press, 2013) and Susan Elizabeth Gagliardi, Senufo Unbound: Dynamics of Art and Identity in West Africa (Cleveland: The Cleveland Museum of Art, and Milan: Five Continents Editions, 2014): These books address key topics in African art. I wanted to make sure I had copies before they sold out, and I plan to read both before I shelve them with my African art volumes.
---
Suzanne Preston Blier is Allen Whitehill Clowes Professor of Fine Arts and of African and African American Studies, Harvard University. She is a member of the Institute for Quantitative Social Science. Her book Art and Risk in Ancient Yoruba: Ife History, Power, and Identity, c.1300 was published by Cambridge University Press this year, and she has a forthcoming book on Picasso's Demoiselles d'Avignon. Blier is the author of The Anatomy of Architecture: Ontology and Metaphor in Batammaliba Architectural Expression (Chicago: University of Chicago Press, 1987. Recipient of the Arnold Rubin Prize), African Vodun: Art, Psychology, and Power (Chicago: University of Chicago, 1995. Recipient of the Charles Rufus Morey Prize), The Royal Arts of Africa: The Majesty of Form (New York: Abrams, 1998), Butabu: Adobe Architecture in West Africa (New York: Princeton Architectural Press, 2004), and the editor of Art of the Senses: Africa Masterpieces from the Teel Collection (Boston: MFA Publications, 2004).
She serves on the Board of Directors of the College Art Association as vice president for the Annual Conference, where she chairs the taskforce on this important event. In 2011, two of her articles appeared in the The Art Bulletin's Centennial Anthology. Blier currently chairs the International Committee of the Electronic Geo-Spatial website Worldmap, a site she helped establish. Past fellowships include: ACLS, CASVA, the Clark, Fulbright, Getty, Guggenheim, NEH, Princeton, Radcliffe Institute, Institute for Advanced Study, and SSRC; she also a is a former member of the Collège de France International Scientific and Strategic Committee (COSS).