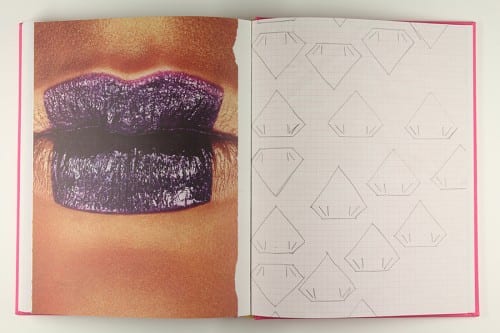 The Los Angeles–based artist Kate Costello has created a unique two-minute animation of her limited edition book, P&P, for Art Journal Open's Contemporary Projects. Contemporary Projects is an ongoing series that invites artists to transpose analogue projects into digital formats. Speculative in nature, the projects are intended to foreground the processes of mediation, translation, and data migration that have been endemic to artistic production in the built environment of exhibition spaces or the web in almost equal measure.
P&P conveys Costello's examination and subjective cataloging of vernacular languages active within contemporary visual culture. More specifically, Costello often creates theatrical sets by hanging colorful backgrounds behind her subjects, whether they are sculptures in an installation or nude models in a photograph. In this manner she accentuates the protocols and conventions of set design, fashion editorials, and other gendered representations within both mass media and the history of fine art. Drawing equally from typography, graphic design, and art history, Costello's works underscore the historical assumptions about the traditional roles assigned to the artist and muse while highlighting the position of the viewer within these relationships.
As acts of visual translation themselves, the drawings and collages Costello has edited into her book and selected to animate here act as a formal root—giving shape to several of Costello's sculptures, photographs, and drawings that she has exhibited over the past twelve years. Costello is taking P&P—which can be read as a compendium of process images (sketches, notes)—full circle by animating and translating the analogue process of paging through the book into a digital form accessible to viewers through Art Journal Open.
This project also includes an excerpt from "The Space of the Image" (Brooklyn, NY: Midgramme, 2015) written by Rita Gonzalez, associate curator of contemporary art at the Los Angeles County Museum of Art (LACMA). Gonzalez has organized or co-organized landmark exhibitions including Phantom Sightings: Art after the Chicano Movement (LACMA, 2008), ASCO: Elite of the Obscure, A Retrospective, 1972–1987 (LACMA, 2011), and Agnès Varda in Californialand (LACMA, 2013–14), and is a vital voice in the field of contemporary art.
–Gloria Sutton, Web Editor