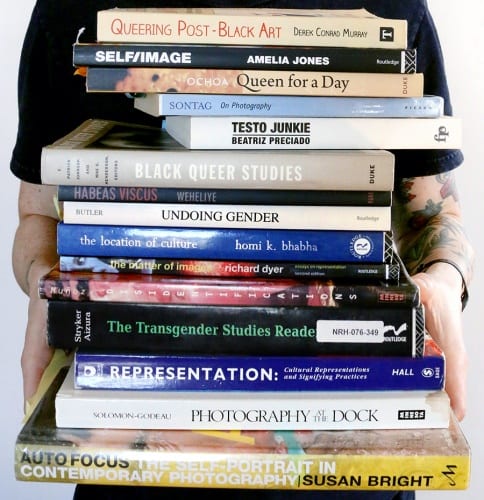 I'm currently working on a visual studies research project investigating the politics of trans and gender non-conforming representations in contemporary culture (mainly in the United States). Building on methods forwarded by cultural studies founder Stuart Hall, the project surveys a variety of visual culture forms in order to comprehend how identity categories are being proposed, contested, and negotiated in the visual field. I am interested in actively working to undo the partitioning of various identity-based discourses from one another in efforts to better understand the complexity of the ways visual culture relates to the constitution of identity categories. Looking at film, photography, magazines, and selfies, the project embraces interdisciplinarity to thoroughly attend to the interconnectedness of gender, ethnicity, racialization, and class as they relate to corporeality, representation, and systems of identity regulation. The books I am sharing here are either demonstrative of this type of approach in their praxis or their methodologies are foundational to probing such concerns, and they all are significantly impactful regarding my current work.
The methodological interventions of my current work—and why at first glance these books may seem a bit disparate—is to bring a serious discussion of trans representations into art history and visual studies, aiming to apply cultural studies methods—which have historically neglected LGBTQ issues—to bear on trans visual culture. Additionally, I am invested in bringing black queer studies and gender studies into discussions of photography and trans representation. These interventions are in the lineage of scholars committed to anti-discriminatory practices and the critical foregrounding of identity politics in visual studies and art history discourses.
Situating contemporary self-representations of trans and gender nonconforming subjects in an art historical lineage of radical, self-representations made by members of the LGBTQ community, I argue trans self-representations (including those found in zines and on social media) are critical interventions in visual culture and imperative counterpoints to problematic representation of trans people produced in mainstream culture. Ultimately my project argues that it is in marginalized forms of representation that trans and gender non-conforming people are creating self-representations that constitute new artistic forms and new identity categories. Alongside this scholarly project I am also creating studio-based work investigating similar concerns. If you have any questions about these books or my work, please don't hesitate to contact me at acelehner1@gmail.com and/or at www.Ace-Lehner.com
Homi K. Bhabha, The Location of Culture, 2nd ed. (New York: Routledge, 2004)
Susan Bright, Auto Focus: The Self-Portrait in Contemporary Photography (New York: Monacelli Press, 2010)
Judith Butler, Undoing Gender (New York: Routledge, 2004)
Richard Dyer, The Matter of Images: Essays on Representations, 2nd ed. (London: Routledge, 2002)
Stuart Hall, ed., Representation: Cultural Representations and Signifying Practices (London and Thousand Oaks, CA: Sage in association with the Open University, 1997)
E. Patrick Johnson and Mae Henderson, eds., Black Queer Studies: A Critical Anthology (Durham, NC: Duke University Press, 2005)
Amelia Jones, Self/Image: Technology, Representation, and the Contemporary Subject (New York: Routledge, 2006)
José Esteban Muñoz, Disidentifications: Queers of Color and the Performance of Politics (Minneapolis: University of Minnesota Press, 1999)
Derek Conrad Murray, Queering Post-Black Art: Artists Transforming African-American Identity after Civil Rights (New York: I.B. Tauris, 2016)
Marcia Ochoa, Queen for a Day: Transformistas, Beauty Queens, and the Performance of Femininity in Venezuela (Durham: Duke University Press, 2014)
Paul B. Preciado, Testo Junkie: Sex, Drugs, and Biopolitics in the Pharmacopornographic Era (New York: The Feminist Press at the City University of New York, 2013)
Abigail Solomon-Godeau, Photography at the Dock: Essays on Photographic History, Institutions, and Practices. With foreword by Linda Nochlin (Minneapolis: University of Minnesota Press, 2009)
Susan Sontag, On Photography (New York: Picador, 2001)
Susan Strykerand Aren Z. Aizura, eds. The Transgender Studies Reader 2 (New York: Routledge, 2013)
Alexander G. Weheliye, Habeas Viscus: Racializing Assemblages, Biopolitics, and Black Feminist Theories of the Human (Durham: Duke University Press, 2014)
---
Ace Lehner is an interdisciplinary scholar and artist specializing in critical engagement with identity and representation; history, theory, and criticism of contemporary art; visual studies; photography theory; and queer and trans theory. Lehner's artistic practice often embraces collaboration and primarily utilizes photography and video to mine the complex relation between representations and the constitution of identities. Lehner has lectured and exhibited throughout North America, and has work held in several private collections. Lehner was a recipient of the Murphy and Cadogen Fellowship in the Fine Arts and the Sheffield Art League Scholarship. Lehner has taught and given lectures at various institutions including California College of the Arts, Oakland; Southern Exposure, San Francisco; University of California, Santa Cruz; with their collaborative artist project/think tank, ERNEST, at c3 Initiative, Portland, Oregon; Rochester Institute of Technology; Stony Brook Manhattan; and, most recently, Dia:Beacon, Beacon, NY.
Lehner is currently a PhD candidate in visual studies in the history of art and visual culture department at University of California, Santa Cruz, and is based in the Hudson Valley area of New York. Lehner holds an MA/MFA in visual and critical studies/fine art from California College of the Arts and a BFA in studio art with a minor in social anthropology with distinction from Concordia University in Montreal, Quebec, Canada. Preferred pronouns: They/them