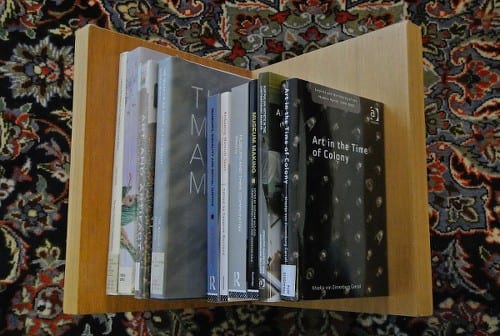 My bookshelf is an ode to the numerous and divergent streams of interest I find myself drawn to. Sometimes these are academic, while others are more obtuse; my list features numerous Routledge, Sternberg Press, and Mousse publications, and lacks fiction entirely.
My current academic research focuses on postcolonial artistic interventions and, more specifically, the contemporary work of Australian Indigenous artists that responds to state colonial art collections. In this way, Australian authors feature prominently. However international writers—including Dr. Khadija von Zinnenburg Carroll of the University of Cambridge; James Putnam, an independent curator and arts writer; and Kynaston McShine of Museum of Modern Art, New York—provide further contextual depth.
My reading list:
Khadija von Zinnenburg Carroll, Art in the Time of Colony (Burlington, VT: Ashgate, 2014)
Khadija von Zinnenburg Carroll, "Object to Project: Artists' Interventions in Museum Collections," in Christopher R. Marshall, ed., Sculpture and the Museum (Burlington, VT: Ashgate, 2012)
Jennifer Barrett and Jacqueline Millner, Australian Artists in the Contemporary Museum (Burlington, VT: Ashgate, 2014)
Suzanne MacLeod, ed., Reshaping Museum Space: Architecture, Design, Exhibitions (New York: Routledge, 2005)
Suzanne MacLeod, Laura Hourston Hanks, Jonathan Hale eds., Museum Making: Narratives, Architectures, Exhibitions (New York: Routledge, 2012)
Sheila Watson, ed., Museums and Their Communities (New York: Routledge, 2007)
Richard Sandell and Eithne Nightingale, eds., Museums, Equality and Social Justice (New York: Routledge, 2012)
Christopher R. Marshall, "Ghosts in the Machine: The Artistic Intervention as a Site of Museum Collaboration-accommodation in Recent Curatorial Practice," in The International Journal of the Inclusive Museum, vol. 4, issue 2 (2012): 65–80.
Paul O'Neil, "The Curatorial Turn: From Practice to Discourse," in Judith Rugg and Michèle. Sedgwick, eds., Issues in Curating Contemporary Art and Performance (Chicago: Intellect, 2007)
Gerald Raunig and Gene Ray eds., Art and Contemporary Critical Practice: Reinventing Institutional Critique (London: MayFly Books, 2009)
Kynaston McShine, The Museum as Muse: Artists Reflect (New York: Museum of Modern Art, 1999)
James Putnam, Art and Artifact: The Museum as Medium (London: Thames & Hudson, 2001)
Lisa Corrin, Mining the Museum: An Installation by Fred Wilson (New York: New Press, 1994)
---
Alexandra Nitschke is a Brisbane–based museum professional interested in contemporary art, collection development, and curatorial projects. The documentation, presentation, and care of collections within publicly funded art galleries are the primary focuses within her expanding experience in the management of collections. Nitschke recently participated in an international curators' research residency in Vienna, culminating in an exhibition presented in partnership with the Universität für angewandte Kunst Wien. Prior to this, Nitschke was the curatorial assistant at the Ipswich Art Gallery. She regularly contributes to travel and leisure platforms in addition to industry publications. Nitschke is currently completing the Masters program at the University of Leicester. Her dissertation looks to examine postcolonial artistic interventions.