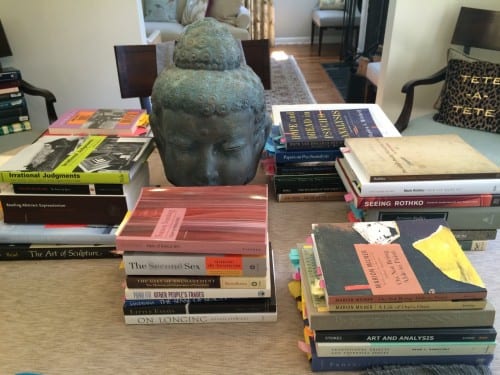 I have been preparing a book manuscript on Louise Bourgeois and her work's relationship to domesticity, transitional phenomena, and psychoanalytic theories of reception, and much of my reading has been specific to that project with a few outliers thrown in. I have returned to some much-admired classics such as Simone de Beauvoir's The Second Sex, introduced by Judith Thurman and translated by Constance Borde and Sheila Malovany-Chevallier (New York: Vintage, 2011); Herbert Read's The Art of Sculpture (Princeton, NJ: Princeton University Press and the National Gallery of Art, 1956); and Dore Ashton's The New York School: A Cultural Reckoning (Berkeley: University of California Press, 1972). An outstanding follow-up to those two art-historical volumes is Ellen G. Landau's anthology Reading Abstract Expressionism: Context and Critique (New Haven: Yale University Press, 2005), which includes primary source material along with incisive contemporary critiques such as Ann Gibson's "The Rhetoric of Abstract Expressionism" and Lisa Saltzman's "Reconsidering the Stain: On Gender, Identity, and New York School Painting." Two recently published, historically rich works that have been a pleasure to read include Kirsten Swenson's Irrational Judgments: Eva Hesse, Sol LeWitt, and 1960s New York (New Haven: Yale University Press, 2015) and Sarah Hamill's David Smith in Two Dimensions: Photography and the Matter of Sculpture (Berkeley: University of California Press, 2015).
In terms of psychoanalytic research, I have newly discovered the works of Marion Milner (who trained under D. W. Winnicott and Melanie Klein), including On Not Being Able to Paint, introduced by Janet Sayers (London and New York: Routledge, 2010); A Life of One's Own (New York: Routledge, 2011); and The Suppressed Madness of Sane Men (London: Tavistock, 1987). Other works by psychoanalysts who specifically treat theories of creativity, sublimation, and the work of art include Christopher Bollas's The Shadow of the Object: Psychoanalysis of the Unthought Known (New York: Columbia University Press, 1987); Hanna Segal's Dream, Phantasy and Art (London and New York: New Library of Psychoanalysis in Association with Routledge, 2015); Hans Loewald's Sublimation: Inquiries into Theoretical Psychoanalyis (New Haven: Yale University Press, 1988); and Rozsika Parker's Torn in Two: The Experience of Maternal Ambivalence (London: Virago, 1995). Art and Analysis: An Adrian Stokes Reader edited by Meg Harris Williams (London: Karnac Books and Harris Meltzer Trust, 2014) is also a must. Finally, I'm perusing recent publications on Mark Rothko that also consider the artwork as the subject of psychic transformation within the field of object relations: Mark Rothko: From the Inside Out by Christopher Rothko (New Haven: Yale University Press, 2015) and Seeing Rothko edited by Glenn Phillips and Thomas Crow (Los Angeles: Getty Research Institute, 2005), as well as Rothko's own The Artist's Reality: Philosophies of Art, edited and introduced by Christopher Rothko (New Haven: Yale University Press, 2004). If I get around to it, reading in my free time will be Rebecca Solnit's Men Explain Things to Me (Chicago: Haymarket Books, 2014).
---
Lynn M. Somers (PhD Stony Brook University, NY) is an independent scholar in modern and contemporary art history and criticism. She is currently an adjunct assistant professor of art history at Drew University (Madison, NJ) teaching a survey of Western Art (Premodern to Modern), Early Twentieth-Century Art and the History of Photography. Publications include "A Taste for Sham: Examples of Perversion and Suffering in Contemporary Art," in Dialectical Conversions: Donald Kuspit's Art Criticism (Liverpool University Press, 2011) and essays in the Routledge Encyclopedia of Modernism (forthcoming), Encyclopedia of Twentieth-Century Photography (New York: Routledge, 2005), and The Encyclopedia of Sculpture (New York: Routledge, 2003). Participation at conferences and symposia includes papers on Ann Hamilton at SECAC Annual Conference, Roanoke (fall 2016); Walker Evans and Surveillance in the Space Between Literature and Culture, 1914–1945, McGill University, Montreal (2016); psychoanalytic nostalgia, domesticity. and Louise Bourgeois at At Home in the Space Between Literature and Culture, 1914–1945, University of Notre Dame (2015); new research on Louise Bourgeois at "Future Bourgeois: Symposium and Workshop," organized by the ARTIST ROOMS Research Partnership, The Fruitmarket Gallery, and the National Gallery of Modern Art, Scotland, Edinburgh (2014); and papers on Sally Mann at The Feminist Art Project's panel "The M-Word: Motherhood and Representation" at the College Art Association's 102nd Annual Conference in Chicago (2014); and at the SCAD symposium, "Palimpsest: The Layered Object" (2014). She is currently writing a book on psychoanalytically constructed themes of motherhood in relation to Louise Bourgeois's sculpture.