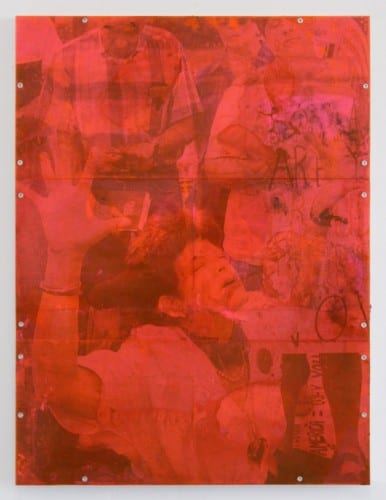 In Edges of Action (2016), Los Angeles–based artist Nick Herman finds a distinctive method of framing his practice, blending the studied delivery of a public artist's talk with the conversational pace of an intimate studio visit. Edges of Action is the first installment of a unique multipart artist's project made for Art Journal Open that outlines Herman's investigations into the essential qualities of what is often euphemistically referred to in contemporary art as "time-based media." Rather than simply an oblique reference to video, film, or photography, Herman's work on time and media—or, more specifically, time's relationship to media—has been to map, record, count, measure, erase, and replay what he refers to as the "conglomeration of edges" that constitute seeing and, by extension, our relationships to the media. Herman speaks directly to the viewer, narrating and illustrating his studio methodologies and research, while positing complex and compelling questions about how the history of photography intersects with the advent of broadcasting as well as wet processes such as traditional lacquer—proposing a hermeneutic of edges. This framing of mediation is, in turn, delivered to a completely online audience at Art Journal Open thereby highlighting yet another edge.
Edges of Action reflects Herman's droll sense of humor and cross-disciplinary interests as he deftly weaves seemingly disparate references, including animated sequences from Sesame Street, Eadweard Muybridge's iconic motion studies, and an incisive account of Kaja Silverman's complete reconceptualization of photography in The Miracle of Analogy or The History of Photography, Part I (Stanford, CA: Stanford University Press, 2015). A compelling and vital aspect of Herman's artistic practice writ large is made evident within the span of the video's twenty-one minute run-time: he eschews the false dichotomies between analog and digital forms of image-making, choosing instead to focus our attention on the durational conditions of looking as examined through a deep consideration of its most basic elements or formats. These investigations include Herman's ongoing study of rastering, a scanning technology that slices images into manageable bits (the basis of TV and a precursor to digital pixels); his reconsideration of televisual static as analogous to a shared body; and his conception of photography not only as a lens-based medium, but also akin to the ways a radio antenna works, actively recording and amplifying sensory information in real time.
The second part of Herman's project on Art Journal Open to be published later this spring will be an annotated presentation of artworks featured in Edges of Action coupled with examples of his writing and book projects. By juxtaposing these two components of his practice, Herman further explores the way printing technologies reflect the conditional nature of digital culture. As can be seen in the video, much of Herman's practice is governed by methods of folding, fading, cutting, layering, and image transfer to highlight the material frailty endemic to seemingly stable processes such as ink jet and laser printing—thereby mirroring the alchemic instability and perpetual "development" seen in early photography. Examples of this interest in imagery's fugitive status can be seen in an early series titled Scratch and Win (2006) consisting of silkscreen prints in which he used metallic silver scratch-off ink (typically used on lottery tickets) to create a meditation not just on desire but on the relationship between wish fulfillment and physical mark-making (effectively "taking" a picture by scratching off the silver emulsion). Similarly this interest is evident in two companion series titled Phantasms (2008–2012) and Ecstasies (2010–2015) in which Herman exploits the vulnerability of digital mediums by repeatedly erasing and reprinting images that depict figures who are respectively, in states of religious ecstasy or enacting staged "ritual" performances. This formal and conceptual inquiry led, in turn, to a more recent monochromatic series Herman produced inspired by the strange German farce The Nightwatches of Bonaventura (Chicago: University of Chicago Press, 2014). This novel describes, through a series of staged vignettes, "an inventory of human despair and disgust through the eyes of a bitter, sardonic watcher who draws laughter through tragedy."1 First published in 1804, The Nightwatches of Bonaventura was recently republished in 2014 by the University of Chicago Press with the encouragement of Herman along with the book's translator, Gerald Gillespie.
In keeping with his hybrid practice, Herman's third and final installment will take the form of a unique print on demand project made for Art Journal Open that reproduces this (now destroyed) series of monochromatic prints in a book format inspired by the original novel's structure.
–Gloria Sutton, Web Editor
University of Chicago Press, The Nightwatches of Bonaventura, at http://press.uchicago.edu/ucp/books/book/chicago/N/bo18044577.html, as of February 7, 2017. ↩